Become a CAPtain


with your
The foul language eliminator


Removes profanity from
movies and TV shows
A Christian Family


Internet Network Cooperative
Switch to LifeLine


for Christian
long distance service
The Family Friendly


Internet Service
A Christ Centered


Community Web Site
Comments?

Christian Media News
A Singles
Christian Network
PLEASE VOTE!


for this site!
Christian Banner eXchange
---



ALERT: To fully understand this report you should first visit the topics
suggested by the CAP Table of Contents.



SUMMARY / COMMENTARY:

*Wonder Boys* (R) -- LOTS of drug use.

In a story of an aging drug-saturated professor in an adulterous relationship with his chancellor (who is pregnant with his child), a teen student is introduced to drugs, crime, adultery, booze, and homosexuality.

Grady Tripp (Michael Douglas), English professor and ex-hippie tires to recapture glory from his first successful novel by writing another one of 2561 pages. And intermixed into the fray of ill-defined trips to cinematic nowhere is a quite attractive and overly affectionate room-renter student of his, Hannah Greene (Katie Holmes), a quite morbid student of his James Leer (Tobey Maguire) obsessed with people who have committed suicide, and a quite blind persnickety pooch with a single-minded fixation to get Tripp.

In an attempt to rationalize and perpetuate an affair with the wife of his boss, Walter Gaskell (Richard Thomas), Tripp attends a shindig thrown by his boss's wife, Chancellor Sara (Frances McDormand). Sara asks Tripp to take some guest coats up to the bedroom. After a puzzled look from Tripp, Sara told him she would show him where the bedroom was. And show him she did, not only where the bedroom was but how to use it to perpetuate the affair. How does the pooch fit into all this? Well, it seems the pooch can see right through Tripp and doesn't like Tripp at all. When Tripp exits for a joint break, he interrupts Leer with a "cap gun" (looks to be a .32 caliber handgun) apparently contemplating suicide on the lawn of the Gaskell mansion. Embarrassed, Leer engages Tripp who invites Leer into the shindig. From there, Leer steals a prized possession of Gaskell -- the jacket worn by Marilyn Monroe on their wedding day with Joe DiMaggio. As Tripp tries to correct the theft, the pooch gets killed by Leer using the "cap gun." From there comes all manner of wild flight into further frustration and desperation.

Sounds like a fun flick? Whatever floats your boat, but please first consider the following. *Wonder Boys* presented at least 7 uses of the most foul of the foul words with 22 uses of the three/four letter word vocabulary. The movie also presents Maguire in bed with Robert Downey, Jr., Tripp's agent after a series of clearly homosexual behaviors such as transvestism. And the use of illegal drugs and abuse of prescription drugs and booze wer rampant. At the end of the show, I had three media worksheets filled with examples of ignominy. What would one expect with a final score of 28 with an influence density of 2.09? I will leave the listing of examples of ignominy to the Findings/Scoring section of this report.

So many of our visitors seem to be relying only on this Summary/Commentary for a full assessment of this movie. This is not possible. For the best representation of the CAP Entertainment Media Analysis Model applied to this movie, visit the Findings/Scoring section below.



---
FINDINGS / SCORING: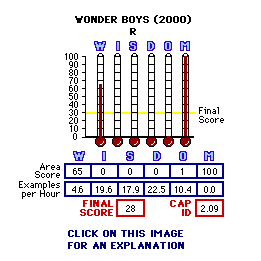 NOTE: Multiple occurrences of each item described below may be likely.

Wanton Violence/Crime (W):

firearms
gunfire to kill a dog attacking a man
contemplating a convenience murder (abortion)
illegal transport and concealment to avoid lawful measures
theft
unlawful entry
manipulation of a teen by adults for personal gain
threat with firearms

Impudence/Hate (I)(1):

7 uses of the most foul of the foul words
22 uses of the three/four letter word vocabulary
fetish with suicide
equating being sent home to parents as a bad thing
"rescue" of a teen from the authority of his parents

Sex/Homosexuality (S):

transvestism
ongoing adulterous affair
pregnancy by immoral sex
admission of transvestism
homosexual relationships, behaviors and innuendo
proselytizing a teen into a homosexual relationship
a teen girl making sexual advances at and offers to her professor
vulgar talk
adults in underwear
teen in sleepwear with adult male in her bedroom with her
man in bed with teen boy with implied nudity

Drugs/Alcohol (D):

use of illegal drugs and abuse of prescription drugs, some by a teen
smoking cigarettes
bar and booze
drinking, some by a teen
providing illegal drugs to a teen and prescription drugs not prescribed for him
drug intoxication, once by a teen

Offense to God (O)(2):

3 uses of God's name in vain with the four letter expletive and 15 without
describing Heaven by what was seen in a movie

Murder/Suicide (M)(3):

none noted