Now by MC, Amex, Visa and more!
Your donations are TAX DEDUCTIBLE!
The foul language eliminator


Removes profanity from
movies and TV shows
Switch to LifeLine


for Christian
long distance service
The Family Friendly


Internet Service
SPECIAL OFFER


From the best-seller book series.
NOW ONLY Just in time for Christmas!








Comments?

Christian Media News
A Singles
Christian Network
Your One Stop


For Everything Christian
Free Email Ministry


Subscribe Today!!
Christian Banner eXchange
---
ALERT: To fully understand this report you should first visit the topics suggested by the CAP Table of Contents.

For FREE text-only versions of our media analysis reports as they are calculated, open this email then click "send." If your browser does not handle this URL format properly, send us a request to add you.
NOTE: The CAP Analysis Model makes no scoring allowances for trumped-up "messages" to excuse or for manufacturing of justification for aberrant behavior or imagery, or for camouflaging such ignominy with "redeeming" programming. Disguising sinful behavior in a theme plot does not excuse the sinful behavior of either the one who is drawing pleasure from the sinful display or the practitioners demonstrating the sinful behavior. This is NOT a movie review service. It is a movie analysis service to parents and grandparents to tell them the truth about movies using the Truth. If you do not want the plot, ending, or "secrets" of a movie spoiled for you, skip the Summary/Commentary. In any case, be sure to visit the Findings/Scoring section -- it is purely objective and is the heart of the CAP Entertainment Media Analysis Model applied to this movie
"There are some in the entertainment industry who maintain that 1) violent programming is harmless because no studies exist that prove a connection between violent entertainment and aggressive behavior in children, and 2) young people know that television, movies, and video games are simply fantasy. Unfortunately, they are wrong on both accounts." [Emphasis is mine] And "Viewing violence may lead to real life violence." I aplaud these associations for fortifying 1 Cor. 15:33. Read the rest of the story. From our five-year study, I contend that other aberrant behaviors, attitudes, and expressions can be inserted in place of "violence" in that statement. Our Director - Child Psychology Support, a licensed psychologist and certified school psychologist concurs. For example, "Viewing arrogance against fair authority may lead to your kids defying you in real life." Or "Viewing sex may lead to sex in real life." Likewise and especially with impudence, hate and foul language. I further contend that any positive behavior can be inserted in place of "violence" with the same chance or likelihood of being a behavior template for the observer; of being incorporated into the behavior mechanics and/or coping skills of the observer. In choosing your entertainment, please consider carefully the "rest of the story" and our findings.
If Scriptural references appear, the full text appears at the end of the Summary / Commentary likely using a mix of KJV and NIV.
---


SUMMARY / COMMENTARY:

WHAT WOMEN WANT (PG-13) -- a teen casual sex flick.

Yes, folks. Another "R-13." And almost all of it because of sex and language. There were some attempts at portraying good values, but they were smothered in the "Go ahead and do the wrong as long as you are sorry for it afterwards" rationale. Nowhere did Jesus demonstrate or encourage our participation in a sinful behavior to teach us of it. Though Jesus is an "impossible act to follow," we should do our best to emulate Him (WWJD). Neither should we use sinful programming as a teaching tool. The attempts at portraying good values included portrayal of sexual sanity, but only after sexual irresponsibility. An arrogant 15 year old daughter, Alex Marshall (Ashley Johnson) teaches her father, Nick Marshall (Mel Gibson), whom she hadn't seen for years [Mal. 2:16], all about "real life" with a 15 year old daughter: about how morally responsible and sexually mature modern youth are. Then when real life hits she realizes real life is a bit more real than she can handle.

Though Alex planned the loss of her virginity [1Ths. 4:2-5; 1Cor. 6:18] by her 18 year old prom date, she changed her mind and said "No." Thankfully, her planning could not become more and more "real life" over the next nine months ... and beyond. It was indeed a stretch for Alex to warm up to her father, but nowhere can I find in the Bible that says a daughter who has been absent from your care for years has the right to show you hatred and disrespect -- but I can find a LOT of Scriptures which strongly advise against child arrogance and rebellion toward parents, Col. 3:20 is only one. In our humanness, animosity would seem kinda inevitable if, by no choice of your own, you are torn apart by divorce then thrown together again years later. "Lean not unto thine own understanding [Prov. 3:5]."

Nick is a top performer of the Sloane-Curtis ad agency and a choice position has opened above Nick. Nick figures he is the only choice for the promotion. The agency chief, Dan Wanamaker (Alan Alda) decides to divert the agency's direction to capture the women's products market. Knowing Nick is a macho type and not well versed in women's apparel and products, Dan "steals" a top notch women's ad expert, Darcy McGuire (Helen Hunt - Twister) from a competitor and puts her instead of Nick in the new position. Darcy, now Nick's boss and everyone else's boss, assigns the entire staff to come up with ad ideas for eight women's products. Darcy places all eight products in a box for each ad rep, even Nick. In the box was lip gloss, eye shadow, a home pregnancy test kit, panty hose, pain reliever, nail polish, skin conditioner, and exfoliation paste.

It an attempt to get the feel for women's products and to experience their appeal, Nick samples most of them in a grasp for THE idea that wins that huge account. To nurture the feeling of women's products, he decides to use them as if he were a consumer of them; donning panty hose, wearing nail polish, exfoliating. But it doesn't work. In one of the attempts to feel female he drops a hair dryer in the tub with his right foot still in the tub. After a night on the bathroom floor, he is awakened by the voice of his housekeeper. But it wasn't her voice. What he heard was her thoughts. The electric shock gave him the ability to read minds but only women's minds...even "women" dogs. Note that the young west Indian lady screaming at him mentally in the previews using her native language was not in the cut I saw. Makes me wonder, though, if someone could read minds, would the language be in the sender's native tongue or would it be universal? Would the mental signals possess the tonal qualities of the sender's voice as was portrayed in this movie and a plethora of others portraying telepathy? (Just making a point.)

Nick was raised the doted son of a Las Vegas showgirl and pampered by all of them. But that does not help him understand the female thought patterns, devices and what some call dichotomy. However, he soon learns that every female he encounters has something to say -- mentally anyway. And some of the mental voices were not particularly nice. Many of his co-workers were women and he discovered -- in no uncertain terms -- what they really thought of him. Including Darcy.

In shameless theft of thoughts, Nick maneuvers Dan with Darcy's ideas [Isa. 5:18]. Not to be too coy, Nick arranges the capture of her thoughts in such a way that she thinks he thinks like she thinks. And that is one of the What Women Want points: "He thinks just like me. How romantic!"

Push comes to shove and Nick and Darcy fall in love -- slowly but surely ... until she finds out that he stole her ideas from her head. BOOM. Well, wait a minute. The explosion started to happen, but in his suave and debonair way, Nick smooths it over to just a fizzle.

This could have been a delightful romantic love story and comedy mix. But the "mix" included quite a load of new age morality and ethics [1John 4:5; 2Cor. 10:2]. For example, 22 uses of the three/four letter word vocabulary PLUS the most foul of the foul words [Prov. 8:13, 17:27] splattered the otherwise bright picture with streaks of ugly. The ugly streaks included the use of God's name in 20 times but each without the four letter expletive [Deut. 5:11]. Many, many examples of adolescent arrogance toward the father were displayed for your 13 year old's behavior template bank. And sexual innuendo, comments, and less ambiguous sexual matters helped the wholesomeness of this flick as much as a screen door would be helpful on a submarine. Some of the "less ambiguous matters" of sexual content was full male nudity (with no genitals), the 15 year old daughter and her 18 year old boyfriend getting friendly on the couch with she in her underwear, showgirl attire, and monologue proving the intent of the writers to make this movie a teen casual sex flick [Eph. 4:19]. There's more. The listing in the Findings/Scoring section tells it all.



ooooooooooooooooooooooooooooooooo



1 Cor. 15:33 (KJV) Be not deceived: evil communications corrupt good manners. (NIV) Do not be misled: Bad company corrupts good character.
Mal. 2:16 "I hate divorce," says the LORD God of Israel,...
1Ths. 4:2-5 For you know what instructions we gave you by the authority of the Lord Jesus. It is God's will that you should be sanctified: that you should avoid sexual immorality; that each of you should learn to control his [or her] own body in a way that is holy and honorable, not in passionate lust like the heathen, who do not know God;
1Cor. 6:18 Flee from sexual immorality. All other sins a man commits are outside his body, but he who sins sexually sins against his own body.
Col. 3:20 Children, obey your parents in all things: for this is well pleasing unto the Lord.
Prov. 3:5 Trust in the LORD with all thine heart; and lean not unto thine own understanding.
Isa. 5:18 Woe to those who draw sin along with cords of deceit, and wickedness as with cart ropes,
1John 4:5 They (every spirit that does not acknowledge Jesus as God in flesh [from 1John 4:3]) are from the world and therefore speak from the viewpoint of the world (i.e., new age ethics and morals), and the world listens to them.
2Cor. 10:2 (This is the Apostle Paul, not Jesus, speaking to the Corinthians) I beg you that when I come I may not have to be as bold as I expect to be toward some people who think that we live by the standards of this world.
1Cor. 3:18 Do not deceive yourselves. If any one of you thinks he is wise by the standards of this age, he should become a "fool" so that he may become wise.
Prov. 8:13 To fear the LORD is to hate evil; I hate pride and arrogance, evil behavior and perverse speech.
Prov. 17:27 A man of knowledge uses words with restraint, and a man of understanding is even-tempered.
Deut. 5:11 Thou shalt not take the name of the LORD thy God in vain: for the LORD will not hold him guiltless that taketh his name in vain.
Eph. 4:19 Having lost all sensitivity, they have given themselves over to sensuality so as to indulge in every kind of impurity, with a continual lust for more.



ooooooooooooooooooooooooooooooooo



As always, it is best to refer to the Findings/Scoring section -- the heart of the CAP analysis model -- for the most complete assessment possible of this movie.



---
FINDINGS / SCORING: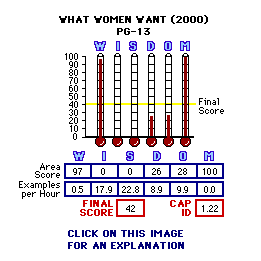 NOTE: Multiple occurrences of each item described below may be likely, definitely when plural.

Wanton Violence/Crime (W):

suicide talk

Impudence/Hate (I)(1):

one use of the most foul of the foul words
22 uses of the three/four letter word vocabulary
many instances of child arrogance and hatefulness
lies
15 year old daughter running out in anger with her 18 year old boyfriend

Sex/Homosexuality (S):

pictures of revealing wear and partial nudity (female, upper) with a child present
inappropriate touching, and before a child
scant dress; dressing to maximize the female form or skin exposure
many sexual innuendo, talk, comments. Some vulgar
vulgar gesture
lesbian comments
man wearing towel only
camera angle clearly to force view of private parts
15 year old planning intercourse with an adult
15 year old girl necking with an adult on a couch, her in her underwear
man and woman in bed in underwear
full male nudity (no genitals)
intercourse, twice
intercourse talk
sex jokes
planning intercourse
comments that "excuse" sexual immorality because of adulthood
talk of homosexuality being normal and/or acceptable
woman in tub

Drugs/Alcohol (D):

smoking
drinking
drunkenness
smoking dope
bar scenes
booze to celebrate

Offense to God (O)(2):

20 uses of God's name in vain but without the four letter expletive

Murder/Suicide (M)(3):