Become a CAPtain


with your
The foul language eliminator


Removes profanity from
movies and TV shows
Switch to LifeLine


for Christian
long distance service
CloseoutVideo.Com

The Family Friendly


Internet Service
A Christ Centered


Community Web Site
Comments?

Christian Media News
A Singles
Christian Network
PLEASE VOTE!


for this site!
Christian Banner eXchange
---



ALERT: To fully understand this report you should first visit the topics suggested by the CAP Table of Contents.

For FREE text-only versions of our media analysis reports as they are calculated, send this email. A subject is optional. If your browser does not handle this URL format properly, send me a request to add you.



NOTE: We make no scoring allowances for Hollywood's trumped-up "messages" to excuse, or its manufacturing of justification for aberrant behavior or imagery. This is NOT a movie review service. It is a movie analysis service to parents and grandparents to tell them the truth about movies using the Truth. If you do not want the plot, ending, or "secrets" of a movie spoiled for you, skip the Summary/Commentary. In any case, be sure to visit the Findings/Scoring section -- it is purely objective and is the heart of the CAP Entertainment Media Analysis Model applied to this movie.




If Scriptural references appear in the Summary / Commentary, the full text appears at the end of the Summary / Commentary likely using a mix of KJV and NIV.



---


SUMMARY / COMMENTARY:

What Lies Beneath (PG-13) -- A "proper" PG-13 for a change.

After a string of R-13s, What Lies Beneath earned a CAP Final Score well inside the CAP scoring range for PG-13 movies. But remember, by the word of Jack Valenti (Pres, MPAA) himself, the PG-13 takes a slice off the top of what was the previous R classification.

After escorting their daughter Katlyn off to college, Claire Spencer (Michelle Pfeiffer), devoted and loving wife of scientist Dr. Norman Spencer (Harrison Ford) opens the show by seeing things. Things such as images of a woman who has been dead for (I think) a year, doors opening by themselves and pictures falling with no apparent cause. Even the family dog gets involved in the portrayal of the alleged supersensitive powers of the canine species. The good Dr. Spencer tries to shrug off his wife's paranormal experiences (for an ulterior reason) and ships her off to a shrink who suggests that Claire try a Ouija board to contact the dead who have been haunting their house. And she does. And she even sees words appear in the steam covered bathroom mirror. I am not too concerned about giving away any of this show because if you've seen the trailers and commercials, you've essentially seen the movie.

I am sorry but I am going to have to cut this one really short. As always, please see the Findings/Scoring section for the heart of the CAP Entertainment Media Analysis Model applied to this movie.



---
FINDINGS / SCORING: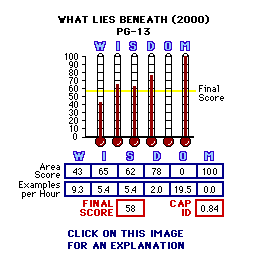 NOTE: Multiple occurrences of each item described below may be likely.

Wanton Violence/Crime (W):

marital violence
face underwater
terror startles
suggestion of contemplating suicide
roughing up of a woman by a man
admission of murder
planning a murder cover-up
bloody injuries
attempted murder by drugging/drowning
defensive killing (of husband) - graphic and drawn out
several sights of a decayed body

Impudence/Hate (I):
one use of the most foul of the foul words
ten uses of the three/four letter word vocabulary
snooping/spying

Sex/Homosexuality (S):

nude woman in tub, more than once (gender-specific areas not seen)
man and woman in bed together with sensuous touching (clothed)
love talk and motions in bed, sex talk and sounds (clothed/covered)
vulgar positioning to invite
licking kissing
story of and admission of adultery
ghosting of female anatomy through thin clothing

Drugs/Alcohol (D):

dinner wine
drinking
social drinking
drugging to control

Offense to God (O)(2):

decayed body coming to life
calling on paranormal forces to improve life
portrayal of paranormal forces and dead people being able to control the loving world
numerous paranormal forces manifesting in inanimate objects
imagery of possession
resuscitation of decayed body to normal
14 uses of God's name in vain without the four letter expletive

Murder/Suicide (M)(3):