Become a CAPtain


with your
The foul language eliminator


Removes profanity from
movies and TV shows
Switch to LifeLine


for Christian
long distance service
CloseoutVideo.Com


Absolute lowest price
videos/DVDs inthe world
guaranteed!
The Family Friendly


Internet Service
A Christ Centered


Community Web Site
Comments?

Christian Media News
A Singles
Christian Network
Your One Stop


For Everything Christian
Free Email Ministry


Subscribe Today!!
PLEASE VOTE!


for this site!
Christian Banner eXchange
---
ALERT: To fully understand this report you should first visit the topics suggested by the CAP Table of Contents.

For FREE text-only versions of our media analysis reports as they are calculated, open this email then click "send." If your browser does not handle this URL format properly, send us a request to add you.
NOTE: We make no scoring allowances for Hollywood's trumped-up "messages" to excuse, or its manufacturing of justification for aberrant behavior or imagery. This is NOT a movie review service. It is a movie analysis service to parents and grandparents to tell them the truth about movies using the Truth. If you do not want the plot, ending, or "secrets" of a movie spoiled for you, skip the Summary/Commentary. In any case, be sure to visit the Findings/Scoring section -- it is purely objective and is the heart of the CAP Entertainment Media Analysis Model applied to this movie
On July 26, 2000 the American Medical Association, the American Psychological Association, the American Academy of Pediatrics, and the American Academy of Child & Adolescent Psychiatry released a joint statement regarding the dangers of violence in entertainment. I applaud these associations for fortifying 1 Cor. 15:33. An exceptionally important statement in the release that deserves your earnest attention is "There are some in the entertainment industry who maintain that 1) violent programming is harmless because no studies exist that prove a connection between violent entertainment and aggressive behavior in children, and 2) young people know that television, movies, and video games are simply fantasy. Unfortunately, they are wrong on both accounts." [Emphasis is mine] Another statement in the report is "Viewing violence may lead to real life violence." From our five-year study, I contend that other aberrant behaviors, attitudes, and expressions can be inserted in place of "violence" in that statement. Our Director - Child Psychology Support, a licensed psychologist and certified school psychologist concurs. For example, "Viewing arrogance against fair authority may lead to your kids defying you in real life." Or "Viewing sex may lead to sex in real life." Likewise and especially with impudence, hate and foul language. I further contend that any positive behavior can be inserted in place of "violence" with the same chance or likelihood of being a behavior template for the observer; of being incorporated into the behavior mechanics and/or coping skills of the observer. In choosing your entertainment, please consider carefully the joint statement and our findings.
If Scriptural references appear, the full text appears at the end of the Summary / Commentary likely using a mix of KJV and NIV.
---


SUMMARY / COMMENTARY:

*The Watcher* (R) -- when is Hollywood again going to make wholesome entertainment?

Crack FBI agent Joel Campbell (James Spader), deposed due to health reasons, relocates from Los Angeles to Chicago. Why one would leave Tinseltown for the Windy City is beyond me. Unbeknownst to Campbell one of his target LA bad guys, serial piano wire killer David Griffin (Keanu Reeves) relocates to Chicago, too. Griffin leaves 11 dead in LA to join the eight serial killers in Chicago [Rom. 13:9; Mark 10:19]. Or was it something else that brought Griffin to Chicago on the heels of Campbell? Since you've asked I'll tell you. Killing was just not the same with Campbell gone.

Griffin baits the cops with photos of his next victim the day before the kill with an ultimatum to find them by 9:00 PM the next day. Griffin stalks his victims for weeks, noting every day-to-day routine they perform. Anyone who wants to know how to be a serial killer doesn't have to be able to think for him/herself. All s/he needs to do is watch *The Watcher* and just about any other crime movie -- or the news, which appears to be a sanitized version of the entertainment industry. We'll get around to analyzing TV, music, video games and more when we can get funding to operate this ministry fulltime with a staff and major equipment upgrade.

This is the standard fare of killer/cop movies with the killer stalking his intended victims, throwing dares and teases to the police, and the police trying to figure out the killer's clues and puzzles before the killer does the deed -- over and over. Somewhat of a twist from the typical killer thriller genre is Griffin toying with and even romancing his intended victims and torturing them for hours before the kill. And as usual the "consequences" are not delivered by rightful judgment that can be easily attributed to proper justice, but rather at the hands of the killer himself who is incinerated by his own devices -- in essence, he falls on his own sword, but not intentionally. I guess this scenario may be applicable to Matt. 26:52 where Jesus in Gethsemane tells one of those with Him who drew a sword to protect Jesus from the chief priests and soldiers "Put your sword back in its place, for all who draw the sword will die by the sword. Indeed, Griffin had "drawn his sword" many times against several women.

As far as sex and drugs/alcohol are concerned, the scoring of this movie is mathematically equivalent to a PG movie in the CAP comparative baseline database built by analysis of 39 randomly selected movies. But amidst the proven influential properties of the extreme violence in this movie [Prov. 4:17], don't let such overwhelming presence mask awareness of the copycat influence of the massive foul language nor the sin of it [Col. 3:8].



ooooooooooooooooooooooooooooooooo



1 Cor. 15:33 (KJV) Be not deceived: evil communications corrupt good manners. (NIV) Do not be misled: Bad company corrupts good character.
Rom. 13:9 For this, Thou shalt not commit adultery, Thou shalt not kill, Thou shalt not steal, Thou shalt not bear false witness, Thou shalt not covet; and if there be any other commandment, it is briefly comprehended in this saying, namely, Thou shalt love thy neighbour as thyself.
Mark 10:19 Thou knowest the commandments, Do not commit adultery, Do not kill, Do not steal, Do not bear false witness, Defraud not, Honour thy father and mother.
Prov. 4:17 For [wicked and evil men] eat the bread of wickedness, and drink the wine of violence.
Col. 3:8 But now ye also put off all these; anger, wrath, malice, blasphemy, filthy communication out of your mouth.



ooooooooooooooooooooooooooooooooo



As always, it is best to refer to the Findings/Scoring section -- the heart of the CAP analysis model -- for the most complete assessment possible of this movie.



---
FINDINGS / SCORING: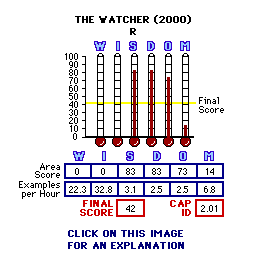 NOTE: Multiple occurrences of each item described below may be likely, definitely when plural.

Wanton Violence/Crime (W):

peeping
breaking and enterings
abductions with brutality
tortures of victims
blood on assailant's hands
reckless driving and flight to avoid legal capture
murder victims - graphic
gunfire to kill
nightmare terror sequences
stalking
reckless endangerment to avoid capture
explosively startling programming
blow to the head
threats with a firearm to the face
death by fire
facial mutilation by fire

Impudence/Hate (I)(1):

24 uses of the most foul of the foul words
27 uses of the three/four letter word vocabulary
pedestrian arrogance narrowly avoiding being hit
teen arrogance against fair authority

Sex/Homosexuality (S):

female underwear mag in man's apartment
adult in underwear
sexual comments
story of admission of adultery

Drugs/Alcohol (D):

social booze
dinner beer
drinking

Offense to God (O)(2):

two uses of God's name in vain with the four letter expletive and two uses without

Murder/Suicide (M)(3):

at least four unseen murders
murder by fire