The foul language eliminator


Removes profanity from
movies and TV shows
Switch to LifeLine


for Christian
long distance service
The Family Friendly


Internet Service
A Christ Centered


Community Web Site
SPECIAL OFFER


From the best-seller book series.
NOW ONLY Just in time for Christmas!




Comments?


Christian Media News
A Singles
Christian Network
Your One Stop


For Everything Christian
Free Email Ministry


Subscribe Today!!
Christian Banner eXchange
---
ALERT: To fully understand this report you should first visit the topics suggested by the CAP Table of Contents.

For FREE text-only versions of our media analysis reports as they are calculated, open this email then click "send." If your browser does not handle this URL format properly, send us a request to add you.
NOTE: The CAP Analysis Model makes no scoring allowances for trumped-up "messages" to excuse or for manufacturing of justification for aberrant behavior or imagery, or for camouflaging such ignominy with "redeeming" programming. Disguising sinful behavior in a theme plot does not excuse the sinful behavior of either the one who is drawing pleasure from the sinful display or the practitioners demonstrating the sinful behavior. This is NOT a movie review service. It is a movie analysis service to parents and grandparents to tell them the truth about movies using the Truth. If you do not want the plot, ending, or "secrets" of a movie spoiled for you, skip the Summary/Commentary. In any case, be sure to visit the Findings/Scoring section -- it is purely objective and is the heart of the CAP Entertainment Media Analysis Model applied to this movie
"There are some in the entertainment industry who maintain that 1) violent programming is harmless because no studies exist that prove a connection between violent entertainment and aggressive behavior in children, and 2) young people know that television, movies, and video games are simply fantasy. Unfortunately, they are wrong on both accounts." [Emphasis is mine] And "Viewing violence may lead to real life violence." I aplaud these associations for fortifying 1 Cor. 15:33. Read the rest of the story. From our five-year study, I contend that other aberrant behaviors, attitudes, and expressions can be inserted in place of "violence" in that statement. Our Director - Child Psychology Support, a licensed psychologist and certified school psychologist concurs. For example, "Viewing arrogance against fair authority may lead to your kids defying you in real life." Or "Viewing sex may lead to sex in real life." Likewise and especially with impudence, hate and foul language. I further contend that any positive behavior can be inserted in place of "violence" with the same chance or likelihood of being a behavior template for the observer; of being incorporated into the behavior mechanics and/or coping skills of the observer. In choosing your entertainment, please consider carefully the "rest of the story" and our findings.
If Scriptural references appear, the full text appears at the end of the Summary / Commentary likely using a mix of KJV and NIV.
---


SUMMARY / COMMENTARY:

UNBREAKABLE (PG-13) -- Do we still wonder from where kids get such ideas?

Let me first repeat a warning made above. If you do not want the plot or "secrets" of this movie revealed, go elsewhere or at least skip the Summary/Commentary and move on to the Findings/Scoring section.

PERSPECTIVE: We have become so drugged by the narcotics of extremes in and as entertainment progressively for so long that what once was morally unacceptable has become morally invisible. If there ever was any doubt about that, there remains no doubt with Unbreakable when a 13 year old boy in a movie can aim a gun he loaded and cocked at his father [Prov. 17:25] and the audience find acceptability in it let alone humor in it. The boy's intent was to prove his father was a super hero who could not die. Remember what God has told us in 1 Cor. 15:33 "Do not be misled: Bad company corrupts good character." The "bad company" imagery in that scene may be captured by embittered youth as power by holding dad ("unfair control") hostage rather than what the scene is supposed to be saying. There may be many emotional and social filters and barriers in the observer in the path of such imagery on its way to the brain that by the time the imagery gets to the brain all that remains of the original imagery is a picture of the power in holding dad hostage ... with a gun.

Let me continue the sermon by explaining that such exposure does not make our children wise and mature. It just makes them worldly -- before their time, long before wisdom that comes with prayer, experience and age catches up. It steals their childhood from them. Recall that it is our charge as members in the Bride to be in the world but not part of it [2Cor. 10:3, 2Pet. 1:4, 1John 2:15-16, 1John 4:2-6]. Maybe it is exposure such as that above and a plethora of other matters of invasive exposure (See SAD BUT TRUE Intro), whether intentional, that serves the adversary by doing just that -- making our children part of the world: part of that which they are not to be, thus serving the adversary and not the Father, just like the adversary wants it, even if it is just a little tiny bit. And much of the stealing of childhood from children is very subliminal and even invisible to those who are victimized by it and even those charged with their care -- we parents. And this rationale sounds so closed minded and ignorant and even insane when spoken before modern morality. And when modern morality chips away at our desire to serve the Father of the Lamb and not the father of lies comes the dissonance created by wanting to serve our Lord while at the same time wanting to be accepted by man. It is a most efficient battle strategy of the adversary. But no weapon shall prosper...if our righteousness is of Him [Is. 54:17].

Unbreakable starring Bruce Willis as David Dunn, a football stadium security guard was, except for some garden-variety moments in the final scenes, an intricate and well-woven work of art and detailed ingenuity. Willis was indeed as masterful as in any other his performances in his cinematic portfolio. The support cast portrayed fully developed personages, not leaving any character development to the audience but leaving situation analysis to the audience with just enough connectivity to enable accurate construction of events by the attentive viewer. Together, these elements plus the surprising lack of special effects will not let you check your brain at the door as do many modern movies...if you go to see this movie.

But this movie was as fantasy as could possibly be -- a dangerous realistic fantasy. The influence of an entity does not have to be the truth to corrupt. Many movies that have children threatening their parents portray the children as hurt, angry and bitter [Is. 30:1]. Dunn's 13 year old son, Joseph (Spencer Treat Clark) loved his father so much he wanted his father to come to grips with "reality" and accept that which Dunn had been trying to reject and ignore for years -- that he was "unbreakable." Comic books call it invulnerable. And therein is the dangerous fantasy. Dunn could not be hurt (except by water). Joseph was going to shoot his father to prove it. Do we still wonder from where kids get such ideas? I guess it is okay for movies to plant such behavioral templates in 13 year old kids -- the Motion Picture Association of America (MPAA) thinks so. Do you?

As I have warned above and atop every more recent analysis webpage, if you do not want the plot spoiled, move on to the Findings/Scoring section or to a movie review service.

A comic book art collector/dealer and art show curator, Elijah Price (Samuel L. Jackson) spent most of his fragile life trying to find his reciprocal: the one who would make him complete; the opposite of himself. At birth Elijah suffered two broken arms and two broken legs due to a congenital disease that made his bones extremely fragile, so fragile that as an early teen he pretended to be injured to prevent going outside. This led to mom encouraging Elijah to venture into the cruel world by rewarding outdoor escapades with comic books, buying him a new one each time he went outside. Fifty-four bone breaks later, Elijah becomes a collector and dealer of comic books and comic book art. This exposure also led Elijah to believe comic book super powers are just "exaggerations of the truth": that many people really do have super powers which are simply undiscovered or inadequately harnessed: that such power in comic books is just exaggeration of the truth. Elijah manufactured that somewhere is someone who is invulnerable to bone breaks. And he set out to find this super man, no matter how many lives it took to do it. Dunn was that "someone."

Strangely enough, Dunn had been walking through life with a "wha'..who...where" bewilderment. An emptiness that was destroying his marriage to his high school sweetheart who shared in a car wreck with him -- in which he was not hurt, not a scratch, but she was. The distance Dunn kept himself from those who loved him was feeding the emptiness he felt -- until he found his true identity. Once discovered and once explained by his "mentor" Elijah, all was well and a life of fighting evil and injustice was born.

In addition to the horror of the scene of Joseph holding his father hostage at gunpoint, some other ugliness was presented as Dunn walked the path to discovering what he was. As he "sensed" evil and wrongdoings by clairvoyance clairvoyance [Eccl. 7:14], the writers presented the evil and wrongdoings -- graphically. In the scene where Dunn tested and exercised his super power for the first time to save the lives of two kids and bring a bad guy to justice, the filth and brutality of murderous behavior and the almost as filthy and brutal behavior in heroic combat with evil were clearly evident. I suppose if there were a super-hero name to be used for Dunn it would be "Vigilante-man."

Some of the issues not typically acceptable for 13 year old by parents include the use of firearms to control and kill, vulgar demands, graphic brutality, and lies to a father. Some explosive programming violently shattered periods of calmness and a continuous darkness and sinister aura [Eph. 5:11, 2 Pet. 2:17 , Rev. 16:10] were questionable for many. And some supernatural mumbo-jumbo [Deut. 18:10] and the use of God's name in vain with the four letter expletive [Deut. 5:11] presented the use of sin as entertainment.



ooooooooooooooooooooooooooooooooo



1 Cor. 15:33 (KJV) Be not deceived: evil communications corrupt good manners. (NIV) Do not be misled: Bad company corrupts good character.
Prov. 17:25 A foolish son brings grief to his father and bitterness to the one who bore him.
2Cor. 10:3 For though we live in the world, we do not wage war as the world does.
2Pet. 1:4 Through these he has given us his very great and precious promises, so that through them you may participate in the divine nature and escape the corruption in the world caused by evil desires.
1John 2:15-16 Do not love the world or anything in the world. If anyone loves the world, the love of the Father is not in him. For everything in the world -the cravings of sinful man, the lust of his eyes and the boasting of what he has and does -comes not from the Father but from the world.
1John 4:2-6 This is how you can recognize the Spirit of God: Every spirit that acknowledges that Jesus Christ has come in the flesh is from God, but every spirit that does not acknowledge Jesus is not from God. This is the spirit of the antichrist, which you have heard is coming and even now is already in the world. You, dear children, are from God and have overcome them, because the one who is in you is greater than the one who is in the world. They are from the world and therefore speak from the viewpoint of the world, and the world listens to them. We are from God, and whoever knows God listens to us; but whoever is not from God does not listen to us. This is how we recognize the Spirit of truth and the spirit of falsehood.
Is. 54:17 No weapon that is formed against thee shall prosper; and every tongue that shall rise against thee in judgment thou shalt condemn. This is the heritage of the servants of the LORD, and their righteousness is of me, saith the LORD.
Is. 30:1 Woe to the rebellious children, saith the LORD, that take counsel, but not of me; and that cover with a covering, but not of my spirit, that they may add sin to sin:
Deut. 18:10-11 Let no one be found among you who sacrifices his son or daughter in the fire, who practices divination or sorcery, interprets omens, engages in witchcraft, or casts spells, or who is a medium or spiritist or who consults the dead.
Eccl. 7:14 When times are good, be happy; but when times are bad, consider: God has made the one as well as the other. Therefore, a man cannot discover anything about his future.
Eph. 5:11 And have no fellowship with the unfruitful works of darkness, but rather reprove them.
2 Pet. 2:17 These are wells without water, clouds that are carried with a tempest; to whom the mist of darkness is reserved for ever.
Rev. 16:10 And the fifth angel poured out his vial upon the seat of the beast; and his kingdom was full of darkness; and they gnawed their tongues for pain,
Deut. 5:11 Thou shalt not take the name of the LORD thy God in vain: for the LORD will not hold him guiltless that taketh his name in vain.



ooooooooooooooooooooooooooooooooo



As always, it is best to refer to the Findings/Scoring section -- the heart of the CAP analysis model -- for the most complete assessment possible of this movie.



---
FINDINGS / SCORING: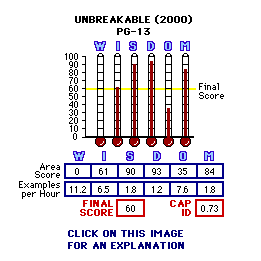 NOTE: Multiple occurrences of each item described below may be likely, definitely when plural.

Wanton Violence/Crime (W):

fall with injuries
child aiming loaded gun at father to manipulate him
constant aura of adult-level seriousness/trials
aftermath of vehicular wreck
explosive programming
breaking and entering
2 murder victims
2 kids brutalized by the murderer
graphic struggle to prevent drowning
graphic struggle to subdue murderer
theft

Impudence/Hate (I)(1):

3 uses of the three/four letter word vocabulary
a married man removing wedding ring to avoid scaring off an attractive young woman
comment that many people really do have super powers which are simply undiscovered or inadequately harnessed: exaggeration of the truth
lies to father
child arrogance at parents

Sex/Homosexuality (S):

making adulterous moves
vulgar demand
vulgar positioning at the feet of an unconscious girl in a very short dress

Drugs/Alcohol (D):

dinner booze
drinking

Offense to God (O)(2):

one use of God's name in vain with the four letter expletive and three without
supernatural mumbo-jumbo
dark and sinister theme throughout
clairvoyance

Murder/Suicide (M)(3):

two murders (act unseen)