Become a CAPtain


with your
The foul language eliminator


Removes profanity from
movies and TV shows
A Christian Family


Internet Network Cooperative
Switch to LifeLine


for Christian
long distance service
The Family Friendly


Internet Service
A Christ Centered


Community Web Site
Comments?

Christian Media News
A Singles
Christian Network
PLEASE VOTE!


for this site!
Christian Banner eXchange
---



ALERT: To fully understand this report you should first visit the topics
suggested by the CAP Table of Contents.



SUMMARY / COMMENTARY:

*The Tigger Movie* (G) -- Hooo, hoo, Hoooo! A Real Family Movie!

Family is family, even if the family is not blood-related. We have seven kids and only one of them is blood-related to my wife and I. I could not love any one of my kids any more or less than any other.

There are only two instances you may want to address one-on-one with your kids. Tigger has a great fall off a very high cliff with no consequences much like the Road Runner(tm) cartoons which raised some concern regarding their violent influence. Further, Tigger ventured out on his own in a blinding blizzard to search for his relatives -- and the whole clan went after him.

It seems Pooh and others of Tigger's friends manufactured a note from Tigger's family. Tigger takes the note seriously and strikes out to find his family. I am going to break my own policy guideline and tell you this is a really good show and even discuss its message. Though this is a Disney movie, the writers were very successful with a message that sometimes it is comforting to have a 'family' which is not blood-related: that sometimes love is thicker than blood. It was for love that Jesus willingly shed His Blood for us.

So many of our visitors seem to be relying only on this Summary/Commentary for a full assessment of this movie. This is not possible. For the best representation of the CAP Entertainment Media Analysis Model applied to this movie, visit the Findings/Scoring section below.



---
FINDINGS / SCORING: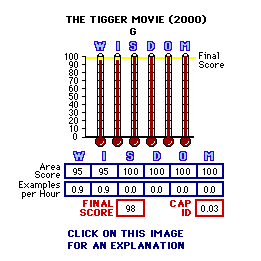 NOTE: Multiple occurrences of each item described below may be likely.

Wanton Violence/Crime (W):

a great fall

Impudence/Hate (I)(1):

striking out in a blizzard

Sex/Homosexuality (S):

none noted

Drugs/Alcohol (D):

none noted

Offense to God (O)(2):

none noted

Murder/Suicide (M)(3):

none noted