Become a CAPtain


with your
A Christ Centered


Community Web Site
Comments?

Christian Media News
A Singles
Christian Network
PLEASE VOTE!


for this site!
ALERT: To fully understand this report you should first visit the topics
suggested by the CAP Table of Contents.



SUMMARY / COMMENTARY:

*Three Kings* (R) -- not at all like the Magi.

Though the 'three kings' were bearing [stolen] gold, they had no frankincense or myrrh. A group of military marvels, at the close of the Gulf War, decided to steal the gold Hussein stole from the Kuwaitis. If your kids see it, they will get visual education of the true meaning of "Put it where the sun don't shine." To the adversaries of the CAP ministry, this is 'real world' stuff kids should not be shielded from? Personally, I believe this movie was certainly NOT a tribute to the heroes and heroics of the Gulf War.

George Clooney stars as a mad Major bent on getting the gold to ensure he would not have to depend on the weekend warrior pay. Three of his underlings, two sergeants and one private, join him. Alas, through the skirmishes they encounter, one is killed, leaving the 'three kings'. After a series of come-upance encounters, the three kings emulate their namesakes by returning the gold to the Kuwaitis.

Gore was not as severe as would be expected from a 90s war story -- the war was over and very few of the soldiers had seen "action." But there was gore to be sure. In this trend-setting choreography, the viewer was taken on a tour of the human innards as a bullet traversed through the human body, more than once.

Criminal exercise of military authority and weapons, death gore and injury, gunfire to kill and intimidate, plus many other issues of violence freckled the choreography. In addition, a child being blown up, a baby and his mother being blown up, and heads exploding due to gunfire anchored the movie in the seas of violence. Sexual intercourse and adults in underwear served to fortify the already decayed threshold of sexual acceptability. And, as you can expect of almost every movie nowadays, the three/four letter word vocabulary PLUS the most foul of foul words peppered the script like rye grass on a well-watered lawn. And God's name in vain both with and without the four letter expletive soured the mix even further.

There is more to this movie parents and grandparent should be concerned about should the little ones express a loud noise to see this show. Please rely more on the Findings/Scoring section from Full Report below than on this summary/commentary.



---
FINDINGS / SCORING: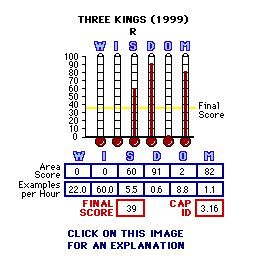 NOTE: Multiple occurrences of each item described below are likely.

Wanton Violence/Crime (W):

military weapons for illegal control throughout
killings by firearms
graphic gunfire and warfare death gore/injury
gore of bullet passing through human organs
decayed bodies
criminal exercise of military authority to commit theft
brutality and torture
gunfire injury/gore
child shooting at soldiers then being blown up by tank fire
fist fighting
beatings
scene of a bay being killed by an explosion
scene of a mother with a baby being killed by an explosion
two men on fire
field impalement to relieve collapsed lung

Impudence/Hate (I)(1):

54 uses of the most foul of foul words
50 uses of the three/four letter word vocabulary
public urination
document inserted into rectum
lying

Sex/Homosexuality (S):

sexual intercourse (clothed) with the associate sounds and movements
male rear nudity
vulgar anatomical references
man and woman in bed together

Drugs/Alcohol (D):

booze
drinking
drunkenness

Offense to God (O)(2):

6 uses of God's name in vain with the four letter expletive and 6 without
mockery of Jesus and His teachings and salvation through His precious blood

Murder/Suicide (M)(3):

head shot murder of a mother in front of her child
child blown up by tank fire