Now by MC, Amex, Visa and more!
Your donations are TAX DEDUCTIBLE!
The foul language eliminator


Tell them CAP sent you
877-NOCURSE (877-662-8773)
Switch to LifeLine


for Christian
long distance service
The Family Friendly


Internet Service
Comments?

Christian Media News
A Singles
Christian Network
Your One Stop


For Everything Christian
Free Email Ministry


Subscribe Today!!
Christian Banner eXchange
---



ALERT: To fully understand this report you should first visit the topics suggested by the CAP Table of Contents.

For FREE text-only versions of our media analysis reports as they are calculated, open this email then click "send." If your browser does not handle this URL format properly, send us a request to add you.



NOTE: If you do not want the plot, ending, or "secrets" of a movie spoiled for you, skip the Summary/Commentary. In any case, be sure to visit the Findings/Scoring section -- it is purely objective and is the heart of the CAP Entertainment Media Analysis Model applied to this movie


---


SUMMARY / COMMENTARY:




If Scriptural references appear, the full text appears at the end of the Summary / Commentary likely using a mix of KJV and NIV.



SUGAR & SPICE (PG-13) -- a flick filled with filthy phonation and foul form.

Jack and Diane. Nice touch! But John Mellencamp was not in the flick. Jack (James Marsden - "Cyclops" in X-Men is a new football quarterback for Lincoln High School. Diane (Marley Shelton) is the A-team cheerleader team captain. Jack and Diane fall in love. Jack gets Diane pregnant [Hebr. 13:4]. Moms and dads give their disapproval. Jack and Diane move into an economy apartment. Jack gets a job. Jack gets fired. Jack and Diane are broke. Diane enlists the A-team of the cheer squad to help her rob a bank. They rob a bank [Deut. 5:19]. They get away with it. They all graduate high school then live happily ever after. End of story. But I'll give you a few more details.

Mena Suvari, the adolescent kissing partner of middle-aged Kevin Spacey in American Beauty stars as cohort in crime, Kansas. Her mom (Sean Young) is in prison. Along with a slew of her friends, Kansas' mom serves as a key source of advice and mentorship in how to rob a bank. In addition, Kansas and the crew watch a bunch of movies to get ideas on how NOT to get caught. A little more entertainment industry self-admission? Or maybe an attempt to insult those who believe the entertainment industry, whether intentional, is indeed an influence to wannabe criminals. Finding their best target and the best methodology, the crew decides that it is expected of them to have guns. So, they enlist the aid of a supplier who provides the guns at no charge if the A-team lets his daughter, Fran (Alexandra Holden) be on their cheerleader squad.

Deciding to use Betty Doll costumes with full head masks, the crew heist a convenience bank inside a combo store, rationalizing that if they give some of the money to charity ("buy" one of Sally Struthers' kids) they would be "clean." One of the moves used by the crew to block the view of a surveillance camera was a cheer move to rise to the occasion and paint the lens. But, unbeknownst to the crew, rival B-team cheerleader Lisa (Marla Sokoloff - who does much of the narrating of the show) happens to be in the store as the heist goes down. Lisa notices the execution of the cheer routine used to reach the camera lens involves an illegal dismount. She puts two and two together to figure out who is under those masks. Though she tries to expose the crew, Lisa is bought by the crew by letting her on the A-team and silence is assured. What integrity! [Prov. 13:6]

The rest of the A-team is Lucy, Cleo and Hannah. Lucy (Sara Marsh) is the intellectual of the outfit. She is hoping for a scholarship to Harvard. She even tries to back out of the heist but changes her mind and serves as Richard Nixon instead of a Betty Doll. Cleo (Melissa George) is in love with Conan O'Brien. Hannah (Rachel Blanchard) is portrayed as the "sheltered" daughter of overprotective "Church-going" parents (she's not allowed to watch the crime movies to get ideas for the robbery). Yes, there is a load of belittlement and mockery of being Christian. [Ps. 123:3, Matt. 5:11]

Targeted at the under-17 crowd, this is a flick filled with filthy phonation and foul form. So much so Sugar & Spice earned a CAP "R-13." It was another example of using [figuratively] 1000 issues of "lesser" ignominy worth 10 nasty points each rather than the technique typical of R-rated flicks to use 10 issues of "extreme ignominy" each worth 1000 nasty points -- the magnitude of the effect is the same, "10,000 nasty points." That's all the time I am going to spend on this one. Flip through the Bible and randomly land on a verse and there is probably something in this teenybopper, bubblegum movie that violates it (that is an extreme exaggeration ,of course, but the point is made). The Findings/Scoring section tells all anyway.



ooooooooooooooooooooooooooooooooo


If needed to focus or fortify, applicable text is underlined or bracketed [ ].

1 Cor. 15:33 (KJV) Be not deceived: evil communications corrupt good manners. (NIV) Do not be misled: Bad company corrupts good character.
Hebr. 13:4 Marriage should be honored by all, and the marriage bed kept pure, for God will judge the adulterer and all the sexually immoral.
Deut. 5:19 "You shall not steal."
Prov. 13:6 Righteousness guards the man of integrity, but wickedness overthrows the sinner.
Ps. 123:3 Have mercy on us, O LORD, have mercy on us, for we have endured much contempt.
Matt. 5:11 Blessed are you when people insult you, persecute you and falsely say all kinds of evil against you because of me.



ooooooooooooooooooooooooooooooooo



As always, it is best to refer to the Findings/Scoring section -- the heart of the CAP analysis model -- for the most complete assessment possible of this movie.



---
FINDINGS / SCORING: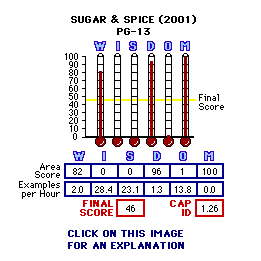 NOTE: Multiple occurrences of each item described below may be likely, definitely when plural.

Wanton Violence/Crime (W):

planning robbery
gunfire to control
robbery with firearms

Impudence/Hate (I)(1):

39 uses of the three/four letter word vocabulary
hate talk
lie to mother
leading daughter into life of crime
no consequences for crimes

Sex/Homosexuality (S):

homosexual reference
crude humor
sex talk
inappropriate touch
admission of sexual immorality
near nudity - rear
adults/teens in underwear
excessive cleavage/breast exposure
lesbian comments
vulgar anatomical references
transvestism in official school activity

Drugs/Alcohol (D):

smoking
drinking

Offense to God (O)(2):

use of the Ouija board
mockery of being Christian

Murder/Suicide (M)(3):

none noted





NOTE: The CAP Analysis Model makes no scoring allowances for trumped-up "messages" to excuse or for manufacturing of justification for aberrant behavior or imagery, or for camouflaging such ignominy with "redeeming" programming. Disguising sinful behavior in a theme plot does not excuse the sinful behavior of either the one who is drawing pleasure from the sinful display or the practitioners demonstrating the sinful behavior. This is NOT a movie review service. It is a movie analysis service to parents and grandparents to tell them the truth about movies using the Truth.





"There are some in the entertainment industry who maintain that 1) violent programming is harmless because no studies exist that prove a connection between violent entertainment and aggressive behavior in children, and 2) young people know that television, movies, and video games are simply fantasy. Unfortunately, they are wrong on both accounts." [Emphasis is mine] And "Viewing violence may lead to real life violence." I aplaud these associations for fortifying 1 Cor. 15:33. Read the rest of the story. From our five-year study, I contend that other aberrant behaviors, attitudes, and expressions can be inserted in place of "violence" in that statement. Our Director - Child Psychology Support, a licensed psychologist and certified school psychologist concurs. For example, "Viewing arrogance against fair authority may lead to your kids defying you in real life." Or "Viewing sex may lead to sex in real life." Likewise and especially with impudence, hate and foul language. I further contend that any positive behavior can be inserted in place of "violence" with the same chance or likelihood of being a behavior template for the observer; of being incorporated into the behavior mechanics and/or coping skills of the observer. In choosing your entertainment, please consider carefully the "rest of the story" and our findings.