Become a CAPtain


with your
The foul language eliminator


Removes profanity from movies and TV shows
CHRISTMAS SPECIAL! $40.00 OFF!
A Christian Family


Internet Network Cooperative
Switch to LifeLine


for Christian
long distance service
The Family Friendly


Internet Service
A Christ Centered


Community Web Site
Comments?

Christian Media News
A Singles
Christian Network
PLEASE VOTE!


for this site!
---

ALERT: To fully understand this report you should first visit the topics
suggested by the CAP Table of Contents.



SUMMARY / COMMENTARY:

*The Straight Story* (G) -- anther PG movie rated G.

Yes, a PG. In accordance with the same identical analysis model which revealed PG movies of 1995 and 1996 earned CAP final scores between 86 and 68, *The Straight Story with a CAP final score of 84 (Influence Density of 0.28) should have been rated PG. If this movie is closed-captioned a Curse Free TV unit would improve the CAP final score of it to 95 with an Influence Density of 0.09!

A gentle, sometimes exciting, always beautiful tone-setting story with salt-of-the-earth eddies of poetic fluidity. Seventy-three year old widower Alvin Straight (Richard Farnsworth) with less-than-peak eyesight and hips traveled a zillion miles by himself, ill health notwithstanding, from Luarens, Iowa to Mt. Zion, Wisconsin to visit his stroke-victim brother, Lyle (Harry Dean Stanton) who was last seen by Alvin some years earlier under hostility. What would have been a plain story was made exceptional because Alvin made the trip on a riding lawn mower. He made the trip on the mower because he could not be licensed to drive a car/truck. At almost any cost, Alvin was "driven" to find his brother to make amends as soon as possible. Living with his infirm daughter played by Sissey Spacek, the earthen performance of Farnsworth made it seem as natural as rain. And in his two-lane journey to reconcile with his estranged brother, Alvin learned what really matters. Although Stanton had a very small and almost silent part, it should emotionally move the hardest of viewers -- even me.

What also made this movie notable and indeed astounding is that David Lynch directed it; one who is not known for G-rated programming. And the support staff were genius. Not depending totally on the beauty of the American mid-west, the crew brought to life the otherwise dull and uneventful guit-fiddle reality of rural America and the simple tortures and pleasures of it.

Three/four letter word vocabulary appeared a few times. The use of God's name in vain happened a large number of times though without the four letter expletive. Because of the flagrant use of God's name in vain, this movie earned a CAPAlert red light -- for no other reason. The Offense to God Investigation Area score was 54 which is the top of the upper cell boundary for R-rated material of 1995 and 1996. I did not write this movie, folks nor did I write the "rules." Even though the general populace appears to have become insensitive to the wrongness of using God's name in vain, He does not like it -- we have His Word on it and the consequences of using His name in vain could be severe whether be believe it or not [Deut. 5:11 "Thou shalt not take the name of the LORD thy God in vain: for the LORD will not hold him guiltless that taketh his name in vain."]. The verse dos NOT say "should not" or "ought not." It says "shalt not." Even the NIV says "shall not." Drinking was noted a few times plus one instance of terror as Straight's mower lost braking as it rocketed down a hill with him on it and a trailer behind. An attempt to cheat and a lie about personal health may need your redirection.

Another element of possible entertainment ignominy might be noted in the reason for part of Alvin's ill health -- smoking -- for which the only "visible" consequences were a chewing out by a doctor. I have not incorporated smoking into the CAP analysis model. If I do, the integrity of the CAP analysis model would not be compromised but scores will generally be even lower than now. And likewise the scores of some of the more than 260 movies already analyzed should be lower. But then, if smoking in entertainment is determined to be a significant influence, the scores *should* be lower. What do YOU want me to do about smoking in the movies? Bottom line: is it a sin to smoke?

So many of our visitors seem to be relying only on this Summary/Commentary for a full assessment of this movie. This is not possibble. For the best representation of the CAP Entertainment Media Analysis Model applied to this movie, visit the Findings/Scoring section below.



---
FINDINGS / SCORING: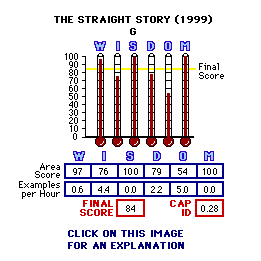 NOTE: Multiple occurrences of each item described below are likely.

Wanton Violence/Crime (W):

terror of runaway lawn mower down a hill with the rider

Impudence/Hate (I)(1):

6 uses of the three/four letter word vocabulary with none of the most foul words
a lie about personal health to daughter
attempt to cheat

Sex/Homosexuality (S):

none noted

Drugs/Alcohol (D):

drinking beer

Offense to God (O)(2):

9 uses of God's name in vain but without the four letter word vocabulary

Murder/Suicide (M)(3):

none noted