Become a CAPtain


with your
A Christ Centered


Community Web Site
Comments?

Christian Media News
A Singles
Christian Network
PLEASE VOTE!


for this site!
---

ALERT: To fully understand this report you should first visit the topics
suggested by the CAP Table of Contents.



SUMMARY / COMMENTARY:

*The Story of Us* (R) -- But not a story of us.

I do not know of any nuclear family as bitter as the family in *The Story of Us*. I suspect there are, but is there really a need to perpetuate such melancholy by making sure the moviegoer who might not have ever had to witness such hatred knows all about it before s/he leaves the theater?

*The Story of Us* could embolden already established bitterness and discord in a family or marriage: could threaten an already endangered marriage. To view such animated and exceptionally bitter argumentation, sometimes bordering on violent, can serve to give more examples of how to get even rather than get resolved. *The Story of Us* is another heaping helping of marital hate and vengeance served up under an ultimate statement of reconciliation. I do not believe it can even come close to giving hope to any fragile marriage. And the two or three year old girl in the audience, one of them anyway, who cried at some of the scenes of hate and arguing is not likely to remember the touching and complex "statement" of reconciliation at the end of the show, but she will likely remember that which made her cry -- for a long, long time.

The most foul of the foul words zipped like wasps out of the speakers. The three/four letter words attached themselves to the most foul of foul words to give a thorough whetting of the script with profanity. Sex talk with explicit descriptives and adulterous activities provided teasings of the lower levels of A. H. Maslow's hierarchy of needs. Violence in marriage was the blue plate special with a side order of sex.

So many of our visitors seem to be relying only on this Summary/Commentary for a full assessment of this movie. This is not possibble. For the best representation of the CAP Entertainment Media Analysis Model applied to this movie, visit the Findings/Scoring section below.



---
FINDINGS / SCORING: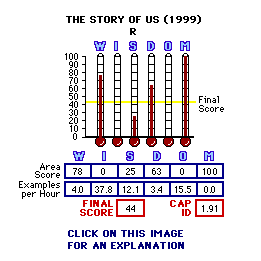 NOTE: Multiple occurrences of each item described below are likely.

Wanton Violence/Crime (W):

marital arguments
separation
violent speech
violent displays

Impudence/Hate (I)(1):

19 uses of the most foul of the foul words
25 uses of the three/four letter word vocabulary
belittlement of marriage
lies to gain advantage
lies to protect children
social conversation lies
hateful arguments

Sex/Homosexuality (S):

sex talk with explicit descriptives
necking in underwear
rear male nudity and in house with children
adults in underwear
adulterous relationship
man in bed with woman
man in tub with woman

Drugs/Alcohol (D):

booze
drinking
drunkenness

Offense to God (O)(2):

God's name in vain 23 times, 5 with the four letter expletive
"Does God exist?

Murder/Suicide (M)(3):

none noted