Become a CAPtain


with your
SPECIAL OFFER


From the runaway best-seller.
The foul language eliminator


Removes profanity from
movies and TV shows
Switch to LifeLine


for Christian
long distance service
CloseoutVideo.Com


Absolute lowest price
videos/DVDs inthe world
guaranteed!
The Family Friendly


Internet Service
A Christ Centered


Community Web Site
Comments?

Christian Media News
A Singles
Christian Network
Your One Stop


For Everything Christian
Free Email Ministry


Subscribe Today!!
PLEASE VOTE!


for this site!
Christian Banner eXchange
---
ALERT: To fully understand this report you should first visit the topics suggested by the CAP Table of Contents.

For FREE text-only versions of our media analysis reports as they are calculated, open this email then click "send." If your browser does not handle this URL format properly, send us a request to add you.
NOTE: We make no scoring allowances for Hollywood's trumped-up "messages" to excuse, or its manufacturing of justification for aberrant behavior or imagery. This is NOT a movie review service. It is a movie analysis service to parents and grandparents to tell them the truth about movies using the Truth. If you do not want the plot, ending, or "secrets" of a movie spoiled for you, skip the Summary/Commentary. In any case, be sure to visit the Findings/Scoring section -- it is purely objective and is the heart of the CAP Entertainment Media Analysis Model applied to this movie
On July 26, 2000 the American Medical Association, the American Psychological Association, the American Academy of Pediatrics, and the American Academy of Child & Adolescent Psychiatry released a joint statement regarding the dangers of violence in entertainment. I applaud these associations for fortifying 1 Cor. 15:33. An exceptionally important statement in the release that deserves your earnest attention is "There are some in the entertainment industry who maintain that 1) violent programming is harmless because no studies exist that prove a connection between violent entertainment and aggressive behavior in children, and 2) young people know that television, movies, and video games are simply fantasy. Unfortunately, they are wrong on both accounts." [Emphasis is mine] Another statement in the report is "Viewing violence may lead to real life violence." From our five-year study, I contend that other aberrant behaviors, attitudes, and expressions can be inserted in place of "violence" in that statement. Our Director - Child Psychology Support, a licensed psychologist and certified school psychologist concurs. For example, "Viewing arrogance against fair authority may lead to your kids defying you in real life." Or "Viewing sex may lead to sex in real life." Likewise and especially with impudence, hate and foul language. I further contend that any positive behavior can be inserted in place of "violence" with the same chance or likelihood of being a behavior template for the observer; of being incorporated into the behavior mechanics and/or coping skills of the observer. In choosing your entertainment, please consider carefully the joint statement and our findings.
If Scriptural references appear, the full text appears at the end of the Summary / Commentary likely using a mix of KJV and NIV.
---


SUMMARY / COMMENTARY:

*Small Time Crooks* (PG) -- small time return on your entertainment dollar.

In the shadow of The Crew, Small Time Crooks starring Woody Allen is a flick about some aging crooks trying once again to relive their youthful lawlessness [Hab. 2:12] and make that big score to retire in Miami. Not Ft. Lauderdale and not Tampa Bay, but in Miami. Ray "Brain" Winkler (Woody Allen) gets another hair-brained idea to rent a hole-in-the-wall pizza parlor close to a bank to tunnel to the bank two doors down and rob it. As a front Ray and his wife, Francis aka "Frenchie" (Tracy Ullman) set up a cookie shop in the rented pizza parlor. Ray digs and Frenchie cooks. Along with three of his ex-con buddies, Ray bungles his way up through the floor of a dress shop in stead of the bank vault. I have never seen a tunneling show that reveals what is done with the yards of dirt dug out to make the tunnel -- this one is no different. What do you do with the yards of dirt, especially in the downtown of a concrete and asphalt metropolis?

But while the tunneling goes on, Frenchie is turning out to be a mighty fine cookie cooker. The business is doing so well the Winklers hire Frenchie's cousin May (Elaine May). And all seems to be going well for the dastardly deed doers -- until May blabs the "expansion plans" for the shop to a cop customer who had a brother who took a business class who, in the middle of arresting the quartet, suggests the foursome (plus Frenchie and May) franchise. That they do -- and make a fortune. The cop becomes a vice president in the new business. And so do the rest of the gang, vice presidents all with Ray as the CEO. And, of course, the criminal activities become background noise without the slightest hint of consequences [Eccl. 8:11].

Now that the Winklers are rich, Frenchie wants to hobnob with the elite and snooty. She even wants to become high society and snooty just like the highfalutin folks [Prov. 8:13]. So, enters David (Hugh Grant of Notting Hill), a most suave and debonair english-accented, art master who has caught the eye of Frenchie, so much so she hires him to teach her and Ray how to be 'real people', real snooty anyway. But David has other plans for a relationship with Frenchie, with her money anyway [Rom. 3:13]. But to implement his plan, he has to woo Frenchie which causes the Winklers to split up.

Though May is said in the movie to have the IQ of a chair (and Elaine May was genius at the part), Ray finds consolation and companionship in her company. In an attempt to finance his and May's plans to run off to Florida, Ray brainstorms another heist but this time of a priceless necklace from the hostess of a gala high society shindig he was to attend shortly. Ray has a duplicate of the necklace made to replace the stolen real necklace to give them time to go on the lam. All would have went well until May, serving as lookout during the heist, bolted and caused ray to lose track of which necklace was the fake and which was the real McCoy. Elaine May was probably the funniest character in the whole show. She at least had the cleanest script. Which brings up why this is a PG movie.

*Small Time Crooks* was a PG made into a "PG[13]" due mainly to language and booze. Fifteen uses of the three/four letter word vocabulary plus 26 uses of variations of God's name in vain but without the four letter expletive [Exod. 20:7]. While not a violent movie, several criminal acts (without consequences, of course) were noted. A monologue of sexual matters about how advertising can be more efficacious by taking advantage of the appeal of a pornographic magazine and picture nudity [Mark 7:21] topped off the reasons for the "PG[13]."



ooooooooooooooooooooooooooooooooo



1 Cor. 15:33 (KJV) Be not deceived: evil communications corrupt good manners. (NIV) Do not be misled: Bad company corrupts good character.
Hab. 2:12 Woe to him who builds a city with bloodshed and establishes a town by crime!
Eccl. 8:11 When the sentence for a crime is not quickly carried out, the hearts of the people are filled with schemes to do wrong.
Prov. 8:13 To fear the LORD is to hate evil; I hate pride and arrogance...
Rom. 3:13 Their throat is an open sepulchre; with their tongues they have used deceit; the poison of asps is under their lips:
Exod. 20:7 You shall not misuse the name of the LORD your God, for the LORD will not hold anyone guiltless who misuses his name.
Mark 7:21 For from within, out of men's hearts, come evil thoughts, sexual immorality...



ooooooooooooooooooooooooooooooooo



As always, it is best to refer to the Findings/Scoring section -- the heart of the CAP analysis model -- for the most complete assessment possible of this movie.



---
FINDINGS / SCORING: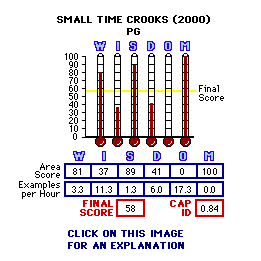 NOTE: Multiple occurrences of each item described below may be likely, definitely when plural.

Wanton Violence/Crime (W):

planning crimes
illegal purchase of dynamite
theft
crooked cop

Impudence/Hate (I)(1):

15 uses of the three/four letter word vocabulary
development of immoral relationships

Sex/Homosexuality (S):

monologue of sexual matters
picture nudity

Drugs/Alcohol (D):

drinking
booze
portrayal of drinking settling the nerves

Offense to God (O)(2):

26 uses of variations of God's name in vain but without the four letter expletive

Murder/Suicide (M)(3):