Become a CAPtain


with your
The foul language eliminator


Removes profanity from movies and TV shows
CHRISTMAS SPECIAL! $40.00 OFF!
A Christian Family


Internet Network Cooperative
Switch to LifeLine


for Christian
long distance service
The Family Friendly


Internet Service
A Christ Centered


Community Web Site
Comments?

Christian Media News
A Singles
Christian Network
PLEASE VOTE!


for this site!
---

ALERT: To fully understand this report you should first visit the topics
suggested by the CAP Table of Contents.



SUMMARY / COMMENTARY:

*Sleepy Hollow* (R) -- Icabod Crane was NOT a school master.

A New York constable, Icabod Crane was dispatched to Sleepy Hollow as punishment for his earnest to promote science and real deductive investigation into police work. Alas, an "old" judge who would not bend to young minds and fresh ideas sent the young mind and fresh ideas to Sleepy Hollow to help with three decapitation murders. Upon arrival, Crane tried to dazzle the locals with his gadgetry and sleuth -- which did not impress them. Soon, Crane discovered that he "was a long way from New York" and that his intellectual pursuits into police work were not quite what he had hoped they would be.

A very well made movie! Excitement was nearly continuous. Acting was grand. Some great acrobatics and finely-tuned agility were demonstrated. Scenery and choreography were expert and likely true to the 19th century. But...

At least 13 decapitation murders, each very graphic and, by my experience as a medic, quite realistic for the most part. One murder by slicing a man in half. The implied murder of a child by being stolen by the headless horseman. Murder with a cross. Murder by gunfire. A rather murderous movie indeed. Lots of graphic imagery of a headless resurrected battle death victim terrorizing the countryside on horse and on foot. And lots of imagery of decapitated bodies viewed by looking down the pipe. Many decapitated heads bobbed up frequently, several of them in a "floral arrangement" and another being dropped onto its body in a grave. The headless horseman skewered one of the severed heads with his sword -- up close -- so he would not have to get off his horse to pick it up (he collected all the severed heads). Each time a decapitation happened, the viewer was treated to watching the sword separate the head from its body head as it rocketed, blood spews and all, from the host body as if the moulage experts discovered a new way to maximize visual invasion and were having fun with their new "toy."

While sexual material was present in two instances of masked intercourse, some necking, and a ton of excessive breast exposure, there were only two uses of the three/four letter word vocabulary. And God's name in vain appeared only once and then without the four letter expletive. Booze was present also but only in two noted instances with no drunkenness. And no illegal (by modern law) drugs were noted at all. But reliance on spells and a talisman (an Ankh-shaped key - see our Back to School Special) for protection, unholy manifestations, a witch and witchcraft plus an unholy healing, satanic symbols, and "Offer my soul to Satan......." placed urgent dangers for impressionable and Spiritually undeveloped viewers.

So many of our visitors seem to be relying only on this Summary/Commentary for a full assessment of this movie. This is not possibble. For the best representation of the CAP Entertainment Media Analysis Model applied to this movie, visit the Findings/Scoring section below.



---
FINDINGS / SCORING: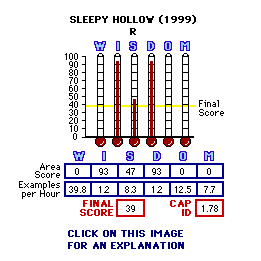 NOTE: Multiple occurrences of each item described below are likely.

Wanton Violence/Crime (W):

dead bodies, many
brutality by police
cruel and torturous captivity devices
many very graphic decapitations
two battle decapitations
a severed head dropped onto its body in a casket, twice
many decapitated bodies, most with views from an above perspective
many views of a vicious headless horse rider
stabbing a severed head with a sword to retrieve it
repeated gunfire
many severed heads, some individual, some grouped
headless horseman carrying severed heads
knife impalement
battles and fights
sword impalement
torture chamber
iron maiden with flooding of blood from victim
self injury
tale of suicide
tales of murder
attempted murder by implement with a 3x3 fence post and by firearm
skulls
extremely graphic refleshing of a skull
other gore

Impudence/Hate (I)(1):

two uses of the three/four letter word vocabulary

Sex/Homosexuality (S):

necking in the shadows with inappropriate touch
many examples of excessive cleavage/breast exposure
immoral sex (covered)
intercourse (covered but with motions and sounds), twice

Drugs/Alcohol (D):

booze, twice

Offense to God (O)(2):

talk of resurrection from the grave
unholy manifestations
satanic symbols; ankh, pentagram (see Back to School Special from our home page)
reliance on spells and a talisman (ankh shaped key) for protection
levitation in witchcraft
God's name in vain once and without the four letter word vocabulary
witchcraft with animal sacrifice (decapitation)
talking decaying human face (witch)
miraculous healing
witch incantation
"Offer my soul to Satan..."

Murder/Suicide (M)(3):

13 decapitation murders
one slicing murder
one murder by cross
one murder by gunfire
one [implied] child murder by headless horseman stealing a child