Become a CAPtain


with your
The foul language eliminator


Removes profanity from
movies and TV shows
Switch to LifeLine


for Christian
long distance service
CloseoutVideo.Com

The Family Friendly


Internet Service
A Christ Centered


Community Web Site
Comments?

Christian Media News
A Singles
Christian Network
PLEASE VOTE!


for this site!
Christian Banner eXchange
---



ALERT: To fully understand this report you should first visit the topics suggested by the CAP Table of Contents.

For FREE text-only analysis reports as they are calculated, send an email with SUBSCRIBE CAP-MAR in the message body.



NOTE: We make no scoring allowances for Hollywood's trumped-up "messages" to excuse, or its manufacturing of justification for aberrant behavior or imagery. This is NOT a movie review service. It is a movie analysis service to parents and grandparents to tell them the truth about movies using the Truth. If you do not want the plot, ending, or "secrets" of a movie spoiled for you, skip the Summary/Commentary. In any case, be sure to visit the Findings/Scoring section -- it is purely objective and is the heart of the CAP Entertainment Media Analysis Model applied to this movie.




If Scriptural references appear in the Summary / Commentary, the full text appears at the end of the Summary / Commentary likely using a mix of KJV and NIV.



---


SUMMARY / COMMENTARY:

Shanghai Noon (PG-13) -- Just because there's no nudity does not mean it is not equivalent to R.

Jackie Chan is baggage carrier and interpreter Chon Wang. When spoken, Chon Wang sounds a lot like "John Wayne" which, of course, is capitalized upon by the nasal beach bum Sundance Kid style of train robbing Roy O'Banon (Owen Wilson): "John Wayne? That's no cowboy name." Shanghai Noon is competition with the high-dollar Wild Wild West and just about every other bang-bang, shot-em-up Western flick. As with most Chan movies, this one is a stringer of martial arts display with a prize-winning large mouth bass about ever 6 inches. Chan displays poetry in martial arts, but not as fluently as many of his performances. And as usual, Chan finds defensive and offensive weaponry in the strangest of places using the oddest of things -- his trademark in addition to doing his own stunt work ... and his limited english. If it were not for smooth-talking Wilson, Chan might have become forgetable and this comedy would not have been much of a comedy.

Chinese Princess Pei Pei, (Lucy Liu) (great lengths were taken in the script to ensure her name was not pronounced Pee Pee even though O'Bannon would not let us forget) hated both her paternal arrangements to marry and her betrothed. Princess Pei Pei is abducted to America where she finds hundreds of her country people enslaved in a mining camp. She does not want to return to China so she could stay in America and help her country people. With spunk and vigor, Pei Pei indeed is a force which could make that happen. Three of the best imperial guards are dispatched to rescue her but were not needed, of course, and Wang is taken along as the interpreter and baggage carrier. In a saloon during a brawl, Wang meets up with O'Bannon and the story takes off.

The plot is stricken with almost the same die as a thousand other western flicks: bad guys, shot-em-ups, bar room brawls, train robbery, and the guy gets the girl ... uh ... er ... in this one, the girl gets the guy. In a mixture of "Who *was* that masked man", Zorro, and the cavalry, an Indian maiden (Brandon Merrill) saves the day and gets the guy -- Chon Wang. A clever and witty flick with enough ignominy to earn a CAP score equivalent to R ('nother "R-13").

Among the "adult" stuff in Shanghai Noon (I still can't figure our what it is about this kind of programming that makes an adult of the viewer) was 26 uses of the three/four letter word vocabulary and God's name in vain both with and without the four letter expletive [Eph. 5:4, 5:6; 2 Tim. 2:16] so smoothly as to deceive the impressionable into thinking this language is completely acceptable. Peppering the observer were lots of fighting to solve differences, gunfire murder and firearms to control, an attempted and a completed hanging [Luke 3:14]. The scenery of brutalizing and enslaving the Chinese immigrants was rather sobering and the slighting of the American Indian was uncomfortable [Mal. 3:5; 1 Cor. 5:8]. Robbery with firearms was expressive of the wrong message, and drinking and drunkenness defeats the purpose of getting booze commercials off prime time TV [Mark 7:21]. And sex talk, sex "kittens", prostitutes, a man and woman in bed together in motion, and a pictograph of animal intercourse that was about as gratuitous as possible gave the token sexual flavor to this teen movie [2Pet. 2:14]. All for your 13 year olds and younger viewing experience, so sayeth the MPAA and their questionable survey techniques of a questionable survey population.



ooooooooooooooooooooooooooooooooo



Eph. 5:4 Nor should there be obscenity, foolish talk or coarse joking, which are out of place, but rather thanksgiving.
Eph. 5:6 Let no man deceive you with vain words: for because of these things cometh the wrath of God upon the children of disobedience.
2 Tim. 2:16 But shun profane and vain babblings: for they will increase unto more ungodliness.
Luke 3:14 And the soldiers likewise demanded of him, saying, And what shall we do? And he said unto them, Do violence to no man, neither accuse any falsely; and be content with your wages.
Mal. 3:5 "So I will come near to you for judgment. I will be quick to testify against sorcerers, adulterers and perjurers, against those who defraud laborers of their wages, who oppress the widows and the fatherless, and deprive aliens of justice, but do not fear me," says the LORD Almighty.
1 Cor. 5:8 Therefore let us keep the feast, not with old leaven, neither with the leaven of malice and wickedness; but with the unleavened bread of sincerity and truth.
Mark 7:21 For from within, out of men's hearts, come evil thoughts, sexual immorality, theft, murder, adultery,
2Pet. 2:14 With eyes full of adultery, they never stop sinning; they seduce the unstable; they are experts in greed -an accursed brood!


ooooooooooooooooooooooooooooooooo





---
FINDINGS / SCORING: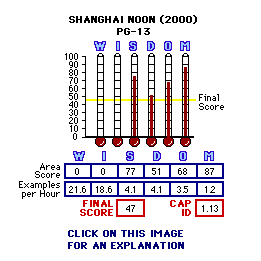 NOTE: Multiple occurrences of each item described below may be likely.

Wanton Violence/Crime (W):

planning a robbery
robbery with firearms
lust for killing
use of firearms to control
threats to kill
multiple attempts to murder
firearm threats and gunfire to kill
defensive killing
abduction
brutalizing of a woman
saloon brawl
jail break
fighting
reckless gunplay (shooting to make "dance")
brutalizing of prisoners and Chinese laborers
hanging and attempted hanging, and lust for it
attempted murder by sword

Impudence/Hate (I)(1):

26 uses of the three/four letter word vocabulary
slighting of the Chinese and the American Indians
urination in public
cheating to kill

Sex/Homosexuality (S):

sex "kittens"
pictograph of animal intercourse
man and woman in bed in motion
prostitutes and prostitution
sex talk
two men in bath tubs

Drugs/Alcohol (D):

drinking
smoking dope
saloon smoking and drunkenness

Offense to God (O)(2):

two uses of God's name in vain with the four letter expletive and four without

Murder/Suicide (M)(3):

gunfire murder