Become a CAPtain


with your
The foul language eliminator


Removes profanity from
movies and TV shows
Switch to LifeLine


for Christian
long distance service
CloseoutVideo.Com

The Family Friendly


Internet Service
A Christ Centered


Community Web Site
Comments?

Christian Media News
A Singles
Christian Network
PLEASE VOTE!


for this site!
Christian Banner eXchange
---



ALERT: To fully understand this report you should first visit the topics suggested by the CAP Table of Contents.

For FREE text-only analysis reports as they are calculated, send an email with SUBSCRIBE CAP-MAR in the message body.



NOTE: We make no scoring allowances for Hollywood's trumped-up "messages" to excuse, or its manufacturing of justification for aberrant behavior or imagery. This is NOT a movie review service. It is a movie analysis service to parents and grandparents to tell them the truth about movies using the Truth. If you do not want the plot, ending, or "secrets" of a movie spoiled for you, skip the Summary/Commentary. In any case, be sure to visit the Findings/Scoring section -- it is purely objectuve and is the heart of the CAP Entertainment Media Analysis Model applied to this movie.




If Scriptural references appear in the Summary / Commentary, the full text appears at the end of the Summary / Commentary likely using a mix of KJV and NIV.



---


SUMMARY / COMMENTARY:

*The Adventures of Rocky and Bullwinkle* (PG) -- just not the same as 36 years ago.

Canceled thirty-six years ago. Wow. And I remember some reruns of Rocket J. Squirrel and Bullwinkle J. Moose. Almost always accompanied by *Fractured Fairytales*, *Sherman and Mr. Peabody*, and *Aesop's Fables*. And I enjoyed them. But this movie was just not the same. What can we expect with such exponential decay of moral standards over those 36 years. Roger Ebert says "[The TV Rocky and Bullwinkle show] helped point the way to today's crossover animated shows like "The Simpsons." If I understand Ebert's use of "crossover animated shows", not a chance says me. Not a chance. The original Rocky and Bullwinkle TV shows were n-o-t-h-i-n-g like *The Simpsons*. Sure, there was some "adult humor" in the original Rocky and Bullwinkle cartoons because way back then adults (parents) were better able to control the entertainment diets of their kids so script writers had to make the cartoons interesting also for adults. Parents then were not blind-sided and back-doored at every turn. But the adult humor in the original Rocky and Bullwinkle cartoons was not ignominious dirty humor. It was true adult humor, "adult" only because kids would not understand it because of a generally wholesome experience base which typically excluded adult life such as mortgage, electric bills, work, and groceries, not because it was "too vulgar" for kids like the "humor" in *The Simpsons*. Anyway, on to the findings. But first, some summary/commentary.

For thirty-six (the show says thirty-five) years of no performing arts work, Rocky and Bullwinkle (and even the narrator) live lives of idleness and poverty due to living off the proceeds from reruns. Now *there* is an example of true adult humor. Most kids do not even know what rerun proceeds are let alone be able to draw humor from its use. The big 3.5 cent proceeds check in the movie will be meaningless to most of the target audience. But as you will soon see, there is plenty of the 'other kind' of "adult humor" in this kid's show (I have yet to figure out what makes it "adult" -- being able to watch it does not make you adult).

Five of the original Rocky and Bullwinkle characters are dragged out of cartoon land into "real life": Rocky (June Foray -- the original voice of Rocky and "Granny" in the *Sylvester & Tweety* episodes); Bullwinkle and Narrator (Keith Scott); Boris Badenov (Jason Alexander); Natasha Fatale (Rene Russo); and Fearless Leader (Robert De Niro). Fearless Leader and company find a way to kill cartoon characters and launch a campaign to kill Rocky and Bullwinkle since they are the only "force" standing in Fearless's way of world domination by zombization of the world's population through the hypnotic power of RBTV (Really Bad TV). There is one item of irony--I wonder if the writers knew how accurate they were with portraying the hypnotic power (or values modification by "mind control" through weakening resistance to suggestion) of real really bad television (or really bad movies).

Wise to the plans of Fearless Leader to dominate the world with RBTV, FBI honcho Cappy Von Trapment (Randy Quaid) dispatches agent Karen Sympathy (Piper Perabo) to assist Rocky and Bullwinkle in their quest to foil the plans of Fearless Leader.

Through a barrage of puns and slapstick comedy, Rocky and Bullwinkle travel the back roads of America to petition the President to replant the hewn trees of Pottsylvania. Little does Bullwinkle know, the duo are drawn into the foray of combating the plans of Fearless Leader. Several attempts to kill Rocky and Bullwinkle make the wholesomeness of this movie questionable. Indeed, the entire movie revolves about a special device that kills previously invulnerable cartoon characters and sends them out on the Internet (figure that one out). One is splattered but is seen again later in the movie. Mimicking executioner style murder, Rocky and Bullwinkle are even run down by a bus while standing in the middle of the road trying to get the bus to stop. But of course, after they reinflate their flattened forms, they get up and walk away. While this might be relatively non-influential of cartoons, the use of a real bus on a real road tends to make faint the crossover between cartoon and live action.

There are several cameo appearances by notables throughout this movie making the variety strong and appealing: Jonathan Winters in several appearances, one as a helicopter pilot taking a potty break at a Powder Room helipad; Billy Crystal plays a mattress salesman who saves Rocky and Bullwinkle from a great fall; Whoopie Goldberg plays the part of the judge who hears Bullwinkle's self-incriminating case; John Goodman plays a state trooper; and James Rebhorn plays the milquetoast President.

This is every bit a PG movie and parents are to be cautioned. There are two car thefts [Matt. 19:18], firearms to control, and several great falls by and several attempts to kill speaking, feeling characters [Deut. 27:24, 25]. Even a non-human cinematic character, when portrayed with human qualities, causes the observer--especially children--to feel a human bond with that character. And when these speaking, feeling characters are abused onscreen, it is inevitable that the young observer is influenced by it. There are two uses of the three/four letter word vocabulary and several lies [Rev. 21:27]. One of the opening scenes is of a young woman opening her long coat to reveal herself in a brief swimsuit [1Cor. 6:18-20]. Bullwinkle says he is "just getting jiggy" [Deut. 22:21] There is smoking, chewing and drinking [2 Cor. 7:1]. And God's name in vain appears without the four letter expletive [Deut. 5:11]. And at least one more item of irony comes in the [conveniently?] ambiguous statement "What you believe in when you're young can still be true when you grow up." At the risk of sounding uninformed, isn't that they way values modification works? Beliefs modification? Moral standards? Would anyone care to comment on where I am pointing with this?



ooooooooooooooooooooooooooooooooo



Matt. 19:18 He saith unto him, Which? Jesus said, Thou shalt do no murder, Thou shalt not commit adultery, Thou shalt not steal, Thou shalt not bear false witness, ...
Deut. 27:24, 25 Cursed is the man who kills his neighbor secretly. Then all the people shall say, "Amen!" Cursed is the man who accepts a bribe to kill an innocent person. Then all the people shall say, "Amen!"
Rev. 21:27 And there shall in no wise enter into it any thing that defileth, neither whatsoever worketh abomination, or maketh a lie: but they which are written in the Lamb's book of life.
1Cor. 6:18-20 Flee from sexual immorality. All other sins a man commits are outside his body, but he who sins sexually sins against his own body. Do you not know that your body is a temple of the Holy Spirit, who is in you, whom you have received from God? You are not your own; you were bought at a price. Therefore honor God with your body.
1 Cor. 6:18 Flee fornication. Every sin that a man doeth is without the body; but he that committeth fornication sinneth against his own body.
Deut. 22:21 ...She has done a disgraceful thing in Israel by being promiscuous...
2 Cor. 7:1 Having therefore these promises, dearly beloved, let us cleanse ourselves from all filthiness of the flesh and spirit, perfecting holiness in the fear of God.
Deut. 5:11 Thou shalt not take the name of the LORD thy God in vain: for the LORD will not hold him guiltless that taketh his name in vain.


ooooooooooooooooooooooooooooooooo



Please see the Findings/Scoring section below for a full accounting of this movie: for the best representation of the CAP Entertainment Media Analysis Model applied to this movie.



---
FINDINGS / SCORING: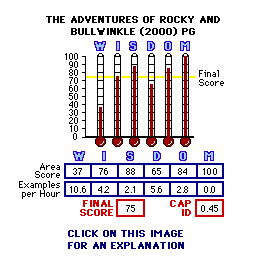 NOTE: Multiple occurrences of each item described below may be likely.

Wanton Violence/Crime (W):

several great falls, at least five
scene of humans killing a cartoon character with splatter on
the wall behind the character
attempted murder by explosives
car theft
run down by bus
reckless driving
prison break

Impudence/Hate (I)(1):

lies
two uses of the three/four letter word
vocabulary

Sex/Homosexuality (S):

young woman opening her long coat to expose herself in a brief
swimsuit
"Just getting jiggy"
man and woman in large tub

Drugs/Alcohol (D):

smoking
chewing tobacco
drinking

Offense to God (O)(2):

four uses of God's name in vain without the four letter expletive

Murder/Suicide (M)(3):