Become a CAPtain


with your
The foul language eliminator


Removes profanity from
movies and TV shows
Switch to LifeLine


for Christian
long distance service
The Family Friendly


Internet Service
A Christ Centered


Community Web Site
Comments?

Christian Media News
A Singles
Christian Network
PLEASE VOTE!


for this site!
Christian Banner eXchange
---



ALERT: To fully understand this report you should first visit the topics suggested by the CAP Table of Contents.

For FREE text-only analysis reports as they are calculated, send an email with SUBSCRIBE CAP-MAR in the message body.



NOTE: We make no scoring allowances for Hollywood's trumped-up "messages" to excuse, or its manufacturing of justification for aberrant behavior or imagery. This is NOT a movie review service. It is a movie analysis service to parents and grandparents to tell them the truth about movies using the Truth. If you do not want the plot, ending, or "secrets" of a movie spoiled for you, skip the Summary/Commentary. In any case, be sure to visit the Findings/Scoring section -- it is purely objectuve and is the heart of the CAP Entertainment Media Analysis Model applied to this movie.


SUMMARY / COMMENTARY:

*Return to Me* (PG) -- and return it does.

David Duchovny plays the part of Bob Rueland, the husband of zoologist Elizabeth (Joely Richardson) who is caring for a special ape, Sydney. Sydney is miserable because of the cramped living conditions in the small glass-enclosed ape confinement. Some of the best acting was done by Sydney. Bob Rueland (David Duchovny) is an architect fixin' to fix the cramped quarters.

In a storybook life of success and happiness, Bob's wife is killed in a traffic fatality after a successful fund raising shindig for the new ape sanctuary. As the compassionate lady she was, Elizabeth was a proponent of organ donations -- and her donated heart returns to him.

And slowly picking up the pieces of his shattered life comes Grace Briggs (Minnie Driver). They meet in an Italian/Irish restaurant run by Grace's Irish grandfather (Carroll O'Connor) and an Italian (Robert Loggia). After a year-long term of self-imposed social isolation, Bob softens and agrees to join in on a blind date arranged by his deceased wife's co-worker veterinarian, Charlie (David Alan Grier). During the nowhere date with a loud-mouthed extrovert ("I think your ---- is ringing"), Bob meets Grace as she stands-in for her divorced mom sister (and that is another story in itself). Grace gracefully matches the loudmouth's voluminous verbosity with a little Swiss switch.

After bowing himself out of the date in the middle of it by having an associate of his call him with a fake emergency call, Bob leaves his cell phone in the restaurant. Returning late one evening to fetch his phone, Bob meets Grace again, this time in her housecoat and a shower cap. There is where the relationship between them starts -- Bob asks her out and she says "Yes" while tucking stray hair under the shower cap. And all could be a "Bob loves' Grace" love affair if Grace would not let a little thing like a 10" heart transplant surgery intimidate her. Some delightful, almost slapstick comedy, although dusted with needless vulgarities, was presented by O'Conner, Loggia, and two other aging gentlemen and the motherly key waitress.

Though *Return to Me* was at least partially a delightful romance-comedy, there was programming of which Jesus would not approve, largely due to Jim Belushi [Matt. 12:36-37] and a small child playing the part of his copycat son [Luke 17:2]. There was enough of the new technique of tons of "lesser" ignominies rather than a few "massive" ones to warrant a CAP score equivalent to a light PG-13 of 1995 and earlier [Phil. 4:8]. Most of the scoring loss was due to foul language including the use of God's name in vain both with and without the four letter expletive [Deut. 5:11] and consumption of alcohol and tobacco [1Cor. 6:19]. Some sexually oriented programming was present [1Ths. 4:3].

In an effort to improve the chances of the continuation of the CAP media analysis reports, this Summary/Commentary section will be progressively minimized and may eventually have to be discontinued. Please see Full Report below for a full accounting of the findings and scoring. For the best representation of the CAP Entertainment Media Analysis Model applied to this movie, visit the Findings/Scoring section below.



---
FINDINGS / SCORING: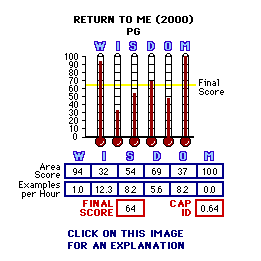 NOTE: Multiple occurrences of each item described below may be likely.

Wanton Violence/Crime (W):

traumatic family loss
blood-covered shirt

Impudence/Hate (I)(1):

20 uses of the three/four letter word vocabulary
reckless abuse of another person's car
adolescent defiance

Sex/Homosexuality (S):

sex talk, innuendo, insults
dress to maximize
adult in underwear
excessive cleavage
woman in tub
pelvic thrusts

Drugs/Alcohol (D):

drinking
smoking
booze

Offense to God (O)(2):

3 uses of God's name in vain with the four letter expletive and 13 without

Murder/Suicide (M)(3):