Become a CAPtain


with your
The foul language eliminator


Removes profanity from
movies and TV shows
A Christian Family


Internet Network Cooperative
Switch to LifeLine


for Christian
long distance service
The Family Friendly


Internet Service
A Christ Centered


Community Web Site
Comments?

Christian Media News
A Singles
Christian Network
PLEASE VOTE!


for this site!
Christian Banner eXchange
---



ALERT: To fully understand this report you should first visit the topics suggested by the CAP Table of Contents.

For FREE text-only analysis reports as they are calculated, send an email with SUBSCRIBE CAP-MAR in the message body.



SUMMARY / COMMENTARY:

*Reindeer Games* (R) -- a slippery tale indeed - slid right down to near the bottom.

Four key characters: Rudy, Nick, Ashley and Gabriel.

Rudy (Ben Affleck) is the star and central figure of this movie as a convicted car thief closing out his prison sentence and the cell mate and confidante of Nick.

Nick (James Frain) is supposed to have a Security Guard's knowledge of the layout of a casino including the location of the safe. Nick is pen pal of Ashley and has pictures of her all over his cell wall.

Ashley (Charlize Theron) is Gabriel's brother. Ashley has been planning to meet Nick at the prison gates when he gets out.

Gabriel (Gary Sinise) is planning to use Nick to heist the casino using Nick's "extensive knowledge" of the casino layout.

Note that neither Ashley or Gabriel has seen either Nick or Rudy. Also note that both Rudy and Nick have the same release date.

As cell mates, Rudy learns all about Nick's plans with Ashley. Rudy also learns all about Nick's "background" as the ex-Security Guard of the casino. Gabriel wants Nick deeply -- deeply enough to kill for Nick's knowledge of the casino to build detailed heist plans. Shortly before Rudy's release from prison, Nick is stabbed by a fellow inmate and is assumed dead. Rudy assumes Nick's identity to take advantage of Nick's plans with Ashley. Rudy had no idea of Gabriel's plans to use Nick and his knowledge of the casino to heist it. So, to maintain the scrupulous relationship with Ashley, Rudy plays along as though he is Nick. The trickery and shenanigans are so rapid and their connectivity sometimes so blurred that to leave for but a few minutes to use the restroom would cause confusion and loss of continuity.

Just about any projections you can make from the role configuration above might be as good a screenwrite as *Reindeer Games*. Affleck seems to do little more than fill up space using the same countenance and style he uses in all other parts he has played, including the quality of acting. Theron is more convincing than Affleck. Frain is more projecting than Affleck. And there is no connectivity staple in this cast such as the gentle giant, John Coffey (Michael Clarke Duncan) of *The Green Mile and Frankie Figgs of *The Whole Nine Yards*.

Aside from the 55 uses of the most foul of the foul words and the 36 uses of the three/four letter word vocabulary [2 Tim. 2:16], God's name appears in vain with the four letter expletive 14 times and without the four letter expletive 9 times [Exod. 20:7]. There is also graphic murder -- at least nine times [Matt. 5:21], animalistic intercourse with nudity [1 Thess. 4:3], and bloody injuries. Gaping mouth kissing, attempted murders, and lots of booze and drinking [Rom. 13:13] freckle the choreography of this trip into turpitude and treachery. Of particularly strong influence was the use of Rudy as a game dart target by Gabriel. This may not sound so terrible, but the audience thought so. Lots of firearms and gunfire to intimidate and to attempt to kill, physical brutalization, and lots of sex talk and innuendo [Prov. 8:13] gave reason for the R rating. Maybe the rating should have been "UA" for unfit for all ages [Ps. 101:3].

So many of our visitors seem to be relying only on this Summary/Commentary for a full assessment of this movie. This is not possible. For the best representation of the CAP Entertainment Media Analysis Model applied to this movie, visit the Findings/Scoring section below.



---
FINDINGS / SCORING: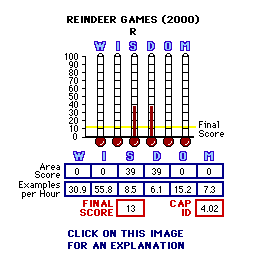 NOTE: Multiple occurrences of each item described below may be likely.

Wanton Violence/Crime (W):

scene of four decimated dead bodies, one smoking from fire
prison riot
attempted murder
brutal attacks
abduction
brutal beatings
threats with firearms
bloody injuries
gun firings to attempt murders
near drowning
impalement with game darts
brutalization of a victim's body
portrayal of the success of "Robin Hood" crime

Impudence/Hate (I)(1):

55 uses of the most foul of the foul words
36 uses of the three/four letter word vocabulary
faking identity

Sex/Homosexuality (S):

sexual references
sexual comments, talk, and innuendo
wild ripping off of clothes for intercourse
intercourse with nudity
adults in underwear
gaping mouth kissing

Drugs/Alcohol (D):

booze
drinking
smoking

Offense to God (O)(2):

Christmas without Jesus
mockery of God
14 uses of God's name in vain with the four letter expletive and 9 uses without

Murder/Suicide (M)(3):

at least nine graphic murders