Become a CAPtain


with your
The foul language eliminator


Removes profanity from
movies and TV shows
Switch to LifeLine


for Christian
long distance service
The Family Friendly


Internet Service
A Christ Centered


Community Web Site
Comments?

Christian Media News
A Singles
Christian Network
PLEASE VOTE!


for this site!
Christian Banner eXchange
---



ALERT: To fully understand this report you should first visit the topics suggested by the CAP Table of Contents.

For FREE text-only analysis reports as they are calculated, send an email with SUBSCRIBE CAP-MAR in the message body.



NOTE: We make no scoring allowances for Hollywood's trumped-up "messages" to excuse, or its manufacturing of justification for aberrant behavior or imagery. This is NOT a movie review service. It is a movie analysis service to parents and grandparents to tell them the truth about movies using the Truth. If you do not want the plot, ending, or "secrets" of a movie spoiled for you, skip the Summary/Commentary. In any case, be sure to visit the Findings/Scoring section -- it is purely objectuve and is the heart of the CAP Entertainment Media Analysis Model applied to this movie.




If Scriptural references appear in the Summary / Commentary, the full text appears at the end of the Summary / Commentary likely using a mix of KJV and NIV.



---


SUMMARY / COMMENTARY:

Ready to Rumble (PG-13) -- shoulda been R.

With a CAP Final Score of 44, Rready to Rumble should definitely have been rated R if not for the saturation of foul language then for the full rear male nudity. The MPAA does NOT have the authority to say my kids OR yours may watch nudity at 13 years old. The MPAA does not have the authority to say my kids or yours may expose themselves to 73 examples of foul language in 102 minutes including the most foul of the foul words AND God's name in vain with and without the four letter expletive. And I say it is cruel of the MPAA to place such temptations before our kids [Luke 17:2]. I can hear the hate mailers now -- "Language like that happens every day at school." Maybe, but no child will hear it 73 times in 102 minutes except, of course, in the movies. That such language happens at school does not make it right or okay either in the movies or at school. Besides, why do you think such language happens at school?

Two sanitation workers siphon out porta-potties during the day and lecture neighborhood adolescents on the glories of professional wrestling by night. When their title-holding idol is defeated because his promoter gets tired of him, the two pumpers launch a campaign to restore the title to their idol.

Vulgar talk, dress, touch and mannerisms. Dozens of crotch hits/kicks. Suggestion of intercourse. A father portrayed as a stupid dolt cop. Dancing in underwear. Thanking God for sexual images. Sexual offers and sadomasochistic sex. Irresponsibility with firearms. And much more. Just about everything that violates Phil. 4:8 is there.

That is all I will tell you of this movie (as if there is any more that needs to be said). Besides, I have got to reduce the time needed to prepare these reports in order to improve the chances of at least keeping this ministry alive.



ooooooooooooooooooooooooooooooooo



Luke 17:2 It would be better for him to be thrown into the sea with a millstone tied around his neck than for him to cause one of these little ones to sin.
Phil. 4:8 Finally, brethren, whatsoever things are true, whatsoever things are honest, whatsoever things are just, whatsoever things are pure, whatsoever things are lovely, whatsoever things are of good report; if there be any virtue, and if there be any praise, think on these things.


ooooooooooooooooooooooooooooooooo




In an effort to improve the chances of the continuation of these reports, this Summary/Commentary section will be progressively minimized and may eventually have to be discontinued. Please see the Findings/Scoring section below for a full accounting of this movie: for the best representation of the CAP Entertainment Media Analysis Model applied to this movie.



---
FINDINGS / SCORING: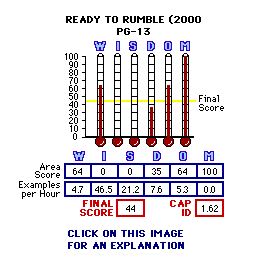 NOTE: Multiple occurrences of each item described below may be likely.

Wanton Violence/Crime (W):

irresponsibility with firearms
exaggerated wrestling violence
fighting
threat to kill
clothes on fire
long exaggerated sequence of wrestling, sometimes brutal

Impudence/Hate (I)(1):

73 uses of the three/four letter word vocabulary
two uses of the most foul of the foul words
portrayal of a father as a stupid dolt
arrogance against a father
lies to manipulate
tattoos
rapid series of crotch hits/kicks clearly for the "shock value"

Sex/Homosexuality (S):

vulgar talk, comments, mannerisms, offer and touch
additional crotch hits and kicks
transvestism
adult in underwear
suggestive eye movements
dressing to maximize female form or skin exposure
dancing in underwear
sadomasochistic sex
suggestion of intercourse
full rear male nudity
homosexual suggestion

Drugs/Alcohol (D):

booze
drinking

Offense to God (O)(2):

one use of God's name in vain with the four letter expletive and 8 without
long series of belittling nuns
thanking God for sexual images

Murder/Suicide (M)(3):