Become a CAPtain


with your
SPECIAL OFFER


From the runaway best-seller.
The foul language eliminator


Removes profanity from
movies and TV shows
Switch to LifeLine


for Christian
long distance service
The Family Friendly


Internet Service
A Christ Centered


Community Web Site
Comments?

Christian Media News
A Singles
Christian Network
Your One Stop


For Everything Christian
Free Email Ministry


Subscribe Today!!
PLEASE VOTE!


for this site!
Christian Banner eXchange
---
ALERT: To fully understand this report you should first visit the topics suggested by the CAP Table of Contents.

For FREE text-only versions of our media analysis reports as they are calculated, open this email then click "send." If your browser does not handle this URL format properly, send us a request to add you.
NOTE: We make no scoring allowances for Hollywood's trumped-up "messages" to excuse, or its manufacturing of justification for aberrant behavior or imagery. This is NOT a movie review service. It is a movie analysis service to parents and grandparents to tell them the truth about movies using the Truth. If you do not want the plot, ending, or "secrets" of a movie spoiled for you, skip the Summary/Commentary. In any case, be sure to visit the Findings/Scoring section -- it is purely objective and is the heart of the CAP Entertainment Media Analysis Model applied to this movie
"There are some in the entertainment industry who maintain that 1) violent programming is harmless because no studies exist that prove a connection between violent entertainment and aggressive behavior in children, and 2) young people know that television, movies, and video games are simply fantasy. Unfortunately, they are wrong on both accounts." [Emphasis is mine] And "Viewing violence may lead to real life violence." Read the rest of the story. From our five-year study, I contend that other aberrant behaviors, attitudes, and expressions can be inserted in place of "violence" in that statement. Our Director - Child Psychology Support, a licensed psychologist and certified school psychologist concurs. For example, "Viewing arrogance against fair authority may lead to your kids defying you in real life." Or "Viewing sex may lead to sex in real life." Likewise and especially with impudence, hate and foul language. I further contend that any positive behavior can be inserted in place of "violence" with the same chance or likelihood of being a behavior template for the observer; of being incorporated into the behavior mechanics and/or coping skills of the observer. In choosing your entertainment, please consider carefully the "rest of the story" and our findings.
If Scriptural references appear, the full text appears at the end of the Summary / Commentary likely using a mix of KJV and NIV.
---


SUMMARY / COMMENTARY:

*NURSE BETTY* (R) -- violent and saturated with vulgar language. Wanton Violence/Crime score - zero. Impudence/Hate - zero. Offense to God - zero. Drugs/Alcohol - 41. Do you really need to know more? If you really want to know, the 'rest of the story' follows...

Nurse Betty (Renee Zellweger) is a 50% nurse, a housewife, and a waitress with a crud of a husband, Del (Aaron Eckhart) -- a most worthless creep who abuses Betty [Col. 3:19], deals in drugs [2 Cor. 7:1] and cheats every chance he gets [Mal. 1:14], even other drug dealers, which ends up getting him killed *most* violently [Ps. 94:6]. He is bound, tortured, beaten, scalped (by Chris Rock, Dogma), and shot [Mark 7:21]. Just the kinda guy one would like to think got what he deserved, but Jesus still loves this sort of man as much as He loves you and I [John 3:16]. And we are to love this sort as well [1John 3:11]. Not what he has done, but him.

Betty is in love, but not with Del. She loves Dr. David Ravell (Greg Kinnear), a soap opera character whose "real" name is George. So much in love that she is watching Dr. Ravell in another room of the house as her husband's killer's arrive. It seems Del has been dealing in drugs and the suppliers are here to collect. Del not having the money leads the killers, Charlie (Morgan Freeman) and his son Wesley (Chris Rock) into torturing him to make him cough up. When it doesn't work, Wesley harasses Del, beats him, then scalps him. And to put Del out of his misery, Charlie shoots him and kills him. And Betty watches this, too, through a door barely open. It is so unpleasant for her she enters a sort of dementia and simply blocks out all of the reality she has known and has seen -- except for Dr. Ravell. All she knows now is that she must get to him in Los Angeles. So, Betty takes off shortly after her husband's murder. Betty takes Del's car and guess what? The drugs Charlie and Wesley were after go with her. They are in the trunk. So, Charlie and Wesley take off after Betty, taking a household picture of Betty with them. What a father and son team!

Once in Los Angeles, Betty finds Dr. Ravell at a charity banquet. All along Betty has manufactured a fantasy relationship with Dr. Ravell, him being her ex-fiance with whom she must make amends. Betty approaches him with probably the most convincing method acting he has ever seen and decides to play along, thinking she is an actress trying to get in on the soap show. Not in the slightest does Betty waver from her thinking George is Dr. Ravell and not once does she call him George in spite of he and everyone about him telling Betty his name is George. Her "method acting" is not really acting ... in the movie anyway ... since to her he really is her ex-fiance David. But Ravell's reason for playing along is not to discover her talents, not her acting talents anyway. And the viewer is provided the reason Ravell is plays along -- another creep in Betty's life. I do wish to add that in this "dual path reality" Zellweger is very, very good and convincing. All the little nuances, the positioning and movement of the head and facial parts, the angle of her stance, the major and minor body movements and position with respect to her counterparts attuned to the "flavor" of the emotions portrayed, everything were very well orchestrated and finely tuned to the part. In comparison to Zellweger's performance in portraying Dr. Ravel's ex-fiance, all other performers were just there. Also, if all other parts of all other actors and actresses were removed, her performance could quite probably earn a G-rated score.

As Charlie and Wesley tool along after Betty, Charlie begins to fantasize with Betty's picture--the sweet smile, the trusting countenance, and the obvious wholesome cleanness of this bright and vulnerable "angel." Something he has never had in his life. Now he wants it ... err, her. And all along the way Wesley is trying to keep his father in focus for the tasks at hand -- get the drugs in the car Betty is driving. And since she is an eye witness to the murder of her husband, get her, too.

Kudos also to Morgan Freeman. He was in his usual excellent form, especially in the final scenes where he had to portray a 'garbage man of the human soul" while playing a sensitive and caring lonely man, all in the middle of a gunfight. But all the vulgarity that went with it was so disappointing.

That is the gist of the plot and theme. The rest is supportive script and performance -- very vulgar script and menacing performance. Though Rock was the quintessential performer of foul language, most performers hand a finger or two in the foul pie. But not Zellweger, not that I noticed anyway. Even Kinnear was flawless in his portrayal of the brutality of self-centeredness as he changed before our eyes from a relatively pleasant soap star to an ultra-selfish and ugly madman, a Jekyll and Hyde switch, when he did not get his way. But the top notch performances notwithstanding, this movie was violent and vulgar in the extremes, thanks to John C. Richards and James Flamberg, the writers. More than 105 uses of vulgar and/or foul language [Col. 3:8]. Twenty-two uses of God's name in vain both with and without the four letter expletive [Lev. 19:12]. Murder and threats with firearms [Prov. 4:17], intercourse without nudity and dressing to maximize skin exposure [1Ths. 4:3] painted a rather dark picture. Adding to the blackness was knife threats and injury, vehicular homicide, attempts to kill by gunfire, and illegal drugs. As far as possible behavioral templates on attitude, the expressions such as "Just trying to make a statement" regarding the scalping, "It's very natural to kill" and "God kills" were invasive and corruptive.

There is much more, much more to the list of ignominy in this what could have been a relatively tame piece evening entertainment, but I leave that to the listing in the Findings/Scoring section.



ooooooooooooooooooooooooooooooooo



1 Cor. 15:33 (KJV) Be not deceived: evil communications corrupt good manners. (NIV) Do not be misled: Bad company corrupts good character.
Col. 3:19 Husbands, love your wives, and be not bitter against them.
2 Cor. 7:1 Having therefore these promises, dearly beloved, let us cleanse ourselves from all filthiness of the flesh and spirit, perfecting holiness in the fear of God.
Mal. 1:14 Cursed is the cheat who has an acceptable male in his flock and vows to give it [promises something], but then sacrifices a blemished animal to the Lord [then does not deliver]. For I am a great king, says the LORD Almighty, and my name is to be feared among the nations.
Ps. 94:6 They [the wicked] slay the widow and the alien; they murder the fatherless.
Mark 7:21 For from within, out of men's hearts, come evil thoughts, sexual immorality, theft, murder, adultery,
John 3:16 For God so loved the world [which is *everybody*], that he gave his only begotten Son, that whosoever believeth in him should not perish, but have everlasting life.
1John 3:11 For this is the message that ye heard from the beginning, that we should love one another.
Col. 3:8 But now you must rid yourselves of all such things as these: anger, rage, malice, slander, and filthy language from your lips.
Lev. 19:12 And ye shall not swear by my name falsely, neither shalt thou profane the name of thy God: I am the LORD.
Prov. 4:17 For [wicked and evil men] eat the bread of wickedness, and drink the wine of violence.
1Ths. 4:3 It is God's will that you should be sanctified: that you should avoid sexual immorality;



ooooooooooooooooooooooooooooooooo



As always, it is best to refer to the Findings/Scoring section -- the heart of the CAP analysis model -- for the most complete assessment possible of this movie.



---
FINDINGS / SCORING: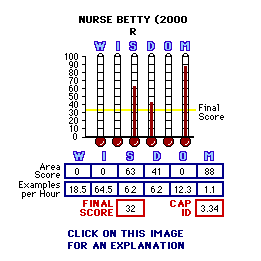 NOTE: Multiple occurrences of each item described below may be likely, definitely when plural.

Wanton Violence/Crime (W):

firearm threats to control, including to head
threat with knife
knife injury
scalping
murder victim
ongoing dementia from trauma driving the victim into danger
assaults with firearm
firearm death
gunshots in attempt to kill
physical assaults
planning murder
brutally abrasive character
impersonating a police officer
beating
gunplay

Impudence/Hate (I)(1):

60 uses of the most foul of the foul words
55 uses of the three/four letter word vocabulary
"Just trying to make a statement" after scalping a man
child ignoring mother's command
"It's very natural to kill"
discussions of sexual immorality as casual
talk of professional murder as respectable profession
white lies
ultra arrogant attitude with violence in not getting own way
son's arrogance and disrespect toward and for father

Sex/Homosexuality (S):

intercourse without nudity
adults in underwear
vulgar pelvic thrusts
adultery
porn picture
excessive cleavage, dressing to maximize skin exposure
sexual talk, innuendo, comments: some vulgar
implied cohabitation
lesbianism

Drugs/Alcohol (D):

drinking
bars
smoking
drunkenness
illegal drug trafficking/dealing

Offense to God (O)(2):

"God kills"
9 uses of God's name in vain with the four letter expletive and 13 without

Murder/Suicide (M)(3):

gunfire murder