Become a CAPtain


with your
A Christ Centered


Community Web Site
Comments?

Christian Media News
A Singles
Christian Network
PLEASE VOTE!


for this site!
---

ALERT: To fully understand this report you should first visit the topics
suggested by the CAP Table of Contents.



SUMMARY / COMMENTARY:

*Music of the Heart* (PG) -- I liked it, a lot. But it is a PG movie.

*Music of the Heart* is based on a true story of a divorced violin teacher who makes a big difference in the lives of many inner city kids. And a good difference at that, in the arts -- true art, namely expression through good "classical" music -- a true polyphonic delight that doesn't etch the moral fiber of the listener like so much "music" nowadays.

In a rebound after losing her slug husband to another woman the central figure, Roberta tries to work as a package wrapper to help pay the bills of her and her two sons living with her mother. Then a "nice guy" man who uses her finds her a job in the public school system of a big city as a substitute music teacher. A lot of human interest issues are presented in this movie which tug at the heart. If this movie is true and accurate, it is a good story of accomplishment and dedication, both by the teacher and the kids.

One close-to-home issue for the professional educators on our distribution were the portrayal of a child invoking his/her preferences regarding discipline by going through her parents. Another "on the other side of the fence" issue was the teacher saying "Don't tell your parents I said that." In these days of ultra-sensitivity of parents due to the bombardment of school kids with secret journals, invasive questionnaires, and many "enlightened and progressive" programs such as behavior modification, self esteem, and values clarification, PLUS teachers being forced (some anyway) to encourage alternate lifestyles, to usurp parental authority, and to "practice psychology" on kids, some of the issues in this movie which, when practiced threaten what might be already fragile trust and cooperation between parents and educators, may be rather disturbing for educators and parents alike. A thought-provoking movie to the parents of school-age children and educator alike.

God's name in vain was used numerously and flippantly but at least without the four letter expletive. Alcohol was used to celebrate. Marital breakdown horrors were realistic. Wearing a pair of unmatching socks would probably have been less acceptable in this movie than the cohabitation and the single episode of immoral sex (with covered nudity). Though the 'end product' -- professional grade child musicians -- was truly heart-warming, what morality price must the observer pay to see it? In a couple places were token episodes of arrogance with rebellion against parental authority and controls which could have easily been left out without losing any power. And in the movie a child is killed (unseen) by a drive-by shooting, perpetuating the planting of such an idea. One of the children had to give up her promising talents due to family dysfunction. While this type of tragedy indeed happens, is that an excuse to perpetuate such brutal "reality" by desensitizing so many to it with so much repeated exposure to it in the name of entertainment?

So many of our visitors seem to be relying only on this Summary/Commentary for a full assessment of this movie. This is not possibble. For the best representation of the CAP Entertainment Media Analysis Model applied to this movie, visit the Findings/Scoring section below.



---
FINDINGS / SCORING: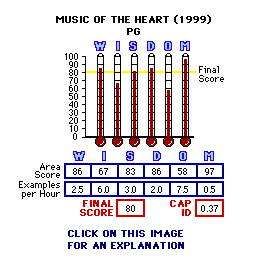 NOTE: Multiple occurrences of each item described below are likely.

Wanton Violence/Crime (W):

marital breakdown horrors
young adolescents alone on big city streets
violent attitude
schoolyard fight
argument

Impudence/Hate (I)(1):

6 uses of the three/four letter word vocabulary
a father abandoning his family
"Don't tell your parents I said that."
cohabitation being encouraged by a mother
overall cheapening of marriage
adolescent arrogance and rebellion against mother

Sex/Homosexuality (S):

adultery
covered nudity
implied sexual intercourse
sexual comment
entertaining cohabitation as if it is better than marriage
inviting cohabitation

Drugs/Alcohol (D):

booze
drinking

Offense to God (O)(2):

14 uses of God's name in vain without the four letter expletive
excusing one's sinful behavior by the sinful behavior of others

Murder/Suicide (M)(3):

drive by murder (unseen)