Become a CAPtain


with your
A Christ Centered


Community Web Site
Comments?

Christian Media News
A Singles
Christian Network
PLEASE VOTE!


for this site!
ALERT: To fully understand this report you should first visit the topics
suggested by the CAP Table of Contents.



SUMMARY / COMMENTARY:

*Mumford* (R) -- a good fake.

*Mumford* was the name of the town in which a false psychologist of the same name set up his "practice." And he was good. Maybe that is trying to say something about the humanistic field of psychiatry. But accountability is accountability and this fake shrink bit the professional dust. Lots of human interest pieces in this movie, sounding very realistic, enough to be dangerous by copycat viewers.

Profanity and sexual programming were the quintessential demons in this movie. Some form of profanity averaged once each three and a half minutes including God's name in vain with the four letter expletive AND the most foul of foul words. Some form of sexual impropriety averaged once each five and a half minutes including full nudity -- a classroom full of it. Other than the nudity, most sexual programming was verbal. Illegal drugs and use of them appeared in *Mumford* a little more than most movies I've seen this year. Like *Jakob, the Liar* , *Mumford* was built around a lie. And the movie was engineered to excuse the lie and make the "benefits" outweigh the sin of it, the law notwithstanding and as more of an enemy than a protective measure.

So many of our visitors seem to be relying only on this Summary/Commentary for a full assessment of this movie. This is not possibble. For the best representation of the CAP Entertainment Media Analysis Model applied to this movie, visit the Findings/Scoring section below.



---
FINDINGS / SCORING: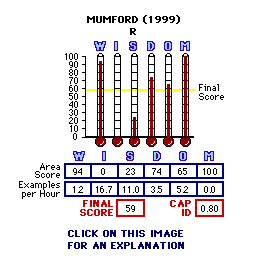 NOTE: Multiple occurrences of each item described below are likely.

Wanton Violence/Crime (W):

a story of wife beating implying justification of it
a suicide story

Impudence/Hate (I)(1):

22 uses of profane language plus 4 uses of the most foul of the foul words
a theme of success built on a lie
skate boarding in traffic
an exceptionally bitter and hateful mother

Sex/Homosexuality (S):

sexual talk, innuendo, comments and references
camera angle to force viewer on private parts (clothed)
suggestive eye movement
classroom full of nude students and additional nudity
adult underwear
series of sensual photographs
nude life-like mannequins, multiple and repeated
vulgar motions of a nude mannequin
books on pornography from the 50s and 60s
talk of teen sexual immorality
admission of sexual immorality
admission of adultery
adulterous relationship

Drugs/Alcohol (D):

talk of "needing" a drink
bar and drinking
smoking dope
LSD appliques
other illegal drugs
admission of using illegal drugs

Offense to God (O)(2):

One use of God's name in vain with the four letter expletive and 8 without

Murder/Suicide (M)(3):

none noted