Become a CAPtain


with your
The foul language eliminator


Removes profanity from
movies and TV shows
Switch to LifeLine


for Christian
long distance service
The Family Friendly


Internet Service
A Christ Centered


Community Web Site
Comments?

Christian Media News
A Singles
Christian Network
PLEASE VOTE!


for this site!
Christian Banner eXchange
---



ALERT: To fully understand this report you should first visit the topics suggested by the CAP Table of Contents.

For FREE text-only analysis reports as they are calculated, send an email with SUBSCRIBE CAP-MAR in the message body.



NOTE: The CAP Entertainment Media Analysis Model is completely objective. We make no scoring allowances for Hollywood's trumped-up "messages" to excuse, or its manufacturing of justification for aberrant behavior or imagery. Any "message" is meaningless to the CAP analysis model. This is NOT a review service. It is a movie analysis service to parents and grandparents to tell them the truth about movies.


SUMMARY / COMMENTARY:

*Mission to Mars* (PG) -- a new age discussion of the origin of life and evolution.

PG movies of 1995 and before earned CAP Final Scores of 86 to 68. PG-13 movies earned 67 to 55. *Mission to Mars* earned a CAP Final Score of 61 and almost entirely due to use of the three/four letter word vocabulary and God's name in vain both with and without the four letter expletive. Do you still wonder why our schools are so saturated with foul language?

Water is suspected on Mars. Scientists and astronauts decide to check it out. What they find is rather alarming. In this mixture of Ray Bradbury, Isaac Asimov and Stanley Kubrick, science fiction is perpetuated.

On a manned mission to Mars, the crew discover what they think is water. What they find is a swirling murderous entity protecting...something. The entity kills three of the four crew members, a couple quite graphically. The fourth remaining crew member, Luke Graham (Don Cheadle) survives much like Robinson Crusoe for nearly a year until a rescue mission is dispatched. Even the rescue mission encounters fatal troubles.

A shower of meteorites pepper the rescue craft with hundreds of pocks and holes. This causes a failure of the atmospheric integrity. Repair attempts (which prove nearly fatal for one astronaut inflated with bravado) are successful, or are thought to be successful. The meteorites caused a fuel leak which was ignited upon ignition of the engines and part of the craft explodes. The mission commander Woody Blake (Tim Robbins) gives the order to abandon ship. Now tell me how encouraging is the order to abandon ship in the vacuum of outer space? Not to worry, the crew find an orbiting craft from a Mars probe and latch onto it. But Blake ends up floating just out of reach of the rest of the crew and will soon enter the Martian atmosphere and will burn up. The lady astronaut who loves Blake tries to rescue him but cannot get to him and still have enough fuel in her propulsion pack to get back to the craft with the other two astronauts. What a dilemma! Just inches out of her reach and no way to get him without dying herself. Knowing that she might do something foolhardy, Blake removes his helmet and commits suicide to prevent her from going through with her efforts to rescue him.

After landing on Mars, the three remaining crew members find Graham in a rather mental state. But after calming him to a point of rationality, they discover what he had discovered -- a giant casting of the "international alien" on the Mars surface. The casting had been transmitting a code as an attempt at communicating with . . . whomever hears it I guess. Once the "code" is broken the three rescue mission crew members use it to open up the casting. Once inside the casting the crew is confronted with shades of Stanley Kubrick's *2001: A Space Odyssey.* In a quite "believable" way, the alien inhabitant of the casting teaches the crew members the fate of Mars, the origin of life and evolution of life on earth all in one visit. As near as I could tell it seems we are from the seed of the master race which once inhabited Mars -- they had cast their DNA into the primordial soup that was to become earth. So, the beginning of life was not Creation and was not chance after all. It was due to the thoughtful seeding of aliens. So, we are not descendants of apes after all. And we were not spontaneously generated from the slime of the early oceans after all. Do tell. Of course, you are free to believe whatever you want to believe, but my ancestral line started by the Hand and Breath of God. And the Truth of that is true whether I believe it or not.

Please see Full Report below for a full accounting of the findings and scoring.

So many of our visitors seem to be relying only on this Summary/Commentary for a full assessment of this movie. This is not possible. For the best representation of the CAP Entertainment Media Analysis Model applied to this movie, visit the Findings/Scoring section below.



---
FINDINGS / SCORING: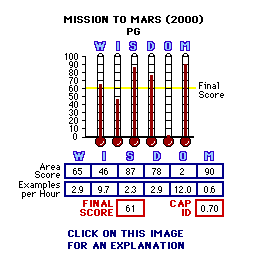 NOTE: Multiple occurrences of each item described below may be likely.

Wanton Violence/Crime (W):

graphic death by impalement of rock in the face
grapphic death by rotational ripping apart
graphic impalement injury
graphic death imagery
physical attack

Impudence/Hate (I)(1):

17 uses of the three/four letter word vocabulary

Sex/Homosexuality (S):

excessive cleavage
sexual come-ons
sex talk

Drugs/Alcohol (D):

booze
drinking
party with booze &drinking
smoking

Offense to God (O)(2):

one use of God's name in vain with the four letter expletive and 19 times without
teaching of evolution and false origins of life

Murder/Suicide (M)(3):