Become a CAPtain


with your
The foul language eliminator


Removes profanity from
movies and TV shows
Switch to LifeLine


for Christian
long distance service
The Family Friendly


Internet Service
SPECIAL OFFER


From the best-seller book series.
Comments?

Christian Media News
A Singles
Christian Network
Your One Stop


For Everything Christian
Free Email Ministry


Subscribe Today!!
Christian Banner eXchange
---
ALERT: To fully understand this report you should first visit the topics suggested by the CAP Table of Contents.

For FREE text-only versions of our media analysis reports as they are calculated, open this email then click "send." If your browser does not handle this URL format properly, send us a request to add you.
---


SUMMARY / COMMENTARY:




If Scriptural references appear, the full text appears at the end of the Summary / Commentary likely using a mix of KJV and NIV.



MISS CONGENIALITY (PG-13) -- Bullock as a "R-13" beauty contestant.

Gracie Hart is the elementary school "protector." She beats up bullies who pick on guys she likes ... or wants to like ... and, like a black widow spider, beats them up if they don't reciprocate. And it doesn't change as Grace (Sandra Bullock) grows up. She becomes an FBI agent with all the earmarks of "one of the guys." The snorts, the chewing with her mouth open, "locker room" humor [Eph. 5:4], everything ... until she is assigned as an undercover beauty pageant contestant. Now Grace must not only look the part, she must act the part. But Grace is anything but.

Desperate for help, Grace's supervisor Eric Matthews (Benjamin Bratt) agrees to hire Victor Melling (Michael Caine), a disgraced beauty consultant to make her a beauty. Victor says it is impossible, that she is "dirty Harriet." After a tour of misery and frustration, Melling succeeds. From a jock to a jewel in a couple days. And just in time. The pageant begins in just hours and a terrorist is lying in wait to do a dastardly deed. Terrorists are rumored to be targeting the beauty pageant [Ps. 27:1-3]. Grace is planted to serve as law enforcement protection. Or at least to have the law present to thwart the bad guys if they make good on their threats [Job 34:22].

Through all this, Kathy Morningside (Candice Bergen), pageant founder and director since its beginning, tries her best to accommodate Grace as a replacement contestant for Miss New Jersey who had been disqualified (conveniently) for some unsavory act not befitting a pageant contestant. Morningside is aided by two assistants, Stan Fields (William Shatner) and her son who was not known to be Morningside's son until some clues about the threats started turning up. It seems that both Fields and Morningside are being fired to be replaced with younger personalities. Morningside did not like that. Not one bit. And that is important to the plot, but I'll not spoil it for you.

I will, however, share our findings with our parent and grandparent visitors who have come to trust our service to their children in His name. This movie is Bullock as a "R-13" beauty contestant. There are very few bold issues of immorality and other matters which are likely unacceptable to the righteous parent and grandparent, but like an ethical desensitizing trap there is enough "micro" ignominies to seem harmless individually but enough in quantity to make the total magnitude of influence equivalent to an R-rated movie circa 1995. God told us about Satan going out to the four corners of the world to deceive us so we would fight amongst ourselves [Rev. 20:8]. Maybe this slow and progressive decay of morality through entertainment and R-13) is indeed part of Satan's campaign? What better way than by entertainment is there to reach the four corners of the globe and to pit the unbelievers against the righteous? It has worked very well to pit child against parent.

The sexual ignominies include a t-o-n of sexual innuendo and crude comments/jokes [Eph. 5:4]. One sexual comment in particular was exceptionally vile: "Who's your daddy?" about the contestants clad in swimsuits (that expression seems to be common to a certain practice of child sexual abusers) [Luke 17:2]. While overall not a very violent movie, there was a fierce gun battle near the beginning of the show in which an FBI agent is shot down. While no indication of intercourse or nudity (except for a highly detailed mannequin) was found, also in the sexually inappropriate programming were lesbian and homosexual mannerisms and comments [Rom. 1:26; 1Cor. 6:9-10], sexual offers and requests, and inappropriate touch. Much use of the three/four letter word vocabulary [Col. 3:8] and many uses of God's name in vain both with and without the four letter expletive [Deut. 5:11] topped off the "R" in this "R-13" flick. Remember, this Summary/Commentary is just that: a summary in commentary. The full listing of findings is available in the Findings/Scoring section.



ooooooooooooooooooooooooooooooooo


Applicable text is underlined for special focus if needed.

1 Cor. 15:33 (KJV) Be not deceived: evil communications corrupt good manners. (NIV) Do not be misled: Bad company corrupts good character. Applicable text is underlined for special focus if needed.
Eph. 5:4 Nor should there be obscenity, foolish talk or coarse joking, which are out of place, but rather thanksgiving.
Ps. 27:1-3 The LORD is my light and my salvation - whom shall I fear? The LORD is the stronghold of my life - of whom shall I be afraid? When evil men advance against me to devour my flesh, when my enemies and my foes attack me, they will stumble and fall. Though an army besiege me, my heart will not fear; though war break out against me, even then will I be confident.
Job 34:22 There is no dark place, no deep shadow, where evildoers can hide.
Rev. 20:8 And [Satan] shall go out to deceive the nations [the people] which are in the four quarters of the earth, Gog and Magog, to gather them together to battle [battle does not have to be military warfare]: the number of whom is as the sand of the sea.
Luke 17:2 It were better for him that a millstone were hanged about his neck, and he cast into the sea, than that he should offend [cause or teach to sin] one of these little ones [the children].
Rom. 1:26 For this cause God gave them up unto vile affections: for even their women did change the natural use into that which is against nature:
1Cor. 6:9-10 Do you not know that the wicked will not inherit the kingdom of God? Do not be deceived: Neither the sexually immoral nor idolaters nor adulterers nor male prostitutes nor homosexual offenders nor thieves nor the greedy nor drunkards nor slanderers nor swindlers will inherit the kingdom of God.
Col. 3:8 But now ye also put off all these; anger, wrath, malice, blasphemy, filthy communication out of your mouth.
Deut. 5:11 Thou shalt not take the name of the LORD thy God in vain: for the LORD will not hold him guiltless that taketh his name in vain.



ooooooooooooooooooooooooooooooooo



As always, it is best to refer to the Findings/Scoring section -- the heart of the CAP analysis model -- for the most complete assessment possible of this movie.



---
FINDINGS / SCORING: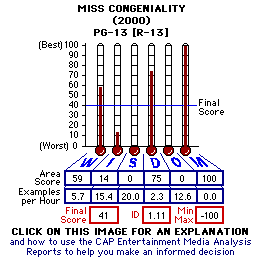 NOTE: Multiple occurrences of each item described below may be likely, definitely when plural.

Wanton Violence/Crime (W):

illegal possession of a firearm
reckless driving to get coffee
gun battle; firearm assault with injury
illegal explosives/incendiary devices
planning murder by explosives
threat to kill
firearms to control/intimidate
deceit; planning a crime
attempted murder

Impudence/Hate (I)(1):

anger tantrum
foul euphemism
crotch hit
24 uses of the three/four letter word vocabulary

Sex/Homosexuality (S):

suggestive eye movements
sexual innuendo, comments, talk
inappropriate touching
crude joking and comments
homosexual mannerisms and comments
dressing to maximize female form or skin exposure
adults in underwear
perverse comment ("Who's your daddy") re: girls in swimsuits
camera angle to force viewer on private parts
lesbian promotion
sexual offer/request
very detailed nude mannequin

Drugs/Alcohol (D):

bar with drinking
champaign
drinking

Offense to God (O)(2):

three uses of God's name in vain with the four letter expletive and 14 without
promotion of Zen meditation
mockery of servitude to Christ; mockery of Christian faith

Murder/Suicide (M)(3):

none noted





NOTE: The CAP Analysis Model makes no scoring allowances for trumped-up "messages" to excuse or for manufacturing of justification for aberrant behavior or imagery, or for camouflaging such ignominy with "redeeming" programming. Disguising sinful behavior in a theme plot does not excuse the sinful behavior of either the one who is drawing pleasure from the sinful display or the practitioners demonstrating the sinful behavior. This is NOT a movie review service. It is a movie analysis service to parents and grandparents to tell them the truth about movies using the Truth. If you do not want the plot, ending, or "secrets" of a movie spoiled for you, skip the Summary/Commentary. In any case, be sure to visit the Findings/Scoring section -- it is purely objective and is the heart of the CAP Entertainment Media Analysis Model applied to this movie





"There are some in the entertainment industry who maintain that 1) violent programming is harmless because no studies exist that prove a connection between violent entertainment and aggressive behavior in children, and 2) young people know that television, movies, and video games are simply fantasy. Unfortunately, they are wrong on both accounts." [Emphasis is mine] And "Viewing violence may lead to real life violence." I aplaud these associations for fortifying 1 Cor. 15:33. Read the rest of the story. From our five-year study, I contend that other aberrant behaviors, attitudes, and expressions can be inserted in place of "violence" in that statement. Our Director - Child Psychology Support, a licensed psychologist and certified school psychologist concurs. For example, "Viewing arrogance against fair authority may lead to your kids defying you in real life." Or "Viewing sex may lead to sex in real life." Likewise and especially with impudence, hate and foul language. I further contend that any positive behavior can be inserted in place of "violence" with the same chance or likelihood of being a behavior template for the observer; of being incorporated into the behavior mechanics and/or coping skills of the observer. In choosing your entertainment, please consider carefully the "rest of the story" and our findings.