Become a CAPtain


with your
The foul language eliminator


Removes profanity from movies and TV shows
A Christian Family


Internet Network Cooperative
A Christ Centered


Community Web Site
Comments?

Christian Media News
A Singles
Christian Network
PLEASE VOTE!


for this site!
---

ALERT: To fully understand this report you should first visit the topics
suggested by the CAP Table of Contents.



SUMMARY / COMMENTARY:

*The Messenger: The Story of Joan of Arc (R) -- very violent yet nondescript movie.

I walked away feeling as though I had just taken an incomplete nap. Nothing was exceptional about this movie. The usual language and gore was there. Some so-so acting made the movie somewhat interesting. And I came away not knowing any more about the efforts of Joan to rescue France from the aggression of England than before I went (and I am *not* well versed on France's history). But then, the movies are possibly the worst place on the planet to gain an education about real life OR Real Life.

I was uncomfortable with "Holy mother church" and "...in the name of our holy mother church" because every "In the name of" I remember from the Bible is in the name of Jesus, not His mother or a church. Maybe these are Catholic expressions with entirely different meanings. I do not know of the Catholic doctrines well enough to challenge them or even whether they should be challenged. I suppose "Holy mother church" may mean a holy church glorifying Mary, the mother of Jesus. But still, looking at "In the name of our holy mother church", Mary, the holy mother of Jesus, though indeed a blessed member of the Bride, cannot grant the free gift of salvation nor can any faith in her holiness or any church. To be given the free gift of salvation we need only to believe in our heart by faith that Jesus was 1) born of a virgin, 2) died on the Cross to pay the price of our sin, 3) was dead for three days then was bodily resurrected, and 4) ascended to Heaven. The above expressions were not incorporated into the scoring and are presented here for discussion and my edification.

There were implications that holy personages were rather sinister and ominous. And it seemed as though the act of submitting yourself for salvation was portrayed as.......sinister. I suppose all the sinister appearance of the movie is to be expected since the writer broke with precedence set by other writers of Joan of Arc movies and presented Joan as sort of suffering schizophrenia rather than hearing messages from God. The flow seemed so disconnect at times it was quite difficult to maintain cognizance of the connections, if any, between jumps especially during a relatively uninteresting and sometimes offensive movie.

Most of *The Messenger* was about the carnage and gore of medieval battle plus foul language I doubt was used in those times. Of harsh influence in *The Messenger* were the decapitations, the spewing blood, the body parts, and a plethora of other violent matters. A dog ripping the flesh from a dead warrior, birds eating human remains, and many dead bodies gave a nauseous air about the movie.

Though not necessarily a sexual movie, there were examples of inappropriate sexual behavior such as a young woman embracing a man with her face against the front of his pelvis and her hands clutching his posterior. The king was noted as bathing with a young girl. Brief upper female frontal nudity was also noted. The most vulgar and unnecessary sequence in the movie was when an English warrior skewered a young woman with a sword, pinning her against a closet door, then raping her dead body -- with the woman's sister (the young Joan) hiding in the closet. Though I am not qualified to make a claim of it, I somehow doubt that this was part of Joan's life but was rather a part of the writer's imagination (which would not surprise me). Even if this sort of brutality actually happened during the wars between England and France, why is it necessary to tell this kind of 'truth' in entertainment?

If Joan was indeed a messenger of God, I doubt that she would have approved of this telling of her story. And a white dove did not flutter out of the flames.

So many of our visitors seem to be relying only on this Summary/Commentary for a full assessment of this movie. This is not possibble. For the best representation of the CAP Entertainment Media Analysis Model applied to this movie, visit the Findings/Scoring section below.



---
FINDINGS / SCORING: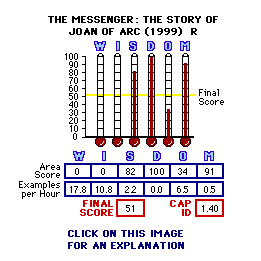 NOTE: Multiple occurrences of each item described below are likely.

Wanton Violence/Crime (W):

dogs eating the remains of a dead warrior with the ripping of flesh seen
rape of a murdered girl by the murderer (no nudity was seen)
much medieval warfare carnage and gore
decapitation with spewing of blood
impalements with arrows
self-removal of impaled arrows
sinister dream sequences, one with a repeat of the rape sequence
many bodies with impalements and avulsions and amputations
body parts
birds eating remains of dead warriors
decayed body
beating injuries
arrow death
kick beating
planting incriminating evidence to convict unfairly
graphic burning of a human

Impudence/Hate (I)(1):

10 uses of the most foul of foul words
9 uses of the three/four letter word vocabulary
"It was MY fault" (Joan's said about her sister's murder)

Sex/Homosexuality (S):

inappropriate touch (female face to frontal male pelvis with her hands on his posterior)
man in bath with woman, nude (masked)
brief partial female upper frontal nudity (gender specifics masked)
men ripping the clothes off a woman

Drugs/Alcohol (D):

note noted

Offense to God (O)(2):

dialogue to imply asking forgiveness needs to be done only once per day
imagery and sounds suggesting unholy presence
implication of a young boy as evil or sinister
portraying of yielding to Jesus as sinister
the use of astrology
suggestion that God giving a message is sinister
verbally threatening Jesus
"Personally, I don't believe in God OR the Devil. That's why I'm never disappointed."
several portrayals of holy agents as sinister
Implication that confessing of sins will save the soul.

Murder/Suicide (M)(3):

sword murder