Become a CAPtain


with your
SPECIAL OFFER


From the runaway best-seller.
The foul language eliminator


Removes profanity from
movies and TV shows
Switch to LifeLine


for Christian
long distance service
The Family Friendly


Internet Service
A Christ Centered


Community Web Site
Comments?

Christian Media News
A Singles
Christian Network
Your One Stop


For Everything Christian
Free Email Ministry


Subscribe Today!!
PLEASE VOTE!


for this site!
Christian Banner eXchange
---
ALERT: To fully understand this report you should first visit the topics suggested by the CAP Table of Contents.

For FREE text-only versions of our media analysis reports as they are calculated, open this email then click "send." If your browser does not handle this URL format properly, send us a request to add you.
NOTE: We make no scoring allowances for Hollywood's trumped-up "messages" to excuse, or its manufacturing of justification for aberrant behavior or imagery. This is NOT a movie review service. It is a movie analysis service to parents and grandparents to tell them the truth about movies using the Truth. If you do not want the plot, ending, or "secrets" of a movie spoiled for you, skip the Summary/Commentary. In any case, be sure to visit the Findings/Scoring section -- it is purely objective and is the heart of the CAP Entertainment Media Analysis Model applied to this movie
"There are some in the entertainment industry who maintain that 1) violent programming is harmless because no studies exist that prove a connection between violent entertainment and aggressive behavior in children, and 2) young people know that television, movies, and video games are simply fantasy. Unfortunately, they are wrong on both accounts." [Emphasis is mine] And "Viewing violence may lead to real life violence." Read the rest of the story. From our five-year study, I contend that other aberrant behaviors, attitudes, and expressions can be inserted in place of "violence" in that statement. Our Director - Child Psychology Support, a licensed psychologist and certified school psychologist concurs. For example, "Viewing arrogance against fair authority may lead to your kids defying you in real life." Or "Viewing sex may lead to sex in real life." Likewise and especially with impudence, hate and foul language. I further contend that any positive behavior can be inserted in place of "violence" with the same chance or likelihood of being a behavior template for the observer; of being incorporated into the behavior mechanics and/or coping skills of the observer. In choosing your entertainment, please consider carefully the "rest of the story" and our findings.
If Scriptural references appear, the full text appears at the end of the Summary / Commentary likely using a mix of KJV and NIV.
---


SUMMARY / COMMENTARY:

*MEET THE PARENTS* (PG-13) -- "You are subtracting points for someone's name!?"

While it doesn't surprise me that Ben Stiller costars in this low-key new age comedy of modern morality, I am surprised Robert DeNiro agreed to low-key anything. Oh, well. There's no accounting for taste.

Ben Stiller plays a male nurse (which is milked for all it's worth throughout the show) named Gaylord "Greg" Focker, and the name was a major point of the script. The vulgarity of the script proves its intent. Much of the loss of points in Impudence/Hate is because of the abuse of this name. Now, before the malcontents start jumping up and down screaming "You are subtracting points for someone's name!?", the use of that name because of its phonic resemblance to a vulgar expletive was so clearly obvious it was painful. There is nothing wrong with any name as long as it is spoken as a name instead of a euphemism for vulgar speech. When the script writers insert dialogue such as "I just realized what our daughter's [married] name will be ... Pamela Martha -----" and "So your real name is 'Gay -----'?", there is no doubt about the taking advantage of "safety" in manufactured ambiguity to employ vulgarity [Prov. 8:13]. And if the way the name was (ab)used is not offensive and part of the reason for the restrictive MPAA rating, why was it not included in the trailers/previews? So, abuse of the name along with two instances of inappropriate sexual touch and a few other sexual matters such as soliciting sex in your parents' house and cohabitation, there is the PG-13. Actually, another "R-13." A lite R-13 but an R-13 nonetheless.

Pamela Byrnes (Teri Polo) and "Greg" are so in love. As they plan a weekend trip to Pam's parent's to attend her sister's wedding, Greg tries to ask Pam to marry him but Pam's excitement about the trip overrides Greg so much he cannot get a word in edgewise. Maybe that is a good thing after all. Pam's soliloquy includes the expectations of her father, Jack Byrnes (Robert DeNiro) -- asking traditional permission for the daughter's hand in marriage [Eph. 6:2]. Thwarted by the realization of the need for tradition, Greg decides to wait and ask her father's permission to marry Pam.

At Pam's parents' house, Pam's mother, Dina (Blythe Danner) tries her best to make Greg feel welcome, but Jack does his best to find out if Greg measures up to his expectations of membership in his "circle of trust." In efforts to be acceptable to the Byrnes family, Greg uses every manner of social conversational lies to paint himself as knowledgeable and properly compatible with the Byrnes. He even came up with a story of him having milked a cat [Prov. 14:5].

Greg is a smoker [2 Cor. 7:1]. At her parent's house, Pam throws Greg's cigarettes on the roof of the house, an act which serves as connective material for a later Rube Goldberg style series of mishaps. Not realizing the family cat, a prized possession of Jack, is an indoor-only cat, Greg puts the cat out so it would stop pestering him while on the phone trying to retrieve his weekend bag which was lost at the airport -- with a two karat diamond wedding ring for Pam and all his weekend belongings in it. As a sub plot to this, the airport sends a courier to the Byrnes house with a wrong bag that looked just like Greg's bag. Jack receives the bag and opens it using his experience as a 34-year member if the CIA to find a collection of S&M sex toys [Jude 7; 1 Tim. 1:9-10] and concludes they belong to Greg. While Jack is discovering the suspected habits of his future son in law, Greg tries to capture the cat which ends up on the roof. On the roof, Greg finds his cigarettes and lights one up. Then in a lunge to grab the cat Greg tosses the butt into the rain gutter full of autumn leaves. And, yes, a fire starts. Trying to put it out by stomping it, Greg kicks the rain gutter loose which falls into a power line which whips around like a fully open garden hose and sets fire to several things, including a prized article of craftsmanship made by the Jesus-loving ex-fiance of Pam's (played by Owen Wilson - I don't remember his stage name). Sidebar Note: I suspect the use of Wilson's character as a Christian was to further complicate the events since Greg is Jewish.

And somehow Greg ends up in Jack's ex-CIA hidden office containing evidence of continued sleuthing, even though Jack is retired from the CIA, and an antique but operational polygraph machine. And, of course, Greg gets strapped in. Jack grills Greg on his intentions for his daughter with question such as "Have you ever watch a pornographic video" ... and the needles go nuts.

That is descriptive of the comedy of this movie. It is all pretty much the same style and quality; mildly funny but alas it is freckled with a plethora of threshold-threatening ignominy, PG-13 style. All suitable for our viewing pleasure *including* your 13 year old (and younger) sons and daughters, of course. So sayeth the MPAA anyway, but not JESUS or the CAP.

Additional concerns for the parent and grandparent likely include smoking, drinking, and tons of conversational lies with nearly as much concern for personal honesty as for the life of a single mosquito at a picnic [Prov. 19:5]. Also the inappropriate touching, the repeated and up-close viewing of a pornographic poster in a teen's room, a man and a woman in a bed together (not to mention in her parents' house), and sexual innuendo [Mark 7:21] will likely make the Bible-believing parent uncomfortable and can certainly offend (Biblically speaking - Luke 17:2) our little ones, which includes living-at-home teens.



ooooooooooooooooooooooooooooooooo



1 Cor. 15:33 (KJV) Be not deceived: evil communications corrupt good manners. (NIV) Do not be misled: Bad company corrupts good character.
Prov. 8:13 To fear the LORD is to hate evil; I hate pride and arrogance, evil behavior and perverse speech.
Eph. 6:2 Honor your father and mother -which is the first commandment with a promise -
Prov. 14:5 A faithful witness will not lie: but a false witness will utter lies.
2Cor. 7:1 Since we have these promises, dear friends, let us purify ourselves from everything that contaminates body and spirit, perfecting holiness out of reverence for God.
Jude 7 In a similar way, Sodom and Gomorrah and the surrounding towns gave themselves up to sexual immorality and perversion. They serve as an example of those who suffer the punishment of eternal fire.
1 Tim. 1:9-11 We also know that law is made not for the righteous but for lawbreakers and rebels, the ungodly and sinful, the unholy and irreligious; for those who kill their fathers or mothers, for murderers, for adulterers and perverts, for slave traders and liars and perjurers - and for whatever else is contrary to the sound doctrine that conforms to the glorious gospel of the blessed God, which he entrusted to me [the Apostle Pail].
Prov. 19:5 A false witness shall not be unpunished, and he that speaketh lies shall not escape.
Mark 7:21 For from within, out of men's hearts, come evil thoughts, sexual immorality, theft, murder, adultery...
Luke 17:2 It would be better for him to be thrown into the sea with a millstone tied around his neck than for him to cause one of these little ones to sin.



ooooooooooooooooooooooooooooooooo



As always, it is best to refer to the Findings/Scoring section -- the heart of the CAP analysis model -- for the most complete assessment possible of this movie.



---
FINDINGS / SCORING: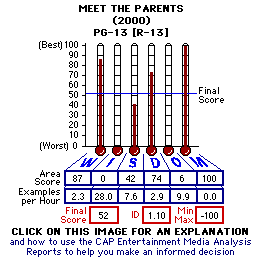 NOTE: Multiple occurrences of each item described below may be likely, definitely when plural.

Wanton Violence/Crime (W):

reckless driving and drag racing on public streets

Impudence/Hate (I)(1):

two uses of the most foul of the foul words
17 uses of the three/four letter word vocabulary
at least 15 uses of Greg's last name clearly due to its phonic resemblance to a vulgar expletive
at least 8 conversation lies
sexual invitation in the girl's parents' house
lie to a father
teen sneaking in and out
camaraderie in lies

Sex/Homosexuality (S):

camera angle to force viewer on private parts
cohabitation
picture nudity
man and woman on/in bed together in underwear
pornographic poster
very brief swimwear
S&M sex toys

Drugs/Alcohol (D):

smoking
drinking

Offense to God (O)(2):

four uses of God's name in vain with the four letter expletive and 13 without

Murder/Suicide (M)(3):