Become a CAPtain


with your
The foul language eliminator


Removes profanity from movies and TV shows
HOLIDAY SPECIAL! $40.00 OFF!
A Christian Family


Internet Network Cooperative
Switch to LifeLine


for Christian
long distance service
The Family Friendly


Internet Service
A Christ Centered


Community Web Site
Comments?

Christian Media News
A Singles
Christian Network
PLEASE VOTE!


for this site!
Christian Banner eXchange
---

ALERT: To fully understand this report you should first visit the topics
suggested by the CAP Table of Contents.



SUMMARY / COMMENTARY:

*Man on the Moon* (R) -- a movie FROM the moon.

A story about Andy Kaufman. I have no idea how accurate it was or whether it was supposed to be accurate. But then, who cares? Jim Carrey did an okay job of emulating Andy Kaufman. There is not a whole to to say for this movie. Just three days after seeing it, I cannot remember much about it. Thanks to the CAP analysis model annotation methods, I do not need to remember the movie to get the scoring right.

Language was, as usual, a problem. The most foul of the foul words was there...repeatedly. God's name in vain both with and without the four letter expletive was there...repeatedly. Bare female upper torsos were there...repeatedly. Carrey portrayed abrasive and caustic characters...repeatedly.

Other issues that may help you make an informed decision whether to see this movie include transcendental meditation, holistic medicine and their practitioners were portrayed as acceptable and effective. Cohabitation, prostitution, inappropriate touch, and adults in underwear were contributors to the sexual programming. A most nondescript movie. I will leave the description of it to the listing the Findings/Scoring section below.



---
FINDINGS / SCORING: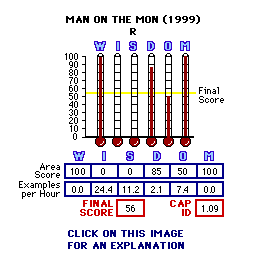 NOTE: Multiple occurrences of each item described below may be likely.

Wanton Violence/Crime (W):

none noted

Impudence/Hate (I)(1):

9 uses of the most foul of the foul words
25 uses of the three/four letter word vocabulary
ethnic insults
gender slander
trickery

Sex/Homosexuality (S):

vulgar motions with a female
touching and talking about male privates by another male
excessive posterior exposure
nudity in prostitution
inappropriate touch
multiple bare breasted women in a dance line, repeatedly
adults in underwear
sexual reference
woman on man in bed (clothed)
cohabitation for sex
participation in prostitution

Drugs/Alcohol (D):

smoking
booze
drinking

Offense to God (O)(2):

zen meditation and holistic medicine for protection and healing
God's name in vain with the four letter expletive once and 5 times without

Murder/Suicide (M)(3):

none noted