Become a CAPtain


with your
The foul language eliminator


Removes profanity from
movies and TV shows
A Christian Family


Internet Network Cooperative
Switch to LifeLine


for Christian
long distance service
The Family Friendly


Internet Service
A Christ Centered


Community Web Site
Comments?

Christian Media News
A Singles
Christian Network
PLEASE VOTE!


for this site!
Christian Banner eXchange
---

ALERT: To fully understand this report you should first visit the topics
suggested by the CAP Table of Contents.



SUMMARY / COMMENTARY:

*MAGNOLIA* (R) -- very definitely an R.

A great many "false prophet" theatrical devices appeared giving the image of acceptability of aberrant behavior and even fatal behavior "justified" by a message of reconciliation and compassion. And, in this 181-minute movie, there were 171 occurrences of the most foul of the foul words, 63 occurrences of the three/four letter word vocabulary, and 22 uses of God's name in vain with the foul letter expletive -- which put *South Park: Bigger, Longer, and Uncut* "to shame."

In an attempt to connect nine lives, the screenplay writer, Paul Anderson uses many human interest tricks embedded in a landfill of vulgarity and obscenity with many pivotal points to connect nine lives. At the beginning Elderly Earl Partridge (Jason Robards), dying of cancer, connects four of the characters. Partridge wishes to see his son whom he hasn't seen since who knows how long. Partridge's nurse, Phil (Phillip Seymour) patronizes Partridge and locates Partridge's son, sexual conquest teacher Frank T. J. Mackey (Tom Cruise). Mackey conducts extremely vulgar self-help sessions to teach men how to conquer women sexually. Mackey also curses his father with extremely hateful and profane monologue while his father lies dying in bed. Phil and Partidge's vulgar and wired wife, Linda (Julianne Moore) who hates her past abuse of and infidelity with Partridge orchestrate a behavior made popular by Kevorkian.

Game show host Jimmy Gator (Philip Baker Hall), also dying of cancer is used to connect a whiz kid of the sixties, Donnie Smith (William H. Macy) who is struggling to make it day to day with a contemporary whiz kid, Stanley (Jeremy Blackman). As a pathetic example of a fathering, Stanley's father uses vulgar threats to make him perform in a game show and proceeds to do no more than cause the boy to urinate in his pants on nationwide TV. And two of the three adolescents in the game show are nearly as foul-mouthed as the adults. In a minute-to-minute comparison, I'd bet the few monutes of airtime of the two kids was as filled with cussing as a few minutes of airtime as any one of the adults.

Partridge's daughter, Claudia (Melora Walters) is brought into the fold by a very fine example of a city cop, Jim Kurring (John C. Reilly). Kurring develops a tender relationship with Claudia even though she is continuously strung out on drugs. Consumption of illegal drugs is portrayed -- often. Reilly, as near as I can tell, was the only story character who did not spew filth in every other breath. In fact, I cannot say he cussed at all. In fact, Reilly brought Jesus into the script in righteous servitude to His love.

And, yes, there was nudity and intecourse.

The whole of the story is much more complex than this and is, in its own way, a masterpiece of theatrical art. However, the "art" status of this film was totally smothered by the vulgarities, profanities, and other portrayals of sinful behavior with no more concern that getting a popcorn shell stuck in your gums.

So many of our visitors seem to be relying only on this Summary/Commentary for a full assessment of this movie. This is not possible. For the best representation of the CAP Entertainment Media Analysis Model applied to this movie, visit the Findings/Scoring section below.



---
FINDINGS / SCORING: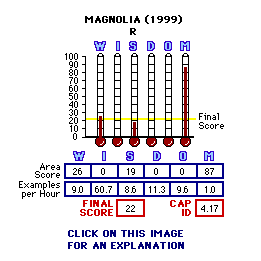 NOTE: Multiple occurrences of each item described below may be likely.

Wanton Violence/Crime (W):

footage of men being hanged by the neck, apparently actual file footage but not for reality
thug beating a man
gambling
physical attacks
attempted suicide
threat with shotgun
offering assistance with murder of frail husband
dead body
attempted murder by gunfire
contemplation of suicide
breaking and entering
attempted suicide by prescription drugs
theft
adolescent theft of unconscious woman's money
contemplation of suicide with gun at head
car wrecks
graphic fall injury
insane mannerisms in aggression

Impudence/Hate (I)(1):

171 uses of the most four of foul words
63 uses of the three/four letter word vocabulary
"So much violence -- that's the way of the world."
wishes of death on parents by child
Lies to police officer
exceptionally hateful screaming
"I am firing pearls at you" when spouting boasts of sexual conquest
several profane words by an adolescent
adolescent arrogance against fair authority
exceptionally stupid and shallow father
lying = natural
excusing lies, rationalizing them
"Strong language (profanity, cussing) is fine."
yelling extreme hate at father while he was in his death bed incapacitated: cowardice

Sex/Homosexuality (S):

masked and hidden intercourse and intercourse with nudity and with clothing
male in shower
pelvic thrusts
man and woman in bed together
ordering porn mags
adult in underwear
homosexual suggestion
porn mag pictures
vulgar references to human anatomy
vulgar talk
admission of adultery with oral sex and other sexual improprieties
homosexual approach
shower nudity - female
shower nudity - male

Drugs/Alcohol (D):

smoking
drinking
illegal drug consumption
drunkenness
bars
booze

Offense to God (O)(2):

22 uses of God's name in vain with the four letter expletive and 7 without

Murder/Suicide (M)(3):

suicide with shotgun with blood splatter
murder by firearm
mercy killing by home nurse