Become a CAPtain


with your
SPECIAL OFFER


From the runaway best-seller.
"I will violate my own
policy statement and urgently
recommend this film..."
-TC-




The foul language eliminator


Removes profanity from
movies and TV shows
Switch to LifeLine


for Christian
long distance service
The Family Friendly


Internet Service
A Christ Centered


Community Web Site
Comments?

Christian Media News
A Singles
Christian Network
Your One Stop


For Everything Christian
Free Email Ministry


Subscribe Today!!
Christian Banner eXchange
---
ALERT: To fully understand this report you should first visit the topics suggested by the CAP Table of Contents.

For FREE text-only versions of our media analysis reports as they are calculated, open this email then click "send." If your browser does not handle this URL format properly, send us a request to add you.
NOTE: The CAP Analysis Model makes no scoring allowances for trumped-up "messages" to excuse or for manufacturing of justification for aberrant behavior or imagery, or for camouflaging such ignominy with "redeeming" programming. Disguising sinful behavior in a theme or plot does not excuse the sinful behavior of either the one who is drawing pleasure from the sinful display or the practitioners demonstrating the sinful behavior. This is NOT a movie review service. It is a movie analysis service to parents and grandparents to tell them the truth about movies using the Truth. If you do not want the plot, ending, or "secrets" of a movie spoiled for you, skip the Summary/Commentary. In any case, be sure to visit the Findings/Scoring section -- it is purely objective and is the heart of the CAP Entertainment Media Analysis Model applied to this movie
"There are some in the entertainment industry who maintain that 1) violent programming is harmless because no studies exist that prove a connection between violent entertainment and aggressive behavior in children, and 2) young people know that television, movies, and video games are simply fantasy. Unfortunately, they are wrong on both accounts." [Emphasis is mine] And "Viewing violence may lead to real life violence." I aplaud these associations for fortifying 1 Cor. 15:33. Read the rest of the story. From our five-year study, I contend that other aberrant behaviors, attitudes, and expressions can be inserted in place of "violence" in that statement. Our Director - Child Psychology Support, a licensed psychologist and certified school psychologist concurs. For example, "Viewing arrogance against fair authority may lead to your kids defying you in real life." Or "Viewing sex may lead to sex in real life." Likewise and especially with impudence, hate and foul language. I further contend that any positive behavior can be inserted in place of "violence" with the same chance or likelihood of being a behavior template for the observer; of being incorporated into the behavior mechanics and/or coping skills of the observer. In choosing your entertainment, please consider carefully the "rest of the story" and our findings.
If Scriptural references appear, the full text appears at the end of the Summary / Commentary likely using a mix of KJV and NIV.
---


SUMMARY / COMMENTARY:

LUCKY NUMBERS (R) -- Kinda puts perspective on His anger...

Foul language flows as if it is an integral and vital part of everyday conversation: a reflection of that which the entertainment industry apparently believes or wants us to believe is the general state of ,orality which, whether intentional or not, is causing or at least perpetuating. We can thank a bunch of ex-hippies wearing long robes for such distortion and counterfeiting of the true freedom of speech which, by the way, had absolutely nothing to do with vulgar and obscene language or behavioral expression. God warned us about this: Matt. 18:7 "Woe to the world because of the things that cause people to sin! Such things must come, but woe to the man [or woman] through whom they come!" Part of that woe is a millstone fate: Luke 17:2 "It would be better for him to be thrown into the sea with a millstone tied around his neck than for him to cause one of these little ones to sin." I wonder whether many of us remember a millstone. I saw one once in an old decaying grain mill. Y'know, the ones 'Down by the old mill stream' that ground grain between two stones (hence "stone ground"). The bottom of two stones was stationary with the other stone rotating atop it, rotated by the waterwheel which was powered by the stream. There was a hole in the center of the top stone -- the millstone -- through which grain was introduced for grinding. The millstone was about two feet thick and about 5 feet in diameter. "...thrown into the sea with a millstone tied around his neck..." Kinda puts perspective on His anger toward behavior which causes or teaches children to sin (Luke 17:2), doesn't it?

And foul language was rampant in Lucky Numbers [Col. 3:8]. And so was sexual immorality [Rev. 2:20]. And so was drugs and drinking [Eph. 5:18]. Enters single man Russ Richards (scientologist John Travolta). Richards is a Harrisburg, PA nice guy weatherman basking in success and "Rockafeller" riches through his TV popularity and his booming snowmobile business in the snowy regions of Pennsylvania. But, alas, Richards is caught up in the flow of bad happenings. The winter wonderland weather is warm -- for a long time. And Richards feels it as his popularity dwindles because of the great weather. And as his popularity dwindles, so do his finances. No snow -- no snowmobiles. Now facing foreclosure and bankruptcy, Richards surveys his options. One option was to sell his body parts. Neither was the chosen option a good one. With the mentorship of Gig (Tim Roth), a strip club owner, they fix the numbered ping ping balls in a lottery to yield Richards' preselected numbers [Mal. 1:14]. The right numbers come up, but so do a lot of troubles [Prov. 11:1].

In the middle of all this is Richards' plaything -- sexual plaything -- model and lottery ball puller Crystal Latroy (Lisa Kudrow) who anxiously mixes herself into the plot of rigging the lottery. Dick Simmons (Ed O'Neill), the married TV station manager and Richards' boss, fancies Crystal, too. And she takes whatever she can get, rather whichever gets her the most. But as the number of sleezies who gain knowledge of the underhandedness increases, so does Richards' payout load. He finds himself deeper in debt than before the mess. And he finds himself connected with wrongful deaths.

While truly a comedy, it is dark. There are two deaths, one of which was a wrongful death by denying an asthma victim his puffer, and the other a murder with a baseball bat by Dale the Thug ( (Michael Rapaport). Foul and vulgar language was clearly the main ignominy in this flick as evidenced by the zero CAP score in Impudence/Hate and in Offense to God. Sex/Homosexuality also earned a CAP score of zero for the ton or two of sexual programming.



ooooooooooooooooooooooooooooooooo



1 Cor. 15:33 (KJV) Be not deceived: evil communications corrupt good manners. (NIV) Do not be misled: Bad company corrupts good character.
Col. 3:8 But now you must rid yourselves of all such things as these: anger, rage, malice, slander, and filthy language from your lips.
Eph. 5:18 And be not drunk with wine, wherein is excess; but be filled with the Spirit;
Rev. 2:20 Nevertheless, I have this against you: You tolerate that woman Jezebel [sexual immorality], who calls herself a prophetess ["announcing" the casting off of sexual inhibitions]. By her teaching [behavioral templates, e.g., in the movies] she misleads my servants into sexual immorality and the eating of food sacrificed to idols [foul food to the heart and mind - belief that sex outside a monogamous heterosexual marriage is not sinful].
Mal. 1:14 "Cursed is the cheat who has an acceptable male in his flock and vows to give it, but then sacrifices a blemished animal to the Lord. For I am a great king," says the LORD Almighty, "and my name is to be feared among the nations."
Prov. 11:1 The LORD abhors dishonest scales, but accurate weights are his delight.



ooooooooooooooooooooooooooooooooo



As always, it is best to refer to the Findings/Scoring section -- the heart of the CAP analysis model -- for the most complete assessment possible of this movie.



---
FINDINGS / SCORING: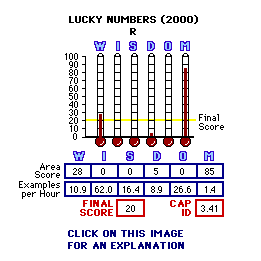 NOTE: Multiple occurrences of each item described below may be likely, definitely when plural.

Wanton Violence/Crime (W):

suggesting crime to avoid bankruptcy
breaking and enterings
threat with extortion
insurance fraud
planning theft and murder
rigging lottery drawing
threat of murder
extortion
suggesting murder
"I want him dead. I want his head cut off."
leg breaking with ball bat
hand breaking with ball bat
gunfire death

Impudence/Hate (I)(1):

36 uses of the most foul of the foul words
52 uses of the three/four letter word vocabulary
speaking of crime as an acceptable profession
no consequences

Sex/Homosexuality (S):

adultery
inappropriate touch
intercourse without nudity
solicitation of sex with exposing of self to entice
vulgar dance routines
anatomical references, some vulgar
man and woman in bed together
sexual inference, innuendo, comments, talk
sex as recreational, casual
lesbian dance
adults in underwear
homosexuality background song

Drugs/Alcohol (D):

smoking dope
booze
drinking
bar
smoking

Offense to God (O)(2):

one use of God's name in vain with the four letter expletive, 38 uses without
counterfeiting and mockery of the Scriptures

Murder/Suicide (M)(3):

murder by denial of needed medication