Become a CAPtain


with your
A Christ Centered


Community Web Site
Comments?

Christian Media News
A Singles
Christian Network
PLEASE VOTE!


for this site!
ALERT: To fully understand this report you should first visit the topics
suggested by the CAP Table of Contents.



SUMMARY / COMMENTARY:

*Love Stinks* (R) -- maybe, but not like this movie.

*Love Stinks* is another battle of the sexes but this time with new age morals. Sly and cunning maneuvers throughout a heterosexual relationship to get the most out of the other in the end spun a web of nice-sounding rationale for immoral cohabitation [1 Cor. 7:2 "Nevertheless, to avoid fornication, let every man have his own wife, and let every woman have her own husband."].

As is typical of PG-13 and R movies, foul language occupied almost every other sentence [Deut. 5:11 "Thou shalt not take the name of the LORD thy God in vain: for the LORD will not hold him guiltless that taketh his name in vain." and Matt. 12:36-37 "But I say unto you, That every idle word that men shall speak, they shall give account thereof in the day of judgment. For by thy words thou shalt be justified, and by thy words thou shalt be condemned."

Sexual programming was nearly as prominent as foul language: revealing dress; sexual innuendo, talk, comments; every manner of promotion of cohabitation; masked sexual intercourse and nudity; offer of oral sex and more [1 Thess. 4:3, Mark 7:21-23 and a plethora of others].

And there was drinking and drunkenness with drugging to control, flatulence as a tool of aggression, claiming a woman was the anti-Christ, and attempted murder. All fine examples of the inability of the moviemakers to make good movies any more.



---
FINDINGS / SCORING: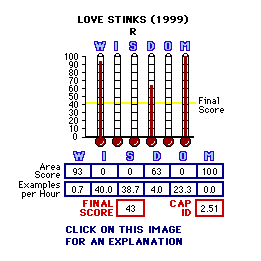 NOTE: Multiple occurrences of each item described below are likely.

Wanton Violence/Crime (W):

gunfire to attempt to kill, visible bullet impact with blood

Impudence/Hate (I)(1):

19 uses of the most foul of foul words
47 uses of the three/four letter word vocabulary
repeated flatulence (as a tool of aggression)
repeated hateful expressions

Sex/Homosexuality (S):

sexual innuendo, talk, offers, insults, comments, and planning
repeated presentation of cohabitation, planning of it, and contracting of it
suggestive eye movement
revealing dress
portrayal of immoral sex
sexual intercourse (covered)
inappropriate touch
adult underwear
man and woman in bed together
sexual comedy series

Drugs/Alcohol (D):

booze
drinking
drunkenness
drugging to control

Offense to God (O)(2):

claiming a woman is the anti-Christ

Murder/Suicide (M)(3):

note noted