Become a CAPtain


with your
SPECIAL OFFER


From the runaway best-seller.
"I will violate my own
policy statement and urgently
recommend this film..."
-TC-




The foul language eliminator


Removes profanity from
movies and TV shows
Switch to LifeLine


for Christian
long distance service
The Family Friendly


Internet Service
A Christ Centered


Community Web Site
Comments?

Christian Media News
A Singles
Christian Network
Your One Stop


For Everything Christian
Free Email Ministry


Subscribe Today!!
Christian Banner eXchange
---
ALERT: To fully understand this report you should first visit the topics suggested by the CAP Table of Contents.

For FREE text-only versions of our media analysis reports as they are calculated, open this email then click "send." If your browser does not handle this URL format properly, send us a request to add you.
NOTE: The CAP Analysis Model makes no scoring allowances for trumped-up "messages" to excuse or for manufacturing of justification for aberrant behavior or imagery, or for camouflaging such ignominy with "redeeming" programming. Disguising sinful behavior in a theme or plot does not excuse the sinful behavior of either the one who is drawing pleasure from the sinful display or the practitioners demonstrating the sinful behavior. This is NOT a movie review service. It is a movie analysis service to parents and grandparents to tell them the truth about movies using the Truth. If you do not want the plot, ending, or "secrets" of a movie spoiled for you, skip the Summary/Commentary. In any case, be sure to visit the Findings/Scoring section -- it is purely objective and is the heart of the CAP Entertainment Media Analysis Model applied to this movie
"There are some in the entertainment industry who maintain that 1) violent programming is harmless because no studies exist that prove a connection between violent entertainment and aggressive behavior in children, and 2) young people know that television, movies, and video games are simply fantasy. Unfortunately, they are wrong on both accounts." [Emphasis is mine] And "Viewing violence may lead to real life violence." I aplaud these associations for fortifying 1 Cor. 15:33. Read the rest of the story. From our five-year study, I contend that other aberrant behaviors, attitudes, and expressions can be inserted in place of "violence" in that statement. Our Director - Child Psychology Support, a licensed psychologist and certified school psychologist concurs. For example, "Viewing arrogance against fair authority may lead to your kids defying you in real life." Or "Viewing sex may lead to sex in real life." Likewise and especially with impudence, hate and foul language. I further contend that any positive behavior can be inserted in place of "violence" with the same chance or likelihood of being a behavior template for the observer; of being incorporated into the behavior mechanics and/or coping skills of the observer. In choosing your entertainment, please consider carefully the "rest of the story" and our findings.
If Scriptural references appear, the full text appears at the end of the Summary / Commentary likely using a mix of KJV and NIV.
---


SUMMARY / COMMENTARY:

In this kid's flick, vampirism is glorified and made "acceptable" by endearing the characters with likable and unselfish characteristics [Deut. 11:16]. And that is a trick in and of itself since there are no such things as vampires, relying on the influence of the old Bella Lugosi movies. There are no walking undead. Indeed, there are no undead at all. One is either dead or alive. Maybe this movie is an attempt to "cash in" on the popularity of the Harry Potter books which are claimed to present magic as a technique to control others.

Transplanted from San Diego, young Tony (Jonathan Lipnicki) finds emptiness and rejection in Scotland as his father relocates there to build a golf course for McAshton (John Wood). But as a "tolerance" promotion, young Tony finds acceptance and fulfillment in a family of vampires. An all too familiar scenario in life -- a child, feeling rejected because of righteous and rightful expectations made ugly to the child because of the bombardment of freedom from accountability at every turn, finding "unconditional acceptance" among evil. All too often, the child finds that when it comes time to pay the piper (which is always the case with rebellious maneuvers), the "unconditional acceptance" is not that unconditional after all.

The movie's focus on Tony's life begins with a rather graphic nightmare. The next day we see Tony being bullied by local boys and Tony's resolve deepens even further. One night, a bat flies into Tony's room and crashes into the fireplace then turns into Rudolph (Rollo Weeks). Rather than be discovered by Tony's parents, Rudolph tries to fly out Tony's window and ends up face down on the lawn one story below. Rudolph's weakness is from lack of blood -- but not his blood. Rudolph, having been befriended by Tony, does not want to inflict the curse of being a vampire on Tony and asks for a cow. And Tony, so enamored by the friendship with a vampire, utters "I wanna be a vampire, too." So, as Rudolph drains some blood out of a cow, a local creep of a vampire hunter enters. Disgustingly disgusting, Rookery (Jim Carter) informs us of his vow to find and destroy Rudolph and all his "kind" driving a rig that looks to be a mix of the scavenging rig in *Rescuers Down Under* and the snowplow in Snow Day.

In one scene, the herd of four cows which were now vampire cows after being used to supply the blood needs of the vampires, were enlisted in combating Rookery. Since these cows were vampires, they could fly. Yes, the filmmakers "milked" the idea behind the age-old expression, "Birdie, birdie up in the sky. Why'd you do that in my eye? I'm a big boy -- I won't cry, but I'm sure glad that cows can't fly." And Rookery's windshield wipers were not enough to handle it.

This is a perplexing task. Is this movie good clean fun or is it a risk for the wholesome spiritual development of our kids? The movie is based on vampirism. But so was much entertainment by Bella Lugosi, Elvira, Sammy Terry, Vincent Price and others which we all grew up with. Are they innocuous or have they each been a brick in a foundation of desensitizing us [Gal. 1:6-7]? There is no such thing as a vampire. There are no walking undead. And that which does not exist cannot be contagious. One may CHOOSE to practice vampirism but still will not be a walking undead. And since vampires do not exist, how can portrayal of them be harmful to our kids? There is danger in embracing the unholy, that's how [Is. 5:20].



ooooooooooooooooooooooooooooooooo



1 Cor. 15:33 (KJV) Be not deceived: evil communications corrupt good manners. (NIV) Do not be misled: Bad company corrupts good character.
Deut. 11:16 Take heed to yourselves, that your heart be not deceived, and ye turn aside, and serve other gods, and worship them;
Gal. 1:6-7 I am astonished that you are so quickly deserting the one who called you by the grace of Christ and are turning to a different gospel - which is really no gospel at all. Evidently some people are throwing you into confusion and are trying to pervert the gospel of Christ.
Is. 5:20 Woe unto them that call evil good, and good evil; that put darkness for light, and light for darkness; that put bitter for sweet, and sweet for bitter!



ooooooooooooooooooooooooooooooooo



As always, it is best to refer to the Findings/Scoring section -- the heart of the CAP analysis model -- for the most complete assessment possible of this movie.



---
FINDINGS / SCORING: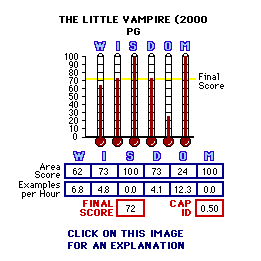 NOTE: Multiple occurrences of each item described below may be likely, definitely when plural.

Wanton Violence/Crime (W):

dreamworld hand to hand battle
bully tactics
great fall with no consequences
drinking the blood of a cow (not seen, but heard)
reckless endangerment of a child
gunfire to kill
imprisoning a child, abduction
breaking and entering
kidnapping
two kids sitting atop an aloft blimp

Impudence/Hate (I)(1):

lies to parent
adolescent arrogance against father
sneaking to avoid discovery
punk dress

Sex/Homosexuality (S):

none noted

Drugs/Alcohol (D):

smoking
drinking
"Excuse me. I need another drink."

Offense to God (O)(2):

dreamworld evil incantation
vampirism throughout
"It's great to be a vampire."
levitation by evil
portrayal of corporeal immortality
"I wanna be a vampire, too."
visions
shape changing
"I am the lord of the underworld."
"We are dark gods."
portrayal of hypnotic control
two uses of God's name in vain and without the four letter expletive
bodies of the "undead"

Murder/Suicide (M)(3):