Become a CAPtain


with your
The foul language eliminator


Removes profanity from movies and TV shows
A Christian Family


Internet Network Cooperative
A Christ Centered


Community Web Site
Comments?

Christian Media News
A Singles
Christian Network
PLEASE VOTE!


for this site!
---

ALERT: To fully understand this report you should first visit the topics
suggested by the CAP Table of Contents.



SUMMARY / COMMENTARY:

*The last of the Mohicans* (R) -- a violent, sometimes boring movie.

This is an analysis as a special favor for some parents whose son was exposed to it in a Christian high school. It is offerred to Distribution as FYI.

The thrust of this movie was battle and deaths. Lots of them. Not as much blood as movies in 1999 but many examples of 18th century warfare between the Canadian French and the English on American soil, and with the Native Americans. The imagery of this trip back into the 18th century was interesting in some ways but the pace and plot were often boring. I suppose this film could have a smidgen of educational value, but I suspect there are a great many other ways an educator could present this time period without using an R-rated movie.

Many, many battle and warfare deaths. Most of them were free of the presentation of blood, but a few were very graphic such as a fallen general whose heart was removed by a Native American. The actual removal was not seen but the Native American held the heart aloft as a prize. Both were covered in blood. Deaths occurred due to beatings, explosions, gunfire, bludgeoning, and axes. Two women were abducted by the Native Americans; one of the women committed suicide to end the abduction, ostensibly after and maybe because of being defiled by her captor. An army officer who was captured by the Native Americans was being burned to death, somewhat graphically a compatriot shot him as a mercy killing. One of the deaths was as graphic as 1999 deaths as an axe impaled the victim and protruded through the body.

Though not necessarily a sexual movie, there were many, many scenes of exposure of the flesh of the posterior of the Native Americans. Though this might have been the way of life of the Native American, some "truths" are best left untold. Even if the partial nudity was shown for the sake of "accuracy", the actors presenting their backsides for pay before 200 million viewers is sinful. There is no righteous justification for such behavior in public let alone in a Christian high school. Other matters of a quasi-sexual nature were the inappropriate touching, the necking, and the suggestions of taking sexual liberties with a captive.

Note that maybe one "educational" value in this movie was it served as a reminder that the settlers, our forefathers, in building a new nation free from religious and dictatorial oppression, oppressed the Native American nations almost into oblivion. And we don't even have so much as a national holiday to honor what is left of the only true Americans.

So many of our visitors seem to be relying only on this Summary/Commentary for a full assessment of this movie. This is not possibble. For the best representation of the CAP Entertainment Media Analysis Model applied to this movie, visit the Findings/Scoring section below.



---
FINDINGS / SCORING: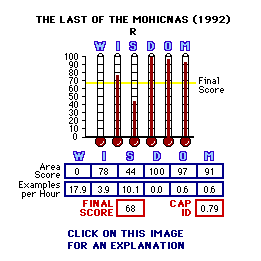 NOTE: Multiple occurrences of each item described below are likely.

Wanton Violence/Crime (W):

firearms for hunting, control, and killing
uncounted deaths due to battle, beatings, axe, and bludgeoning. Some very graphic. A few of them showing the weapon passing into and through the victim's body
dead bodies, many
a heart being cut out of its host (cutting and removal not seen, but heart held high)
a victim of a mercy killing while being burned alive

Impudence/Hate (I)(1):

six uses of the three/four letter word vocabulary
a daughter's arrogance against her father's authority
two suggestions of sexual liberties taken with abducted women

Sex/Homosexuality (S):

many scenes of male posterior flesh
inappropriate touch
necking
suggestion of taking sexual liberties with an adbuctee

Drugs/Alcohol (D):

note noted

Offense to God (O)(2):

one use of God's name in vain but without the four letter expletive

Murder/Suicide (M)(3):

suicide to end abduction