Become a CAPtain


with your
The foul language eliminator


Removes profanity from
movies and TV shows
A Christian Family


Internet Network Cooperative
Switch to LifeLine


for Christian
long distance service
The Family Friendly


Internet Service
A Christ Centered


Community Web Site
Comments?

Christian Media News
A Singles
Christian Network
PLEASE VOTE!


for this site!
Christian Banner eXchange
---



ALERT: To fully understand this report you should first visit the topics
suggested by the CAP Table of Contents.



SUMMARY / COMMENTARY:

*Knock Out* (PG-13) -- not Rocky, but boxing.

If you are expecting the grandeur and action of the *Rocky* series with Sylvester Stallone, you'll not find it in *Knock Out*. You will, however, find simple and unassuming feelings; some strong, most honest (honest sounding anyway). An unknown cast of lesser talents present the life of a boxer -- the daughter of an ex-boxer turned cop who gave it up for the family; the daughter of a dancer who also gave it up for the family. Yes, there are some good family values embedded in this movie. There are also uses of Scripture in it. But...

Twenty-four uses of the three/four letter word vocabulary and one use each of the most foul of the foul words and God's name in vain with the four letter expletive were there evidently to paint over the powerful strength of solid traditional ethics and family [Mark 7:20]. If there is a savvy or a know-how which accompanies experience in using foul language, most of the actors and actresses in this movie who spoke the words clearly didn't have it -- most uses seemed out of character as if the only thing that was making them speak the words was the pay, kinda like the "In my own words" infomercials. That is how gratuitous the foul language was. However cosmetic or, for the baby boomers, plastic the foul language, it was still there.

Violence was represented in, e.g., a gun battle with police, exaggerated boxing violence, and "I'll kill you." [Ps. 11:5; 101:3] Sexual programming was also gratuitous: a man and a woman in bed together, ghosting of female anatomy through clothing, adults in underwear, silhouetting of the female form suggesting rear nudity, and brief exposure due to boxer shorts looseness [1Ths. 4:3]. Some racial insults, booze, and threats with firearms added to the questionable programming. Bold argumentation threatening to become violent, a man in a woman's locker room, and lies touched up the painting over of the powerful strength of solid traditional ethics and family.

*Knock Out* earned a CAP Final Score precisely on the borderline between PG and PG-13 scores earned by movies of 1995 and earlier. And this is one of the extremely few age-restricted movies I have observed without under age kids watching it, too. But that is probably because I was the only one in the auditorium when I watched it.

So many of our visitors seem to be relying only on this Summary/Commentary for a full assessment of this movie. This is not possible. For the best representation of the CAP Entertainment Media Analysis Model applied to this movie, visit the Findings/Scoring section below.



---
FINDINGS / SCORING: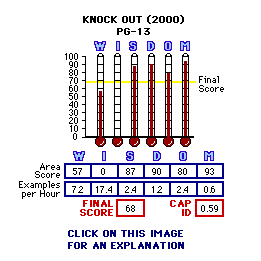 NOTE: Multiple occurrences of each item described below may be likely.

Wanton Violence/Crime (W):

gun battle with police
threat with firearms
exaggerated boxing violence
argumentation
"I'll kill you."
bloody fight injury

Impudence/Hate (I)(1):

24 uses of the three/four letter word vocabulary
one use of the most foul of the foul words
arrogance against loving authority
racial slander
lies
cheating

Sex/Homosexuality (S):

brief exposure due to boxer shorts looseness
adults in underwear
man in woman's locker room
ghosting of female anatomy through clothing
silhouette of female form
man and woman in bed together

Drugs/Alcohol (D):

booze
drinking

Offense to God (O)(2):

one use of God's name in vain with the four letter expletive and three without

Murder/Suicide (M)(3):

gunfire murder