Become a CAPtain


with your
A Christ Centered


Community Web Site
Comments?

Christian Media News
A Singles
Christian Network
PLEASE VOTE!


for this site!
ALERT: To fully understand this report you should first visit the topics
suggested by the CAP Table of Contents.



SUMMARY / COMMENTARY:

*Jakob, the Liar* (PG-13) -- a gentle hero liar.

"Thou shalt not lie." [Ex. 20:16] How can we justify lying? Could we lie if doing so would build up the hopes and spirits of a dying people? Jakob did.

In German occupied Poland of 1944, while waiting in a Gestapo commandant's office for a curfew violation, a gentle Jew, Jakob, overheard an encouraging announcement on the commandant's radio -- the then-friendly Russians were advancing, only 400 kilometers away! While a Jew listening to a radio was VERBOTTEN, possession of a radio meant death.

When back at what was left of his home, in confidence Jakob muttered his discovery of the encroaching Russians to one of his friends who would not believe Jakob heard the news on the commandant's radio. Rather, he believed that Jakob *had* a radio! And that spread like wildfire. Jakob just could not convince everyone he did not have a radio. Seeing the joy and hope the one newscast brought, Jakob invented other newscasts to share with his fellows.

Just as the Gestapo were efficient in their ways, the producers were most efficient in creating a very touching and moving masterpiece based in breaking of a Commandment by obliterating the wrongness of doing so by burying the wrongness of lying under a story of courage and hope. Jesus did not lie -- not even to save His own Life. And just a teeny little 'white lie' would have been enough to stop His death -- and *cause* your and my eternal death. As it turned out, His impeccable integrity saved our bacon from the sulphurous frying pan.

It is difficult to present the items of ignominy in this movie of life of the Jew in this last stop before internment in Hitler's death camps -- this movie is an accounting, fictitious as it may be -- of one of the most evil periods of human suffering in history. But just because these atrocities may have happened is no reason to stain our perception with it as "entertainment." At any rate, you should know these matters before you consider taking your kids to see it because it is YOUR job to decide whether they should see this kind of entertainment, not the MPAA's.

God's name in vain appeared once with the four letter expletive and twice without. An assortment of the three/four letter word vocabulary was used as well. At least seven cold-blooded murders (four by hanging and three by gunfire) and two suicides (one by hanging and one by poison) plus many dead bodies. Brutal beatings, immoral sex in cohabitation (no nudity), and Gestapo oppression throughout the movie.

So many of our visitors seem to be relying only on this Summary/Commentary for a full assessment of this movie. This is not possibble. For the best representation of the CAP Entertainment Media Analysis Model applied to this movie, visit the Findings/Scoring section below.



---
FINDINGS / SCORING: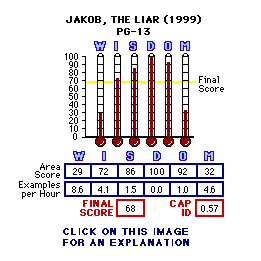 NOTE: Multiple occurrences of each item described below are likely.

Wanton Violence/Crime (W):

four men hanging by the neck
abandoning daughter to save her
brutality
collecting dead bodies
beatings
suicide threat and talk of suicide as an escape
horrible oppression onto blind fear
control with batons
death and dead bodies
Gestapo oppression throughout
torture by holding underwater plus beating
threats with firearms
mutilations

Impudence/Hate (I)(1):

seven uses of the three/four letter word vocabulary
encouraging and building hopes on lies and enjoying it

Sex/Homosexuality (S):

adult underwear
man and woman in bed together
cohabitation

Drugs/Alcohol (D):

none noted (suicide by drugs was incorporated as suicide)

Offense to God (O)(2):

one use of God's name in vain with the four letter expletive and two without
seance
comparing a human man to the Messiah

Murder/Suicide (M)(3):

at least seven murders by gunfire or hanging
at least two suicides, one by drugs and one by hanging