Become a CAPtain


with your
The foul language eliminator


Removes profanity from
movies and TV shows
A Christian Family


Internet Network Cooperative
Switch to LifeLine


for Christian
long distance service
The Family Friendly


Internet Service
A Christ Centered


Community Web Site
Comments?

Christian Media News
A Singles
Christian Network
PLEASE VOTE!


for this site!
Christian Banner eXchange
---



ALERT: To fully understand this report you should first visit the topics
suggested by the CAP Table of Contents.



SUMMARY / COMMENTARY:

*Isn't She Great* (R) -- No!

Bette Midler used to be great. Not only a very fine singer but a decent actress -- until *Isn't She Great.* She was even decent in *First Wives Club* but was far from "decent" in *Isn't She Great.*

The opening of the story finds has-been star Jacqueline Susann (Bette Midler) in adulterous cohabitation with a married man who was apparently her promoter. Deeply discouraged by failure after failure and while in the middle of a for-show threat of suicide, Susann latches on to a nice guy (really) promoter, Irving Mansfield (Nathan Lane) who adores her. For a floundering promoter who knows no big name stars but knows only their relatives, Lane seems to be rather well off.

Susann has a special place where she talks to God, mockingly and without reverence, of course. But some of her talk to God was -- how shall I say it politely and softly -- vulgar to the max. In a one-line burst of monosyllabic words, Susann blames God for all her misery -- a reel example for those who have yet to develop proper perspective of God. Yeah, this is only a movie, a pretend movie at that, but a living, breathing actress actually spoke those words. A big no-no and indeed a cheap shot at the One who spent time in Hell so you and I would not have to.

God's Perfect Will is far above us. We cannot hope to be able to see all the pieces and parts to the big picture He knows. There is a purpose to the suffering and sacrifice than happens to us though we often cannot see the good in the troubles and difficulty. Of everything bad that happens to us God will make something good for someone, maybe even ourselves. Maybe the trials we suffer are preparing the way for someone far off to be blessed. And maybe you were blessed by someone's suffering or sacrifice. I know the CAP ministry is blessed by the sacrifices the precious few who give to it. Maybe a whole family sacrificed a night out so that they could send us a donation. And maybe the trials and troubles are there to strengthen you. So, let us not make anger at God for the troubles we have, rather give thanks for them in prayer that He will use our trouble to make good for someone or even ourselves. [Deut. 23:5 However, the LORD your God would not listen to Balaam but turned the curse (on Balaam) into a blessing for you, because the LORD your God loves you.] And also consider that God has given each of us the freedom of choice. Maybe our sufferings are caused by someone else's freedom of choice, or maybe our own. While God is certainly able to handle our most violent and hateful anger, we cannot blame Him for the bad things in our lives.

Smoking, drinking, foul language, and wishing for suicide make this movie an impediment to developing morals and ethics. To watch an adult woman using the most foul of the foul words and wading into a lagoon in depression are not templates for appropriate behavior. "She's always doped up. That's real life." is not a good way let alone not an accurate way to view real life. In the openers, a long series of cartoon nudity might give impressionable viewers the wrong ideas about adult life.

So many of our visitors seem to be relying only on this Summary/Commentary for a full assessment of this movie. This is not possible. For the best representation of the CAP Entertainment Media Analysis Model applied to this movie, visit the Findings/Scoring section below.



---
FINDINGS / SCORING: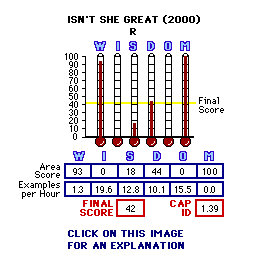 NOTE: Multiple occurrences of each item described below may be likely.

Wanton Violence/Crime (W):

staged gunfire murder
wishing for suicide

Impudence/Hate (I)(1):

9 uses of the most foul of the foul words
13 uses of the three/four letter word vocabulary
I don't want to [see my child]."
lies
She's always doped up. That's real life."
child arrogance against parent

Sex/Homosexuality (S):

long series of cartoon nudity on brook covers
book cover lesbian suggestion
adulterous cohabitation
excessive cleavage
sex talk and innuendo
vulgar talk
inappropriate references to human anatomy

Drugs/Alcohol (D):

bar
booze
smoking
drinking

Offense to God (O)(2):

screaming vulgar obscenity at God to blame Him for miseries
2 uses of God's name in vain with the four letter expletive and 15 uses without
mockery of Christianity

Murder/Suicide (M)(3):

none noted