Now by MC, Amex, Visa and more!
Your donations are TAX DEDUCTIBLE!
The foul language eliminator


Removes profanity from
movies and TV shows
Switch to LifeLine


for Christian
long distance service
The Family Friendly


Internet Service
A Christ Centered


Community Web Site
SPECIAL OFFER


From the best-seller book series.
NOW ONLY Just in time for Christmas!




Comments?


Christian Media News
A Singles
Christian Network
Your One Stop


For Everything Christian
Free Email Ministry


Subscribe Today!!
Christian Banner eXchange
---
ALERT: To fully understand this report you should first visit the topics suggested by the CAP Table of Contents.

For FREE text-only versions of our media analysis reports as they are calculated, open this email then click "send." If your browser does not handle this URL format properly, send us a request to add you.
NOTE: The CAP Analysis Model makes no scoring allowances for trumped-up "messages" to excuse or for manufacturing of justification for aberrant behavior or imagery, or for camouflaging such ignominy with "redeeming" programming. Disguising sinful behavior in a theme or plot does not excuse the sinful behavior of either the one who is drawing pleasure from the sinful display or the practitioners demonstrating the sinful behavior. This is NOT a movie review service. It is a movie analysis service to parents and grandparents to tell them the truth about movies using the Truth. If you do not want the plot, ending, or "secrets" of a movie spoiled for you, skip the Summary/Commentary. In any case, be sure to visit the Findings/Scoring section -- it is purely objective and is the heart of the CAP Entertainment Media Analysis Model applied to this movie
"There are some in the entertainment industry who maintain that 1) violent programming is harmless because no studies exist that prove a connection between violent entertainment and aggressive behavior in children, and 2) young people know that television, movies, and video games are simply fantasy. Unfortunately, they are wrong on both accounts." [Emphasis is mine] And "Viewing violence may lead to real life violence." I aplaud these associations for fortifying 1 Cor. 15:33. Read the rest of the story. From our five-year study, I contend that other aberrant behaviors, attitudes, and expressions can be inserted in place of "violence" in that statement. Our Director - Child Psychology Support, a licensed psychologist and certified school psychologist concurs. For example, "Viewing arrogance against fair authority may lead to your kids defying you in real life." Or "Viewing sex may lead to sex in real life." Likewise and especially with impudence, hate and foul language. I further contend that any positive behavior can be inserted in place of "violence" with the same chance or likelihood of being a behavior template for the observer; of being incorporated into the behavior mechanics and/or coping skills of the observer. In choosing your entertainment, please consider carefully the "rest of the story" and our findings.
If Scriptural references appear, the full text appears at the end of the Summary / Commentary likely using a mix of KJV and NIV.
---


SUMMARY / COMMENTARY:

HOW THE GRINCH STOLE CHRISTMAS (PG) -- some of the adult reactions were not good.

Before you read on, please remember that we are not here to try to tell you how wonderful a movie is or how you should feel a "message" or "point" is good for your kids. That is YOUR job. Our job is to tell you the truth about a movie using the teachings and expectations of Jesus as the investigation standards: the truth neither the advertisers nor the MPAA can or will tell you.

This was a perplexing movie. Like many of the Bugs Bunny(tm) cartoons written around World War II, much of this movie was clearly not understandable by the apparent target audience of toddlers and young adolescents, or at least should not be understandable by them. But then a major thrust of the entertainment industry (whether intentional) is stealing childhood from children (see SAD BUT TRUE Intro) [Matt. 18:10]. There was a great deal of "adult-level" humor (as if these are supposed to be funny) such as the Grinch's face between the breasts of Martha, his sweetheart when children, and holding a twig of mistletoe on his posterior, aiming it at the Whoville crowd and saying kiss it [Luke 17:2]. I wonder now how many families will see that in their homes this Christmas? There was a great deal more reaction to the programming from the adults in the audience than from the kids which is evidence of the content. And some of the adult reactions were not good.

This is the old Seuss story of how the Grinch stole Christmas, expanded to fill 106 minutes with whowhoggles and ziptanglers and dingleblingers. The stratum of this movie understandable by the target group was delightful: colorful, action-oriented, pleasant, ingenious and warm. But under that mask included a single use of foul language, yelling hatefully at a child by an authority figure, sexual matters such as a sensuous outfit with a clear statement, and a lengthy and very detailed sequence explaining how the Grinch became so mean. It was because of kids bitterly mocking him and calling him names as a child. That, too, is also an age-old story, but in these later days as extremes exponentially increase (see Significant Discovery at the conclusion of ATTITUDE! In Perspective) so does sensitivity. Foolishness bound in the hearts of youth [Prov. 22:15] has exploded into kids killing kids, even themselves. Isn't this the kind of childhood viciousness at which schools are implementing zero tolerance to address preventing such things as Columbine? I know it seems like a h-u-g-e leap from How the Grinch Stole Christmas to Columbine, but is it really?

Though somewhat offensive in content, the physical performance of Jim Carrey (the Grinch) was a acrobatic work of art. The physical demands of this production were extreme -- and he met every one of them and met them well. And the artistry of his makeup and outfit was indeed magnificent. Too bad the outfit didn't hide a little more of his posterior anatomy. And while Taylor Momsen (Cindy Lou Who) was more of a connective and transitional device than an integral character, she was a delightful addition to the cast.

Also what might be concern to parents but not incorporated into the analysis model were the previews of other shows on the How the Grinch Stole Christmas film reels. The language and sexual content of them were NOT good. In one, an adult woman opened her trench coat to reveal her underwear as a gift to a man while a several dozen 5 to 10 year old eyes looked up.

As usual, I will leave the full accounting -- the listing -- of ignominy in this movie to the Findings/Scoring section.



ooooooooooooooooooooooooooooooooo



1 Cor. 15:33 (KJV) Be not deceived: evil communications corrupt good manners. (NIV) Do not be misled: Bad company corrupts good character.
Matt. 18:10 See that you do not look down on one of these little ones. For I tell you that their angels in heaven always see the face of my Father in heaven.
Luke 17:2 It were better for him that a millstone were hanged about his neck, and he cast into the sea, than that he should offend one of these little ones.
Prov. 22:15 Foolishness is bound in the heart of a child...



ooooooooooooooooooooooooooooooooo



As always, it is best to refer to the Findings/Scoring section -- the heart of the CAP analysis model -- for the most complete assessment possible of this movie.



---
FINDINGS / SCORING: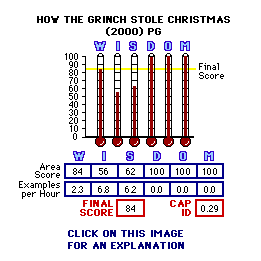 NOTE: Multiple occurrences of each item described below may be likely, definitely when plural.

Wanton Violence/Crime (W):

great explosion with fire
crash of a rocket sled into a wall showing the tossing of the occupant's body
bugs crawling on teeth
in-your-face evil-looking presence

Impudence/Hate (I)(1):

long series of rudeness
eating a glass bottle
detailed and animated story of cruelty to a child
a child trekking up a snow-covered mountain in a snowstorm by herself
holding mistletoe to posterior then aiming it at people saying "kiss it"
eating a live bat
telling hateful things at a child
lies
exceptionally vile monologue at a child
a single use of the three/four letter word vocabulary

Sex/Homosexuality (S):

sensuous outfit on a woman
much "adult-level humor" and mannerisms of a sexual nature
Grinch's face between a woman's breasts
an outfit revealing the details of the Grinch's posterior

Drugs/Alcohol (D):

none noted

Offense to God (O)(2):

none noted

Murder/Suicide (M)(3):