Now by MC, Amex, Visa and more!
Your donations are TAX DEDUCTIBLE!
Switch to LifeLine


for Christian
long distance service
Comments?

Christian Media News
A Singles
Christian Network
Your One Stop


For Everything Christian
Free Email Ministry


Subscribe Today!!
Christian Banner eXchange
---



ALERT: To fully understand this report you should first visit the topics suggested by the CAP Table of Contents.

For FREE text-only versions of our media analysis reports as they are calculated, open this email then click "send." If your browser does not handle this URL format properly, send us a request to add you.



NOTE: If you do not want the plot, ending, or "secrets" of a movie spoiled for you, skip the Summary/Commentary. In any case, be sure to visit the Findings/Scoring section -- it is purely objective and is the heart of the CAP Entertainment Media Analysis Model applied to this movie


---


SUMMARY / COMMENTARY:




If Scriptural references appear, the full text appears at the end of the Summary / Commentary likely using a mix of KJV and NIV.



HOUSE OF MIRTH (PG) -- without the mirth

In social warfare of the turn of the 20th century New York, Lily Bart (Gilliam Anderson) battles aging without being married. This feature is a journey into the social injustices of high society and gender discrimination. It is a difficult movie to follow and to maintain focus for 131 minutes.

Though Lily's vocation is to be married, she has waited too long -- until her late 20s. Society is beginning to reject her and her finances are dwindling as well. So, with no recourse she takes to femme maneuvers to find a rich husband Shallowness and social games abound. And so does social cruelty. Not being able to land a rich husband and broke, Lily is forced into piecework at the sweatshops of the early 1900s. When a $10,000 inheritance comes it comes too late. Lily is dead by suicide.

There is not much ignominy in this movie which might serve to shape or alter the social behavior or patterns of your young ones, but it is certainly not in the same intellectual stratum OR interest of most modern youth. Smoking and drug abuse topped the loss of scoring, giving this movie a yellow CAPAlert light. There was no violence or crime noted. There may have been but if there was I missed it. I had a hard time staying awake. Neither was there any noted sexual programming. The most significant presence with possible corruptive influence was the suicide by abuse of prescription drugs to solve problems. Suicide is murder, murder of the self. And murder is sin [Deut. 5:17]. As is lying whether in cruelty or not [Prov. 6:16/19; Rev. 21:8].



ooooooooooooooooooooooooooooooooo



If needed to focus or fortify, applicable text is underlined or bracketed [ ].

1 Cor. 15:33 (KJV) Be not deceived: evil communications corrupt good manners. (NIV) Do not be misled: Bad company corrupts good character.
Deut. 5:17 You shall not murder.
Prov. 6:16 These six things doth the LORD hate: yea, seven are an abomination unto him: ... 19 A false witness that speaketh lies, and he that soweth discord among brethren.
Rev. 21:8 But the cowardly, the unbelieving, the vile, the murderers, the sexually immoral, those who practice magic arts, the idolaters and all liars -their place will be in the fiery lake of burning sulfur. This is the second death.


ooooooooooooooooooooooooooooooooo



As always, it is best to refer to the Findings/Scoring section -- the heart of the CAP analysis model -- for the most complete assessment possible of this movie.



---
FINDINGS / SCORING: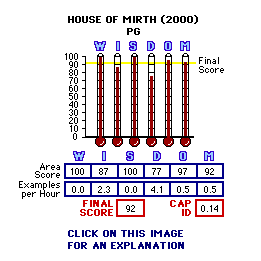 NOTE: Multiple occurrences of each item described below may be likely, definitely when plural.

Wanton Violence/Crime (W):

none noted

Impudence/Hate (I)(1):

lies
a single use of the three/four letter word vocabulary
repeated social cruelty

Sex/Homosexuality (S):

none noted

Drugs/Alcohol (D):

smoking
prescription drug abuse
dinner wine drinking

Offense to God (O)(2):

a single use of God's name in vain and without the four letter expletive

Murder/Suicide (M)(3):

suicide by prescription drug





NOTE: The CAP Analysis Model makes no scoring allowances for trumped-up "messages" to excuse or for manufacturing of justification for aberrant behavior or imagery, or for camouflaging such ignominy with "redeeming" programming. Disguising sinful behavior in a theme plot does not excuse the sinful behavior of either the one who is drawing pleasure from the sinful display or the practitioners demonstrating the sinful behavior. This is NOT a movie review service. It is a movie analysis service to parents and grandparents to tell them the truth about movies using the Truth.





"There are some in the entertainment industry who maintain that 1) violent programming is harmless because no studies exist that prove a connection between violent entertainment and aggressive behavior in children, and 2) young people know that television, movies, and video games are simply fantasy. Unfortunately, they are wrong on both accounts." [Emphasis is mine] And "Viewing violence may lead to real life violence." I aplaud these associations for fortifying 1 Cor. 15:33. Read the rest of the story. From our five-year study, I contend that other aberrant behaviors, attitudes, and expressions can be inserted in place of "violence" in that statement. Our Director - Child Psychology Support, a licensed psychologist and certified school psychologist concurs. For example, "Viewing arrogance against fair authority may lead to your kids defying you in real life." Or "Viewing sex may lead to sex in real life." Likewise and especially with impudence, hate and foul language. I further contend that any positive behavior can be inserted in place of "violence" with the same chance or likelihood of being a behavior template for the observer; of being incorporated into the behavior mechanics and/or coping skills of the observer. In choosing your entertainment, please consider carefully the "rest of the story" and our findings.