Become a CAPtain


with your
The foul language eliminator


Removes profanity from
movies and TV shows
A Christian Family


Internet Network Cooperative
Switch to LifeLine


for Christian
long distance service
The Family Friendly


Internet Service
A Christ Centered


Community Web Site
Comments?

Christian Media News
A Singles
Christian Network
PLEASE VOTE!


for this site!
Christian Banner eXchange
---



ALERT: To fully understand this report you should first visit the topics
suggested by the CAP Table of Contents.



SUMMARY / COMMENTARY:

*Hanging Up* (PG-13) -- "The Meg Ryan Story..."

...at least a story with everyone else being in support roles.

A trio of sisters were presented as glamorous and glittery with desirable lifestyles but yet struggling. The oldest of the trio, Diane Keaton starred as Georgia, the founder and owner of a women's magazine in New York. Keaton also directed this...this...this "movie." Lisa Kudrow was cast as a flighty and somewhat weaker sister, Matty who, as a soap opera actress, was as self-absorbed as Georgia. Walter Mattheau played the part of the ailing, dying father, Lou -- a Hollywood screenwriter. Mattheau acted the part of the most vulgar matter which I will explain soon. If there was any rescuing of this collection of notes on film, it was done by Meg Ryan who played the part of Evie, the "event planner" (party planner) and the only one who seemed to care about her ailing father. But she let slip her hold on the hands of the movie as she was pulling it out of the brink when she blurted out very offensive language.

Cloris Leachman played the very short part of the mother, Cleo. In her moments onscreen, Leachman portrayed throwing away her family in quite possibly the most supremely rationalized justification of selfishness I have ever seen -- most atypical of Leachman's usual parts such as Granny of *The Beverly Hillbillies* where what I would like to believe is her true genius was revealed. That Leachman could so effectively play such a brutally selfish woman was distressing. Maybe the writers were trying to show that men do not have a monopoly on being deadbeat parents: that wives have just as much of a "right" as husbands to abandon their families to serve their own interests; that mothers have just as much of a right to "hanging up" on the family as fathers.

The two uses of the most foul of the foul words were both riveted by Ryan. Keaton, Mattheau and a five year old child actor were the chief architects of the 8 uses of God's name in vain with the four letter expletive while all actresses were engineers of most of the 37 uses of God's name in vain without the four letter expletive. In a pivotal scene, from his hospital bed Mattheau laid the foundation for nasty as he played the part of a demented father expressing sexual lust for she whom he thought was his wife, Cleo but was Evie, his daughter. Granted, dementia cannot be predicted but Mattheau was not demented nor were the writers of this book-to-movie. But this was not the only issue of unacceptable sexual programming. Other issues included sexual comments and innuendo (some vulgar), inappropriate touch, revealing clothing, talk of homosexuality as if it were normal and acceptable, co-occupation of a bed, and a plethora of others in this contemporary PG-13 movie which should have been rated R.

There is more but I need to stop somewhere. I'll leave the rest of the examples of ignominy to the listing in the Findings/Scoring section.

So many of our visitors seem to be relying only on this Summary/Commentary for a full assessment of this movie. This is not possible. For the best representation of the CAP Entertainment Media Analysis Model applied to this movie, visit the Findings/Scoring section below.



---
FINDINGS / SCORING: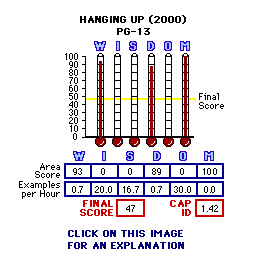 NOTE: Multiple occurrences of each item described below may be likely.

Wanton Violence/Crime (W):

bitter argumentation

Impudence/Hate (I)(1):

2 uses of the most foul of the foul words
19 uses of the three/four letter word vocabulary
lies
wife's regret that husband's suicide attempt failed
daughter's arrogance against father
exceptionally hateful argument between daughter and father
"throwing away" of an entire family
irresponsible destruction of equipment
two-facedness
insincere use of father's illness to solicit emotional support from captive (commercial) audience

Sex/Homosexuality (S):

sexual insults, comments, innuendo; some vulgar
inappropriate touch
adults in underwear
man on woman (clothed)
ghosting of female anatomy through clothing
exaggerated breast bounce
man and woman in bed together
revealing wear
talk of homosexuality as normal
woman in tub

Drugs/Alcohol (D):

drunkenness

Offense to God (O)(2):

8 uses of God's name in vain and 37 without

Murder/Suicide (M)(3):

none noted