Become a CAPtain


with your
The foul language eliminator


Removes profanity from
movies and TV shows
A Christian Family


Internet Network Cooperative
Switch to LifeLine


for Christian
long distance service
The Family Friendly


Internet Service
A Christ Centered


Community Web Site
Comments?

Christian Media News
A Singles
Christian Network
PLEASE VOTE!


for this site!
Christian Banner eXchange
---



ALERT: To fully understand this report you should first visit the topics
suggested by the CAP Table of Contents.



SUMMARY / COMMENTARY:

*Gun Shy* (R) -- if they say so.

*Gun Shy* with a flatulent "Qui-Gon Jinn." Star Wars' Liam Neeson (Charley) and the falling star Sandra Bullock (Judy) team together with a few other notables such as Oliver Platt (Fulvio) to portray a drug dealing comedy of gastric proportions. Neeson played an undercover DEA master with gas problems being treated initially by a psychiatrist in group therapy. Though the flatulence was not presented in the adolescent intellect of *South Park: BLU* it was indeed not helpful to the show. There are thousands of other medical conditions which could have been used in the movie, like headaches or pulmonary problems or joint ailments or... And like the urinary problems of Paul Edgecombe (Tom Hanks), a guard on a Louisiana death row in *The Green Mile*, the gastric distress of Charley served no purpose other than to enable the characters to participate in privately invasive procedures which required attention of the viewer on the normally hidden parts of the body, or which required the characters to touch private parts. When 'gastrologist' Bullock paired up with Neeson, she promised to have him cured in short order starting with a colon treatment ....... and her brand of therapy included social interaction of every kind -- every kind.

In his hopefully last DEA campaign against the drug lords, Charley has to deal with leg-breaker Fulvio -- the "Jeffrey Dalmer of hitmen", who would rather be gardening than breaking legs and who suffered a -- guess what? -- urinary condition. Another unnecessary maneuvered focus, like the urinary problems of *The Green Mile* and of Fulvio and the colon treatment, was when Fulvio shot the private parts of one of his partners in crime who was making fun of Fulvio's urinary condition. Is there another cinematic immodesty fetish developing? When the clashing interests of Charley and Fulvio heat up, the gas expands. And the gastric distress of Charley is the only identifiable connectivity throughout the movie.

Of course, being an R-rated movie gives it the 'right' to pelt the viewer with 78 uses of the most foul of the foul words, with 66 uses of the three/four letter word vocabulary, and with 16 combinations of uses of God's name in vain both with and without the four letter expletive. The R-rated stratum of *Gun Shy* gave opportunity of the writers to present nudity, self-fondling, adults in underwear, and a woman crawling out of bed on all fours for a purpose I will not describe. If this movie were a PG-13 movie, I doubt there would have been four graphic murders with uncountable deaths by gunfire. Of additional significant importance in the influences that may be planted by this *Analyze This* of the 21st century was that good guys can "win" by becoming bad guys: win $20 million of drug money following a bust gone bad.

This movie is evidence of that which I claim to be a trend of the entertainment industry to increase the variety, density and frequency of "lesser" behavior aberrations rather than the previous technique of using a few boldly severe ones. While this manipulation, if true, may seem less invasive on the surface, increasing the variety and number and proportionately the density of lesser influential issues may possess wider and possibly deeper penetration into behavior and coping skills than fewer more bold behavior aberrations. What I am saying may be best visualized by comparing CAP Thermometers for R-rated movies of late 1999 and early 2000 with the CAP Thermometers of R-rated movies of just a two or three years ago. Please be sure to visit the Findings/Scoring section below.



---
FINDINGS / SCORING: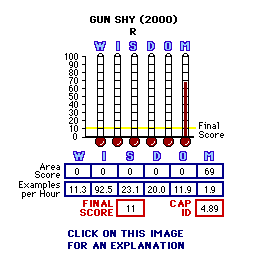 NOTE: Multiple occurrences of each item described below may be likely.

Wanton Violence/Crime (W):

gunfire, many, as threats and attempted murder
threat with an axe
gunfire injury to male privates - intentional
display murder victims
planning of murder and other illegal activity
police corruption
success in crime

Impudence/Hate (I)(1):

78 uses of the most foul of the foul words
66 uses of the three/four letter word vocabulary
scenes of urination
encouragement to lie
invasive medical procedure
drugs + sex = paradise

Sex/Homosexuality (S):

adults in underwear
sexual references, innuendo and talk
nudity (full female)
man on a commode
self-fondling
girls for party pleasures
adulterous flirtation
inappropriate touch
homosexuality glorification and suggestions
sex offer
ghosting of female anatomy through clothing
man on woman
man in tub with woman present
woman in bed with man in room
woman crawling to a man
homosexual scene

Drugs/Alcohol (D):

smoking
booze
drinking
drunkenness
abuse of prescription drugs
drug dealing

Offense to God (O)(2):

3 uses of God's name in vain with the four letter expletive and 13 without
"Twice the gods saved you"
crescent moon over the morning star
"You still think the gods love me? -- You're still alive."

Murder/Suicide (M)(3):

episode of multiple gunfire murder
knife murder
cop murder of a cop