Become a CAPtain


with your
The foul language eliminator


Removes profanity from movies and TV shows
CHRISTMAS SPECIAL! $40.00 OFF!
A Christian Family


Internet Network Cooperative
Switch to LifeLine


for Christian
long distance service
The Family Friendly


Internet Service
A Christ Centered


Community Web Site
Comments?

Christian Media News
A Singles
Christian Network
PLEASE VOTE!


for this site!
---

ALERT: To fully understand this report you should first visit the topics
suggested by the CAP Table of Contents.



SUMMARY / COMMENTARY:

*The Green Mile* (R).

I am going to violate my own guideline. I am uncomfortable about saying this but *The Green Mile* was quite probably the best movie I have seen in a very long time -- but it was truly a R movie. None of the stuff that made it R needed to be there. The generously benevolent power of this movie was not helped by the ignominy any more than ignominy helps any other movie. It is sad that such a great movie was made unfit by quite likely token trash: that "it was in the book" does not excuse the ignominy.

Michael Clarke Duncan was cast as a gentle giant, John Coffey who was falsely convicted of rape/murder of two little girls based only on him being found holding the bodies of the two girls. Duncan was probably the most perfect man for the role -- a humble and immensely powerful and huge man with a very, very beautiful heart and ill will for no one; an actor who was easy to love. Though Coffey's articulation could have been better, Duncan's power of expression was as convincing as his mass was intimidating -- an unexpected combination in the performing "arts." It seems that John was given a gift from God to be able to heal infirmities and to cast out evils -- and the movie only once made a token "politically correct", "face-saving" excuse for the gift coming from God (gave credit to nature). All other mentions of the source of the gift clearly gave credit to God, although sometimes in a muffled "ashamed to speak it" or timid way. While I have not yet been privileged to see, in an empirical sense, such power of God given to man and while I do not believe the act of healing and casting out is accompanied by upchucking a horde of flying insects, I have no doubt such power is real and has been for a very long time. *The Green Mile* was definitely a movie presenting man's impression of supernatural powers but did so in less of a ghostly way but in more of a spiritual way.

Let me sadly get to why this movie is unfit. There was heavy usage of all manner of foul language, rear male nudity and physical brutality. There was detailed accounting of a rape/murder of two little girls, graphic murder by gunfire and several sexual innuendo and comments, some quite vulgar. And there was graphic execution by electrocution, showing the screaming body ignite and glow with heat and fire from within and without. One of the perplexing behaviors of this movie was the use of vulgar touch to impart healing. There are many human infirmities which could have been chosen for the story other than a urinary infection. This applies to the book as well. I suppose the urinary infection was chosen to give "justification" for so much attention to private parts. Many other issues of ignominy contributed to the invasive nature of this movie, but I will leave presentation of them to the Findings/Scoring section of this report.

In the end the loving gentle giant with healing power was led down the green mile to the electric chair and was electrocuted. Maybe this could be used as a reminder of the execution of the master gentle Giant with healing power 1999 years ago -- though then it was a Gift, an Eternal Gift.

So many of our visitors seem to be relying only on this Summary/Commentary for a full assessment of this movie. This is not possible. For the best representation of the CAP Entertainment Media Analysis Model applied to this movie, visit the Findings/Scoring section below.



---
FINDINGS / SCORING: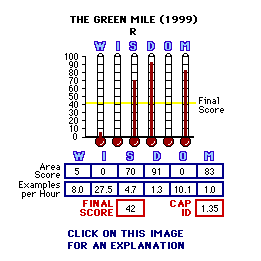 NOTE: Multiple occurrences of each item described below are likely.

Wanton Violence/Crime (W):

guard brutality
beating by crazed father
violence to silence an undesirable individual
rehearsal of an electrocution
three electrocutions, one with extremely graphic presentation, each with multiple views
dead bodies, and an incinerated body
prisoner attack/attempted murder
stalking of two young girls
threat to kill two young girls to secure their silence
detailed accounting of rape/murder of two young girls

Impudence/Hate (I)(1):

7 uses of the most foul of foul words
53 uses of the three/four letter word vocabulary
urination as entertainment
spitting in faces
a lie by calling-in sick to get some time off
vulgar talk
hateful behavior of a prison guard
racial insults

Sex/Homosexuality (S):

sexual comments/innuendo, some vulgar
sexual discussion
rear male nudity
vulgar touch
porno comic book
"dirty" references to human gender-specific anatomy
man/woman in bed nude (covered) ostensibly for intercourse
sexual activity suggestions with sounds

Drugs/Alcohol (D):

booze
drinking

Offense to God (O)(2):

11 uses of God's name in vain with the four letter expletive and 13 uses without
"It's a wonder why God allows it." placing blame on God, not on the freedom of choice of the perpetrator
cheap prayer
spiritual gift having power to cause another to commit murder and then become insane
supernatural forces upheaving house
portrayal of a man with a gift from God having the authority to kill another man as punishment from God

Murder/Suicide (M)(3):

two young girls murdered
graphic gunfire murder