Become a CAPtain


with your
The foul language eliminator


Removes profanity from
movies and TV shows
A Christian Family


Internet Network Cooperative
Switch to LifeLine


for Christian
long distance service
The Family Friendly


Internet Service
A Christ Centered


Community Web Site
Comments?

Christian Media News
A Singles
Christian Network
PLEASE VOTE!


for this site!
Christian Banner eXchange
---

ALERT: To fully understand this report you should first visit the topics
suggested by the CAP Table of Contents.



SUMMARY / COMMENTARY:

Girl, Interrupted (R) -- every bit "R"

What else can I say other than the usual itemizations? Might as well.

Winnona Ryder played a troubled teen who tried to kill her self by swallowing a bottle of aspirins followed by a bottle of booze. And though ill-explained, there was abrasions on her wrists. She then committed herself to a mental hospital for treatment. And, of course, the "treatment" came from anywhere but the hospital -- mostly from fellow inmates. So you can imaging the kind of treatment she received. Other than that, I have already forgotten much of the movie, but then I often do a few days after a movie like this one -- makes me thankful for the detailed notes, not so I can remember the movie but so I can tell you about it accurately.

Lots and lots of smoking. Lots. The inmates were permitted to smoke in the hospital. For your information, it has been decided to include smoking into Drugs/Alcohol because of the addictive properties of smoking and because of the damage to the Temple of Christ -- the body. And this movie was thick with smoking. While in the hospital, Ryder proceeded to perform sexual favors for an earlier boyfriend who showed up on his way out of the US to dodge the draft (Vietnam era) at the advice of his father. Ryder's key opposite in the hospital was most discordant with everyone and was the female counterpart of the high school bully and lead malcontent. She uttered just about every form of speculative wise-sounding pseudo justification for her behavior to proselytize anyone who would listen into believing her sob story and that everyone else should feel as bad. [Ps. 5:9; Rom 3:13]

The greatest loss of points in *Girl, Interrupted* was due to language, sex, and drugs/alcohol (smoking and teen drinking). Not less than 63 uses of the most foul of the foul words were noted and a token number of uses of the three/four letter word vocabulary and of God's name in vain, once with the four letter expletive. One girl, who was released, committed suicide by hanging herself after slicing herself up. Her trouble was guilt of sex with her father; guilt which was ground into her by the lead malcontent with astounding cruelty. The dead girl bled while hanging (which is a "neat trick" -- dead people do not bleed). Good family entertainment, huh?

There is much, much more to this collection of twistings and distortions of truth and of offenses of righteous thinking: many more invasions of the just and pure [Phil. 4:8]. But I will leave them to the listing in the Findings/Scoring section.

So many of our visitors seem to be relying only on this Summary/Commentary for a full assessment of this movie. This is not possible. For the best representation of the CAP Entertainment Media Analysis Model applied to this movie, visit the Findings/Scoring section below.



---
FINDINGS / SCORING: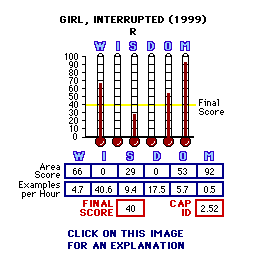 NOTE: Multiple occurrences of each item described below may be likely.

Wanton Violence/Crime (W):

two attempted suicides
combative behavior against proper agents; bully tactics
offering drugs meant for self
sneaking to commit breaking and entering
physical attack
graphic injuries
theft of money from a dead body<

Impudence/Hate (I)(1):

63 uses of the most foul of the foul words
15 uses of the three/four letter word vocabulary
suggestion to lie to enable adulterous encounter
"I don't want to end up like my mother."
teen arrogance against parents
dodging draft as encouraged by father
encouraging dissension with lies
incredibly arrogant aloofness about suicide

Sex/Homosexuality (S):

male and female in bed together nude (nudity not seen)
brief lower female nudity, front and back
sensual positioning
"What kind of sex isn't casual?"
sex talk, insults, question invading privacy, and innuendo
teen girl unbuckling pants of teen boy to perform oral sex
teen pair in bed undressing each other
sexual contact between patient and orderly
admission of sexual immorality

Drugs/Alcohol (D):

smoking
teen drinking
forcing drugs into mouth of sleeping nurse
smoking dope
illegal drug use

Offense to God (O)(2):

one use of God's name in vain with the four letter expletive and 10 without
flippant use of "I'll pray for you."

Murder/Suicide (M)(3):

graphic suicide