Become a CAPtain


with your
The foul language eliminator


Removes profanity from
movies and TV shows
Switch to LifeLine


for Christian
long distance service
The Family Friendly


Internet Service
A Christ Centered


Community Web Site
Comments?

Christian Media News
A Singles
Christian Network
PLEASE VOTE!


for this site!
Christian Banner eXchange
---



ALERT: To fully understand this report you should first visit the topics suggested by the CAP Table of Contents.

For FREE text-only analysis reports as they are calculated, send an email with SUBSCRIBE CAP-MAR in the message body.



NOTE: We make no scoring allowances for Hollywood's trumped-up "messages" to excuse, or its manufacturing of justification for aberrant behavior or imagery. This is NOT a movie review service. It is a movie analysis service to parents and grandparents to tell them the truth about movies using the Truth. If you do not want the plot, ending, or "secrets" of a movie spoiled for you, skip the Summary/Commentary. In any case, be sure to visit the Findings/Scoring section -- it is purely objectuve and is the heart of the CAP Entertainment Media Analysis Model applied to this movie.




If Scriptural references appear in the Summary / Commentary, the full text appears at the end of the Summary / Commentary likely using a mix of KJV and NIV.



---


SUMMARY / COMMENTARY:

*Ghost Dog: The Way of the Samurai* (R) -- a murderer saved by a murderer from being murdered devoting his life to murdering for the murderer.

There is little else that needs to be said about this nondescript and forgettable movie. But, I will.

*Ghost Dog* was a story about sweet-natured but unbalanced Ghost Dog (Forest Whitaker) who is saved from a street murder by a murderer [Isa. 33:15, 16]. In the way of the Samurai, Dog owes his life to the murderer, Louie (John Tormey) so Dog devotes his life to Louie. Since Italian Louie is a mobster with a killing nature (is there some stereotyping here?), Dog serves his new "master" in whatever way the master wants -- to serve as a hit man [Deut. 27:24, 25]. This "master wanted murder for hire [Matt. 19:18]. And murder was just about the only statement made in this clearly gratuitous movie about murder. Woe to those sensitive to the copycat syndrome. One murder makes me wonder about the minds of the writers -- Dog kills a man by removing the bathroom lavatory soil pipe under a house then shooting up the lavatory drain pipe as the man is shaving [Mark 7:20-23].

Dog lives in a street shanty atop a city building with his pigeons who are his messengers who carry the orders from Louie to kill. One of the subplots presented Dog taking vengeance for some bad guys killing his pigeons. Talking very little except to a little girl and a Haitian street vendor who speaks only French, not much dialogue is presented, thus a relatively low level of intelligence in plot and theme. Too bad, too. This role is unbefitting the quality of Whitaker's past performances. The plot and theme is so Duh! that even Whitaker's talents are lost. Much screen time is spent watching performers stare at the camera. And some screen minutes were spent on rather comic display of Dog whipping his semiautomatic firearm emulating a display of fancy sword flash as he holstered it.

With no less (and probably more) than 20 gunfire murders [Gal. 5:21], there is no room in the already strained America life for this sort of exercise in absolute disregard for human life. The most foul of the foul words sparked out of the script at least 79 times in this 110 minute movie, more than 3 times the number of three/four letter words used. And total servitude to a surrealistic behavior -- the way of the Samurai -- stole reality from Reality: that such a belief could cause a man to commit murder in gratitude is certainly not in accordance with God's wishes.



ooooooooooooooooooooooooooooooooo



Isa. 33:15, 16 He who walks righteously and speaks what is right, who rejects gain from extortion and keeps his hand from accepting bribes, who stops his ears against plots of murder and shuts his eyes against contemplating evil - this is the man who will dwell on the heights, whose refuge will be the mountain fortress. His bread will be supplied, and water will not fail him.
Deut. 27:24, 25 "Cursed is the man who kills his neighbor secretly." Then all the people shall say, "Amen!" "Cursed is the man who accepts a bribe to kill an innocent person." Then all the people shall say, "Amen!"
Matt. 19:18 He saith unto him, Which? Jesus said, Thou shalt do no murder, Thou shalt not commit adultery, Thou shalt not steal, Thou shalt not bear false witness,
Mark 7:20-23 He went on: What comes out of a man is what makes him unclean. For from within, out of men's hearts, come evil thoughts, sexual immorality, theft, murder, adultery, greed, malice, deceit, lewdness, envy, slander, arrogance and folly. All these evils come from inside and make a man 'unclean.'
Gal. 5:21 Envyings, murders, drunkenness, revellings, and such like: of the which I tell you before, as I have also told you in time past, that they which do such things shall not inherit the kingdom of God.



ooooooooooooooooooooooooooooooooo




Please see the Findings/Scoring section below for a full accounting of this movie: for the best representation of the CAP Entertainment Media Analysis Model applied to this movie.



---
FINDINGS / SCORING: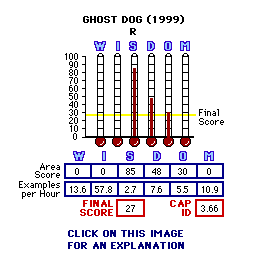 NOTE: Multiple occurrences of each item described below may be likely.

Wanton Violence/Crime (W):

grand thefts auto
firearms to intimidate, threaten
firearm injuries
planning of murders
admission of contracting murders
street beating
breaking and entering
other thefts
attempt to snipe
child attempting murder for revenge

Impudence/Hate (I)(1):

79 uses of the most foul of the foul words
25 uses of the three/four letter word vocabulary
less concern for murder than bathroom stop
murder of people as justice for killing birds

Sex/Homosexuality (S):

sexual comments
vulgar expression
suggestive eye movements
adults in underwear
applying talc to privates

Drugs/Alcohol (D):

smoking
drinking

Offense to God (O)(2):

5 uses of God's name in vain with the four letter expletive and 5 times without
"...should consider himself dead. This is the way of the Samurai."
"...devoting one's body and soul to one's master."
"...though his head is cut off, he should not die."

Murder/Suicide (M)(3):