Become a CAPtain


with your
The foul language eliminator


Removes profanity from
movies and TV shows
Comments?

Christian Media News
Switch to LifeLine


for Christian
long distance service
The Family Friendly


Internet Service
A Christ Centered


Community Web Site
A Singles
Christian Network
PLEASE VOTE!


for this site!
Christian Banner eXchange
---



ALERT: To fully understand this report you should first visit the topics suggested by the CAP Table of Contents.

For FREE text-only analysis reports as they are calculated, send an email with SUBSCRIBE CAP-MAR in the message body.



NOTE: We make no scoring allowances for Hollywood's trumped-up "messages" to excuse, or its manufacturing of justification for aberrant behavior or imagery. This is NOT a movie review service. It is a movie analysis service to parents and grandparents to tell them the truth about movies using the Truth. If you do not want the plot, ending, or "secrets" of a movie spoiled for you, skip the Summary/Commentary. In any case, be sure to visit the Findings/Scoring section -- it is purely objectuve and is the heart of the CAP Entertainment Media Analysis Model applied to this movie.




If Scriptural references appear in the Summary / Commentary, the full text appears at the end of the Summary / Commentary likely using a mix of KJV and NIV.



---


SUMMARY / COMMENTARY:

*The Flintstones in Viva Rock Vegas* (PG) -- was not really a kid's show.

The story opens with Fred (Mark Addy) figuring to study for a performance examination as a Bronto crane operator early the morning of the test. Much to his dismay, Barney (Stephen Baldwin) painfully tells Fred the test is today. But Fred passes anyway, even after dropping a boulder on the supervisor who was then about two feet shorter.

Wilma (Kristen Johnston) is introduced as a socialite rich girl, daughter of Colonel and Pearl Slaghoople (Joan Collins) and the target of the affections of not-so-nice but super rich Chip Rockefeller (Thomas Gibson). Wilma wants nothing to do with Rockefeller and deeply resents her mother's connivings to perpetuate the family fortune with Rockefeller's by marriage. So, Wilma 'runs away' and connects with Betty O'Shale (Jane Krakowski) at a local drive-in restaurant. Thinking Wilma is a homeless girl, Betty feels sorry for Wilma and gets her a job at the restaurant and even invites Wilma to stay with her in her apartment for a while. As things progress, Fred and Barney meet up with Betty and Wilma at the drive-n restaurant and secure a double date with the girls, Fred with Betty and Barney with Wilma. Not to worry, the foursome figure out during the date that they are mismatched and switch off, Barney with Betty and Fred with Wilma. All is well now that the foursome are properly matched. The continuity to the famous family TV foursome is not compromised by this "Episode 1" of the Flintstones programs.

All through this melee, alien Gazoo (Alan Cumming), sent here to study earth's mating rituals, gets involved with genie-type powers to make things happen. Note that there was nothing evil of sinister about Gazoo's powers. My biggest concern with Gazoo was why the writers had him studying mating rituals unless it was to make a statement. "Mating" and "dating" are two different entities. A different subject of study could have worked as well or better. It may be appropriate to bring up that any sexual activity outside of a monogamous heterosexual marriage is sinful [1Ths. 4:3, Eph. 5:3, 1 Cor. 7:2 and many others].

As an apology for some underhandedness, Rockefeller invites the foursome to his Rock Vegas casino "on the house." Little do the foursome know that Rockefeller is planning to connive Wilma into marrying him [Jer. 9:8] to save his hide from gangsters who hold a debt over Rockefeller's not-rich-after-all head. In attempts to frame Fred as the culprit for stealing Wilma's valuable pearl necklace, Rockefeller crunches out a "Snidely Whiplash" performance.

There is one issue I am very leery about bringing up. Toward the end of the show when a line of chorus girls were doing their "Rockettes" routine with the camera positioned below their wasteline, some areas were exposed that normally do not see daylight. There were tissues exposed I would not want the world to see of my daughters. Another issue was when Barney fell from a hammock above Fred face down onto Fred who was also face down on a bed below and slightly arched at the waste. This would not have been so significant if the script had not immediately spoken of mating rituals (thus fodder for using mating rituals as the subject of study). The movie was, after all, a PG movie indicating parental concerns are warranted. Well, there it is.



ooooooooooooooooooooooooooooooooo



1Ths. 4:3 It is God's will that you should be sanctified: that you should avoid sexual immorality;
Eph. 5:3 But among you there must not be even a hint of sexual immorality
1 Cor. 7:2 Nevertheless, to avoid fornication, let every man have his own wife, and let every woman have her own husband.
Jer. 9:8 Their tongue is a deadly arrow; it speaks with deceit. With his mouth each speaks cordially to his neighbor, but in his heart he sets a trap for him.


ooooooooooooooooooooooooooooooooo




Please see the Findings/Scoring section below for a full accounting of this movie: for the best representation of the CAP Entertainment Media Analysis Model applied to this movie.



---
FINDINGS / SCORING: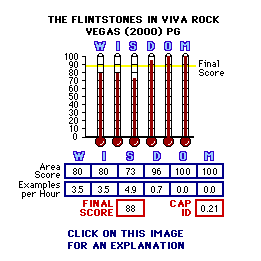 Wanton Violence/Crime (W):

gangster threats
gambling
theft and framing for theft

Impudence/Hate (I)(1):

one of the three/four letter vocabulary words
euphemism of the most foul of the foul words
dinosaur flatulence
flippant lying e.g. "I knew that"
"I'm wearing some else's underwear"

Sex/Homosexuality (S):

subplot of studying mating rituals
homosexual implication
suggestive eye movement
offer of overnight heterosexual cohabitation "She's gonna make me breakfast"
heavy cleavage
inappropriate touch
revealing chorus line dress

Drugs/Alcohol (D):

nipping from a pocket flask

Offense to God (O)(2):

none noted

Murder/Suicide (M)(3):