Become a CAPtain


with your
The foul language eliminator


Removes profanity from movies and TV shows
A Christian Family


Internet Network Cooperative
Switch to LifeLine


for Christian
long distance service
The Family Friendly


Internet Service
A Christ Centered


Community Web Site
Comments?

Christian Media News
A Singles
Christian Network
PLEASE VOTE!


for this site!
---

ALERT: To fully understand this report you should first visit the topics
suggested by the CAP Table of Contents.



SUMMARY / COMMENTARY:

*Flawless* (R) -- a partner of *Three to Tango*

A completely homosexual movie. Little else needs to be said about the ignominy of this movie, but I will try. Note that to ensure being at the next movie in time for its start, I left this movie about ten minutes early.

A solid 85 minutes of stereotyping of the homosexual lifestyle. Homosexual mannerisms, transvestism, and all manner of the homosexual lifestyle were presented.

A straight hero city cop suffered a stroke during an attempt to rescue a victim. Many of the residents in the apartment building where he lived were homosexual. And one of the "therapists" recommended by the cop's doctor was homosexual -- the cop took singing lessons from a gay dude as therapy for regaining the use of his reduced ability to speak. And a good friendship ensued, albeit platonic (thankfully). *Flawless* showed what the producers and writers felt was the ugly side of the homosexual lifestyle as well as the "attractive" side with professional business people as homosexuals: both sides of the fence. The movie also portrayed that the homosexual is as capable of deep emotions and loyal friendship as anyone else and can be as sincere as straight people. Like that is something new and profound? Being homosexual does not make the practitioner incapable of these social skills. Such has never been the concern about homosexuality. The concern is that homosexuality is a sin [Deut. 22:5; Rom. 1:24-28; Lev. 18:22; Lev. 20:13; 1 Cor. 7:2 and many others]. While God hates sin [Prov 6:16 - 19], He DOES NOT hate the homosexual. The homosexual is as precious to Jesus as you or I and we are charged to help the sinner to end their sinful ways, even our own.

Homosexual mannerisms of all types abound in *Flawless*. Transvestism, snippet comments, and name-calling were so frequent it was most difficult to keep up with them. There were homosexual conventions, homosexual bars, and beatings by homosexual partners. Everything was immersed in a theme o homosexuality. There was also murder, drinking, prostitution, contemplated suicide,vulgar talk, and, yes, belittlement of escaping the homosexual lifestyle. But, of course, acceptance of the homosexual lifestyle was presented in a very positive "light."

So many of our visitors seem to be relying only on this Summary/Commentary for a full assessment of this movie. This is not possibble. For the best representation of the CAP Entertainment Media Analysis Model applied to this movie, visit the Findings/Scoring section below.



---
FINDINGS / SCORING: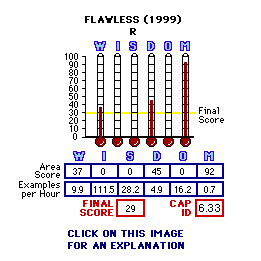 NOTE: Multiple occurrences of each item described below are likely.

Wanton Violence/Crime (W):

stalking
breaking and entering
theft
firearms to threaten
gunfire
contemplation of suicide with the firearm to the head
breaking and entering
beatings of women
fights
physical threats

Impudence/Hate (I)(1):

122 uses of the most foul of the foul words
36 uses of the three/four letter word vocabulary
"Can't help it. They were born that way."
"No romance without finance."

Sex/Homosexuality (S):

adult in underwear
prostitution
vulgar talks and gestures
vast number of homosexual presences of all kinds in long and short sequences
implied heterosexual intercourse
nude (covered) woman in bed with a man leaving
sexual innuendo, expressions, talk, and comments
pornographic commercial
sexual cake

Drugs/Alcohol (D):

booze
bars
drinking
illegal drug consumption
"I need a drink."

Offense to God (O)(2):

23 uses of God's name in vain, 6 with the four letter expletive
belittlement of Jesus' expectations

Murder/Suicide (M)(3):

gunfire murder