Become a CAPtain


with your
The foul language eliminator


Removes profanity from
movies and TV shows
Switch to LifeLine


for Christian
long distance service
The Family Friendly


Internet Service
A Christ Centered


Community Web Site
Comments?

Christian Media News
A Singles
Christian Network
PLEASE VOTE!


for this site!
Christian Banner eXchange
---



ALERT: To fully understand this report you should first visit the topics suggested by the CAP Table of Contents.

For FREE text-only analysis reports as they are calculated, send an email with SUBSCRIBE CAP-MAR in the message body.



NOTE: We make no scoring allowances for Hollywood's trumped-up "messages" to excuse, or its manufacturing of justification for aberrant behavior or imagery. This is NOT a movie review service. It is a movie analysis service to parents and grandparents to tell them the truth about movies using the Truth. If you do not want the plot, ending, or "secrets" of a movie spoiled for you, skip the Summary/Commentary. In any case, be sure to visit the Findings/Scoring section -- it is purely objectuve and is the heart of the CAP Entertainment Media Analysis Model applied to this movie.


SUMMARY / COMMENTARY:

*Final Destination* (R) -- perpetuating the stealing of childhood from children.

A teenager named Alex (Devon Sawa) is portrayed as being able to predict the future. And he sees the future as death for his friends [Rom. 12:6].

On board a plane for a "field trip" to Paris with many of his fellow high school students, Alex gets a premonition of disaster. He envisions the plane exploding in mid-air. The premonition is so strong for him that he goes ballistic and drags a few of his fellow students into ballistics with him. A fight ensues, which seems to be the typical movie resolution for friction between teens -- guys anyway. Alex and five of his fellow students gets kicked off the plane. One leaves the plane on her own. Two teacher/chaperones get off the plane with them to supervise their behavior while waiting for the next flight to Paris. However, the chaperones decide the only one is needed to stay behind. While the chaperon and the airport security "badger" the kids, the plane meets a fiery end in mid-air shortly after take-off. All on board apparently die, including all of the students just like TWA fight 800 on its way to Paris - with students aboard. Is all of Hollywood so insensitive?

Alex becomes the focus of accusations and wonderment. Did *he* cause the disaster? Did he plant a bomb? Did he really have a premonition of the disaster? Under investigation by the FBI, Alex tries to explain his connection to the fatal disaster to unbelieving authority. Now there is one of the influences of this movie -- a typical technique in youth versus authority movies -- placing the youth in an unbelievable but "true" situation and portraying the adults as dolts for not believing the unbelievable story: for "calling the kids liars." This "message" can serve to encourage the loss of trust of and embolden arrogance against adults by youth: the loss of wholesome submission of youth to fair and to righteous authority, which ultimately seeps into parental authority. Remember that God admonishes us that if we love our children we must "chasteneth him betimes (early)" [Prov. 13:24] and that there is woe in store for rebellious children [Is. 30:1]. But then, doesn't the work of sin include destroying God's work and wishes for us [John 10:10]? Such programming is but one more step in shaping children against God's Will for the family: one more step in destroying it. And what better way is there than to convince kids to question and mistrust authority, primarily parental [Mark 3:35]? How can we expect our children to trust and obey Jesus if they do not trust and obey us? How can we expect children to honor righteous authority if they are 'taught' day after day after day in the comfortable popcorn-flavored classroom called movies (and *many* other forms of entertainment) to rebel against authority in favor of innate foolishness [Prov 22:15]? I know to some this sounds paranoid and even crazy, but many things Satan does makes the righteous man and woman seem undesirable and even evil to the unbeliever and to the believer who allows situational redefinition and conditional application of diluted Scriptures [Is. 5:20].

I am not sure how to express my concerns in this next point, but there sure seems to be a lot of teenagers dying in movies nowadays. And this movie is no exception. What entertainment value is there in watching a bunch of kids get killed? Is it some kind of attempt to imply that teens have a preoccupation with death? And if that implication is perceived and incorporated by some, what then happens to their coping skills? Movies make the "glory" in death so thick with symbolic and even catalytic camaraderie so focused on a specific socio-age stratum and so glamorous and acceptable and desirable and justifiable and satisfying and... Why, then, is it any wonder why so many teens seem to be be thinking a lot about death?

Though a series of Rube Goldberg style episodes of lethal endangerments, more kids die. One gets his head chopped off by a metal shard thrown by a passing train. One gets literally spattered all over her friends in a traffic fatality. One gets strewn by a huge swinging marquis. Another gets killed by "accidental" hanging in the shower. And a teacher gets mutilated as well. Lots of deaths - graphic deaths. [Ps. 101:3] Throughout the movie is the portrayal of evil forces having control and being able to manipulate things. And the writers even included material that spoke to death being a sort of sentient entity, having purpose and design -- and intent to kill. So, in keeping with the evil theme, an evil presence is portrayed throughout the movie.

And the most foul of the foul words appeared 2.8 times as often as all uses of the three/four letter word vocabulary [Eph. 5:4]. And God's name in vain both with and without the four letter expletive appeared 4 times [Lev. 19:12]. Vulgar slang names and sexual material dotted the script and choreography but not as often as is typical in an R-rated movie. Gore was a definite presence. Of sympathy with the youth against authority/adults was "It gives me a rush...doing something we're not supposed to."

So many of our visitors seem to be relying only on this Summary/Commentary for a full assessment of this movie. This is not possible. For the best representation of the CAP Entertainment Media Analysis Model applied to this movie, visit the Findings/Scoring section below.



---
FINDINGS / SCORING: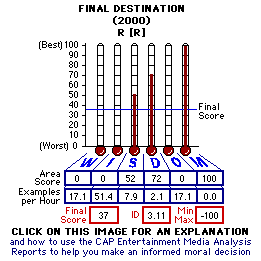 NOTE: Multiple occurrences of each item described below may be likely.

Wanton Violence/Crime (W):

pictures of evil and gore
airplane disaster gore
graphic accidental hanging
a breaking and entering with no consequences
fights
reckless driving and endangerment, including as justification for nihilistic beliefs
graphic traffic fatality
unnecessary roughness by a lawman
graphic impalement
attempted suicide
graphic injuries
defacing a public monument
threat to kill
aiding and abetting illegal flight to avoid lawful capture
decapitation death
illegal flight to avoid capture and legal prosecution
long disaster sequences, some with fatalities
"Rube Goldberg" series of dangers, potentially fatal

Impudence/Hate (I)(1):

46 uses of the most foul of the foul words
12 uses of the three/four letter word vocabulary
vulgar slang names
unfair child to adult "You don't believe me"
portrayal of authority as stupid
psychological manipulations of kids in public school
portrayal of parents as hateful and ignorant
"It gives me a rush...doing something we're not supposed to."
lies about whereabouts

Sex/Homosexuality (S):

revealing dress
teens necking amid senior class
teens on commode
dress to maximize the form/skin exposure of the human body
teen with porn mag
porn mag nudity
suggestive eye movements

Drugs/Alcohol (D):

booze
teen drinking

Offense to God (O)(2):

premonitions
talk of manipulating death
talk of death having design and intent, as if a sentient entity
glorification of unholiness
evil manifestation of inanimate objects

Murder/Suicide (M)(3):