Become a CAPtain


with your
A Christ Centered


Community Web Site
Comments?

Christian Media News
A Singles
Christian Network
PLEASE VOTE!


for this site!
ALERT: To fully understand this report you should first visit the topics
suggested by the CAP Table of Contents.



SUMMARY / COMMENTARY:

*Fight Club* (R) -- a bizarre fantasy about the "repressed self"

The central figure, a bored milquetoast business man, had a vision. He envisioned he was the street-wise tough guy who loved to fight. And then the street wise tough guy became real, at least for the milquetoast man. Together, the two .. er .. the one plus ? created fight clubs all over the country.

The kind of influence of *Fight Club* is NOT one to toy with, especially for the vain sake of entertainment. The *Fight Club* kind of influence emboldens tough guy wannabe's, those who are, and the embittered "can't take it anymore" types to go for it. All I can say to help you trust what I am telling you is "been there -- done that." I broke none of man's laws when roaming the streets, but the scars are there. And they now warn you of this movie. In this culture of freedom from authority, accountability, and consequences and of stealing childhood from children, if you let your kids watch *Fight Club* don't be surprised if one day the influence of *Fight Club* hits them right in the face.

My experience as a medic tells me that most of the fighting in *Fight Club*, if it were real, would have been fatal for at least one in each of the dozens of punching pairs. But of course, they all got up, shook hands, and hugged each other in primal bravado through a coat of blood, and were best friends forever. In this complex and well organized and realistically choreographed story of brutal aggression, multiple paradoxes tend to suffocate the rational mind of the viewer, efficiently throwing at you almost everything that can reach into the basal man and draw it out in fury with wolf pack camaraderie, ready to strike at a moment's notice. Remember that the trapped wolf will attack the one who is trying to free it.

The list of ignominy in this movie is so extensive that a summary without undue exclusion is at best difficult. But of the ignominies that can be grouped, there were at least 81 uses of the most foul of the foul words saturating a total of 106 uses of profanity with at least 28 uses of God's name in vain with and without the four letter expletive. There were *at least* 28 fights or beatings, several very graphic. And there was flash imagery of pornographic images, including male gender-specific anatomy.

To tell you any more in narrative format would make this summary/commentary as vulgar as the movie. Please visit the Findings/Scoring section below for the best representation of the CAP Entertainment Media Analysis Model applied to this "movie."



---
FINDINGS / SCORING: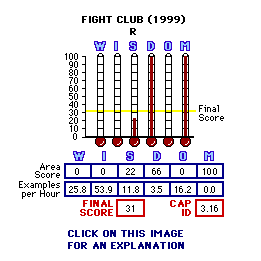 NOTE: Multiple occurrences of each item described below are likely.

Wanton Violence/Crime (W):

firearm barrel in mouth as threat
anger violence
arrogant risk-taking in traffic
airplane tragedy imagery
reckless driving
fighting and beatings, several extremely graphic with gore, some in long sequences
injuries with blood
attempted suicide for show
threat of multiple murder
firearms to control and intimidate
episodes of mischief and mayhem for fun and to earn favor with the club
threat to castrate at the point of a gun and other extreme threats with firearms
slapping
gunshot to head - graphic
threats with a knife
abduction
attempted murder by firearm
attempted suicide by firearm
gunfire to intimidate
holding gun to own head
gunshot in mouth -- very graphic slo-motion (attempted suicide)

Impudence/Hate (I)(1):

81 uses of the most foul of foul words
25 uses of the three/four letter word vocabulary
punk music in startup background
encouraging sadness
nihilism and glorification of it
"Prayed for a crash of mid-air collision"
planting of porno subliminal imagery in kids films
impudence toward boss = "enlightened"
fighting = enlightenment
gross lying with self injury to extort
intentional car wreck for fun
belittlements
punk dress

Sex/Homosexuality (S):

man on commode
sex talk, comments, innuendo
adult in underwear
flash porno picts, including male gender-specific anatomy
rear male nudity
masturbation encouraged as acceptable
nudity
sexual intercourse
sex toys
self touching
inappropriate touch, including female to male genitalia
talk of sexual intercourse

Drugs/Alcohol (D):

booze
drinking
drunkenness
bar

Offense to God (O)(2):

insults to God
mockery of Christian fellowshipping
hypnosis therapy and guided meditation as a church function
mockery of the Resurrection
series of lies about God, e.g., "God hates you!"
insane servitude to evil

Murder/Suicide (M)(3):

none noted