Now by MC, Amex, Visa and more!
Your donations are TAX DEDUCTIBLE!
The foul language eliminator


Removes profanity from
movies and TV shows
Switch to LifeLine


for Christian
long distance service
The Family Friendly


Internet Service
SPECIAL OFFER


From the best-seller book series.
Comments?

Christian Media News
A Singles
Christian Network
Your One Stop


For Everything Christian
Free Email Ministry


Subscribe Today!!
Christian Banner eXchange
---
ALERT: To fully understand this report you should first visit the topics suggested by the CAP Table of Contents.

For FREE text-only versions of our media analysis reports as they are calculated, open this email then click "send." If your browser does not handle this URL format properly, send us a request to add you.
---


SUMMARY / COMMENTARY:




If Scriptural references appear, the full text appears at the end of the Summary / Commentary likely using a mix of KJV and NIV.



THE FAMILY MAN (PG-13) -- a "glimpse" of how things might have been...if he had said "yes"

Jack Campbell (Nicholas Cage) is ruled by his love of his career. Never giving in to holidays and having no social or entertainment life to speak of, he expects the same of those who work for him. Jack did not even take the time to return a phone call from his old college-days girlfriend he almost married -- Kate Reynolds (Tea Leoni).

One day, a street punk named Cash (Don Cheadle) tries to cash in a game ticket and meets with resistance from the obnoxious convenience store clerk. All Cash wanted the clerk to do is look at the ticket to confirm Cash's winnings. When that did not happen, Cash threatens [Ps. 64:1-7] the clerk with a gun to at least read his ticket. The heart of Campbell, who happened to be in the store at the time, strangely "grew three sizes" and got involved in the melee. Campbell wanting to relieve the stress of the situation, wanted to buy the punk's ticket worth (I think) $238.00 for $200.00. Campbell reasoned with Cash that Cash gets $200.00 in-hand for the ticket and Campbell gets a $238.00 ticket. A profit of $38.00 -- good business! This struck me as strange that a gun-weilding street punk would settle for the $200.00 and not demand ALL of Campbell's money. Opportunity was there as Cash held Campbell hostage with a gun at his face. But, as the movie goes, Cash's ulterior motive was more than money; that the money was incidental to his purpose which was to give Jack a "glimpse" of how things might have been if Campbell had said "yes" instead of "no."

Thirteen years earlier, Jack was in love with Kate Reynolds, a promising law school student. And she was in love with him. But career paths rarely coincide. Jack was headed for Europe for internship in the banking business and a stepping stone into the big money of the business world. Kate was going in another direction to follow her law vocation. At the airport Jack and Kate emotionally consider saying "yes" to Jack staying stateside to be with Kate. But Jack goes ... and Kate stays. Jack said "no." But what if he had said "yes." That is what Cash was about to do -- show Jack what things would be like if he had said "yes."

On the streets after the melee at the convenience store, Cash and Jack work out the arrangement Jack had proposed. Cash was now $200.00 richer and Jack now owned a $238.00 ticket. Cash asked Jack what does he need in his life. Jack said he had everything he ever wanted. Then Cash told Jack, in essence, "By your own words I will show you what you want." Then Jack finds himself in bed with his wife, Kate with her head on his stomach and a little girl jumping up and down on the bed shouting for him to get up. I never did (and thankfully) figure out why her head was on his stomach facing his feet instead of on her pillow...part of the PG-13 I guess [Col. 3:5 - for the screen, not the marriage bed. Cage and Leoni are not married. Even if they were, such display is inappropriate for public viewing]. Jack is now a top notch tire salesman for his father-in-law's tire store, married to Kate with two children -- the "what would have happened if he had said 'yes."

In the shadows of It's a Wonderful Life and others, Jack learns what it means to live the other life -- a life of fatherhood, marriage, and a mortgage ... that which might have happened if he had put his career goals behind his love for Kate ... what might have happened if he had said "yes." And the writers were fairly successful at portraying Jack discovering the wonderful miseries, the euphoric failures, and the bitter victories that typically come with married life as a father.

Jack's return to his main timeline was somewhat atypical of movies of this genre. Little sense could be made of it. Again as a business magnate, Jack finds Kate (who had never married in this timeline, and neither had Jack) retaining his memories of the "yes" timeline Cash showed him. Not having shared that life with Jack, Kate was not at all the woman he knew 13 years ago or had grown to know for 13 years. This time it is Kate who is the one on her way to Europe and Jack is the one trying to convince her to stay. But this time Kate says "yes," but just for a cup of coffee and some conversation with Jack. There are other flights to Paris.

This brief "spoiler" accounting of the movie makes it sound as warm and wonderful as It's a Wonderful Life. But It's a Wonderful Life was not rated PG-13. The Family Man was. And for several reasons. Although the MPAA rated the movie PG-13 for sensuality and some language, there was more that. "Some language" included the most foul of the foul words, 16 of the three/four letter word vocabulary [Col. 3:8], and 22 uses of God's name in vain both with and without the four letter expletive [Deut. 5:11]. "Sensuality" included adults in underwear, partial nudity and full shower nudity, cohabitation, sex talk and maneuvers in bed, attempts at adultery and more all in the name of entertainment [Ezek. 16:58]. The listing in the heart of the CAP analysis model, the Findings/Scoring section tells all.



ooooooooooooooooooooooooooooooooo



1 Cor. 15:33 (KJV) Be not deceived: evil communications corrupt good manners. (NIV) Do not be misled: Bad company corrupts good character.
Ps. 64:1-7 Hear me, O God, as I voice my complaint; protect my life from the threat of the enemy. Hide me from the conspiracy of the wicked, from that noisy crowd of evildoers. They sharpen their tongues like swords and aim their words like deadly arrows. They shoot from ambush at the innocent man; they shoot at him suddenly, without fear. They encourage each other in evil plans, they talk about hiding their snares; they say, "Who will see them ?" They plot injustice and say, We have devised a perfect plan!" Surely the mind and heart of man are cunning. But God will shoot them with arrows; suddenly they will be struck down.
Col. 3:5 Put to death, therefore, whatever belongs to your earthly nature: sexual immorality, impurity, lust, evil desires and greed, which is idolatry.
Col. 3:8 But now you must rid yourselves of all such things as these: anger, rage, malice, slander, and filthy language from your lips.
Deut. 5:11 Thou shalt not take the name of the LORD thy God in vain: for the LORD will not hold him guiltless that taketh his name in vain.
Ezek. 16:58 You will bear the consequences of your lewdness (lewdness: not chaste, incest, licentiousness, adultery, idolatry, harlotry) and your detestable practices, declares the LORD.



ooooooooooooooooooooooooooooooooo



As always, it is best to refer to the Findings/Scoring section -- the heart of the CAP analysis model -- for the most complete assessment possible of this movie.



---
FINDINGS / SCORING: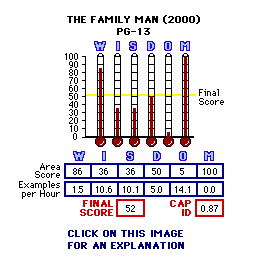 NOTE: Multiple occurrences of each item described below may be likely, definitely when plural.

Wanton Violence/Crime (W):

firearm threats, some to face, all with no consequences
animated argument

Impudence/Hate (I)(1):

adults in underwear before children
lies
"A little flirtation is harmless"
vulgar anatomical reference
one use of the most foul of the foul words
16 uses of the three/four letter word vocabulary

Sex/Homosexuality (S):

adults in underwear, undressing
partial nudity
sex talk, comments, innuendo
man and woman in bed, once engaged in foreplay
vulgar statuette
adulterous attempts
shower nudity - full
self touching
offer of sex
camera angle to force viewer on private areas
opening coat to reveal underwear as a sex offer

Drugs/Alcohol (D):

booze to settle nerves, repeatedly
drinking
diner wine and champaign

Offense to God (O)(2):

23 uses of God's name in vain without the four letter expletive and once without

Murder/Suicide (M)(3):

none noted




NOTE: The CAP Analysis Model makes no scoring allowances for trumped-up "messages" to excuse or for manufacturing of justification for aberrant behavior or imagery, or for camouflaging such ignominy with "redeeming" programming. Disguising sinful behavior in a theme plot does not excuse the sinful behavior of either the one who is drawing pleasure from the sinful display or the practitioners demonstrating the sinful behavior. This is NOT a movie review service. It is a movie analysis service to parents and grandparents to tell them the truth about movies using the Truth. If you do not want the plot, ending, or "secrets" of a movie spoiled for you, skip the Summary/Commentary. In any case, be sure to visit the Findings/Scoring section -- it is purely objective and is the heart of the CAP Entertainment Media Analysis Model applied to this movie




"There are some in the entertainment industry who maintain that 1) violent programming is harmless because no studies exist that prove a connection between violent entertainment and aggressive behavior in children, and 2) young people know that television, movies, and video games are simply fantasy. Unfortunately, they are wrong on both accounts." [Emphasis is mine] And "Viewing violence may lead to real life violence." I aplaud these associations for fortifying 1 Cor. 15:33. Read the rest of the story. From our five-year study, I contend that other aberrant behaviors, attitudes, and expressions can be inserted in place of "violence" in that statement. Our Director - Child Psychology Support, a licensed psychologist and certified school psychologist concurs. For example, "Viewing arrogance against fair authority may lead to your kids defying you in real life." Or "Viewing sex may lead to sex in real life." Likewise and especially with impudence, hate and foul language. I further contend that any positive behavior can be inserted in place of "violence" with the same chance or likelihood of being a behavior template for the observer; of being incorporated into the behavior mechanics and/or coping skills of the observer. In choosing your entertainment, please consider carefully the "rest of the story" and our findings.