Become a CAPtain


with your
The foul language eliminator


Removes profanity from
movies and TV shows
Switch to LifeLine


for Christian
long distance service
The Family Friendly


Internet Service
A Christ Centered


Community Web Site
Comments?

Christian Media News
A Singles
Christian Network
PLEASE VOTE!


for this site!
Christian Banner eXchange
---



ALERT: To fully understand this report you should first visit the topics suggested by the CAP Table of Contents.

For FREE text-only analysis reports as they are calculated, send an email with SUBSCRIBE CAP-MAR in the message body.



NOTE: The CAP Entertainment Media Analysis Model is completely objective. We make no scoring allowances for Hollywood's trumped-up "messages" to excuse, or its manufacturing of justification for aberrant behavior or imagery. Any "message" is meaningless to the CAP analysis model. This is NOT a review service. It is a movie analysis service to parents and grandparents to tell them the truth about movies.


SUMMARY / COMMENTARY:

*Erin Brockovich* (R) -- Julia has become potty-mouthed.

Rags to riches through manufactured opportunities using sex appeal, the female form, and a foul mouth. That is the theme of this "reality movie" (based on a true story) that takes Erin Brockovich (Julia Roberts), a new age "Norma Rae", a twice divorced ex-beauty queen with three kids and bills up to her chin through a scratch-n-claw climb using manipulation to get ahead -- two million dollars ahead on the backs of cheating and abusive power and light company officials. Just add vulgar language and sexual immorality to Norma Rae and you have Erin Brockovich, at least this movie's portrayal of her. Note that the real Erin Brockovich appeared briefly as a waitress in a coffee shop.

Through brazen and forcibly bold manipulations using as much breast and leg exposure as possible and her foul mouth, Brockovich used every manner of non-violent verbal and sexual intimidation she could muster. After traditional methods of humility failed to find her a job, she "bullied" her lawyer, Ed Masry (Albert Finney) into giving her a paycheck for unauthorized work. Most of the office personnel clearly disapproved of her obvious use of her female form in scant dress to get what she wanted. To this, Brockovich verbally flipped them off with a line of gutter talk about how she would wear anything she wanted to wear. I wonder how much of this is "real world" and how much is "poetic license."

Gravel-voiced and thick-skinned but soft-hearted Masry leads Brockovich through the twists and turns of legalism in a lawsuit against Pacific Gas and Electric (PG&E) who contaminated the countryside with poisonous chromium chemicals for years. Masry is a self-made successful lawyer who has built a respectable but winding down practice. It is by a failure of Masry to get a traffic injury settlement for Brockovich that he and she become entangled. It is the benevolent heart of Masry that mentors Brockovich into the legal field as an occupation. And his benevolence paid off -- if it were not for Brockovich becoming involved in the PG&E case she stumbled onto quite by accident Masry (and Brockovich) would not have become rich.

Along the way, Brockovich gets tangled up with a Harley biker, George (Aaron Eckhart) who turns out to be a great pretend dad for the kids but also a source of immoral sex [1Cor. 6:18-20]. I wonder how accurate this portrayal of a courageous woman was and how much new age ignominy was added. And I wonder if the role reversal was true -- the role which gives the "husband" the final authority in family matters. Note that since Erin and George were not married (not husband and wife) and since he had no dominion over the kids other than that which she gives him, she fully had the authority in her home to assume any role over George. When Brockovich achieved the chief bread winner of the Erin/George pair, she finds herself saying the things you usually hear [what the movies have] the man saying: "I have a career that takes all my time. You [the man] will have to watch the kids while I'm gone." It is when a man and a woman become married that Gen. 3:16 and Ep. 5:23 apply. The husband is head of the wife/family as Christ is head of the church, NOT the head of women. In NO case is the husband the dictator and in every case the husband is responsible for the wife (and family) just as Adam was responsible for Eve in the Garden of Eden -- when God came for an accounting of their sins, He did not call for Eve [Gen.3:9].

With 27 uses of the most foul of the foul words and 56 uses of the three/four letter word vocabulary and 7 uses of God's name in vain with the four letter expletive plus 11 uses without it made this movie not fit for anyone. Massive amounts of excessive breast exposure and cleavage plus cohabitation plus provocative dress plus the use of sex appeal to get ahead by a popular star made this a very sexually influential movie.

Brockovich's line in the movie preview stating she "performed 634 sexual favors" to get the signatures needed to proceed within the restrictions of the legal system was NOT what she said in the movie, which is ANOTHER reason to not place any sort of measure of movie content on previews. And her following line, "I'm really kinda tired" was inaudible over the rafter-shaking laughter in the audience. Where *have* we gone?

There was child arrogance against fair parental authority [Is. 30:1]. And there was booze and drinking [Eph. 5:18]. I have heard enough about even Jesus drinking wine so why is drinking a bad thing. Well, drinking is not a sin, but drinking to excess is. And if the presenting of booze in the media not a harmful thing, why then is and has there been and is there such a push to get booze commercials off prime time TV?

Now you know the true content *Erin Brockovich*. Please be sure to read the listing in the Findings/Scoring section if you are still contemplating watching this movie with or without the kids. And yes, there were kids clearly under 17 in the audience when I saw it [Luke 17:2].

So many of our visitors seem to be relying only on this Summary/Commentary for a full assessment of this movie. This is not possible. For the best representation of the CAP Entertainment Media Analysis Model applied to this movie, visit the Findings/Scoring section below.



---
FINDINGS / SCORING: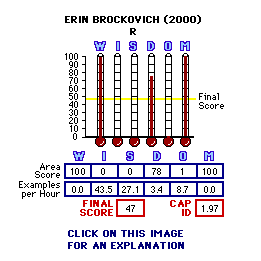 NOTE: Multiple occurrences of each item described below may be likely.

Wanton Violence/Crime (W):

None noted (that has not been incorporated as other offense in another Investigation Area. Duplicate scoring incorporation between Investigation Areas is not permitted.)

Impudence/Hate (I)(1):

27 uses of the most foul of the foul words
56 uses of the three/four letter word vocabulary
lies to children
"I'll wear what I like."
Tattoo influence
child arrogance against fair parental authority

Sex/Homosexuality (S):

excessive cleavage, breast exposure, and leg exposure
using sex appeal to get ahead
underwear showing
suggestive eye movements
adults in underwear
sexual comments, innuendo and vulgar references

Drugs/Alcohol (D):

smoking
booze
drinking
bar scenes

Offense to God (O)(2):

7 uses of God's name in vain with the four letter expletive and 11 times without

Murder/Suicide (M)(3):