Become a CAPtain


with your
The foul language eliminator


Removes profanity from
movies and TV shows
Switch to LifeLine


for Christian
long distance service
The Family Friendly


Internet Service
A Christ Centered


Community Web Site
Comments?

Christian Media News
A Singles
Christian Network
PLEASE VOTE!


for this site!
Christian Banner eXchange
---



ALERT: To fully understand this report you should first visit the topics suggested by the CAP Table of Contents.

For FREE text-only analysis reports as they are calculated, send an email with SUBSCRIBE CAP-MAR in the message body.



SUMMARY / COMMENTARY:

Drowning Mona (PG-13) -- not even close to PG-13. I do not know how the MPAA can classify this movie as PG-13 unless they rely solely on massively invasive matters to justify giving a movie the R classification. Drowning Mona is undoubtedly more evidence of movie writers using many, many issues of lesser violation of morality instead of the "traditional" use of a few massively invasive issues. The magnitude or envelope of the "lesser" issues of improper matters in this movie was clearly equivalent to a hard movie of 1995 and earlier. For whatever reason, the threshold of acceptability has clearly decayed. Drowning Mona received a final score of 22: the CAP scoring envelope for movies of 1995 and earlier is 54 and below. Hey, folks! It ain't me and it ain't this analysis model. The same investigator (me) used the same model with the same investigation standards and the same investigation areas, even the same computer on movie analyses of 1995 and before as was used on Drowning Mona. Being the "engineer" of the model, I can assure you neither the analysis model nor I have changed since the development of the model in 1995. The only "variable" is the content of the movies themselves. I don't know what it takes to make this "proof", but there you have it -- using numbers and not speculation, context, opinion, or conjecture.

In Verplank, N.Y., Danny DeVito as Police Chief Rash plays a much less abrasive and much more intelligent, patient, and compassionate role than seems typical for him. Maybe he is mellowing as his career as an actor winds down, or maybe the role DeVito played only seemed pleasant when cast beside the ultra-acidic Mona Dearly (Bette Midler). Mona's personality was so abrasive that no one in the whole town showed any sorrow at her drowning murder as the result of sabotaging her car -- not even her son, Jeff (Marcus Thomas) who said "What was she doing in my car" when told of her death [Luke 6:35]. Maybe his coldness was due to the fact that he is apparently not her son. It gets a little complex in places. It may be very, very hard to love thine enemies, but that is a directive of our Lord.

With all four brakes out and the fluid drained, Mona careens off a cliff into a river. When found the coroner states "She's dead" rather coldly as he tries to compose himself after falling into the water. The news spreads quickly, and so does the rejoicing. A local lesbian wrecker driver and mechanic, Lucinda (Kathleen Wihoite) confirms the tampering with the car's brake system and the chief launches a murder investigation against the advice of one of his four deputies and anyone else who heard about the chief's investigation. Lucinda is revealed as lesbian as she kisses the chief's grief-stricken daughter, Ellen (Neve Campbell) on her left [facial] cheek, then the right cheek, then the mouth. Ellen was not stricken about Mona's death but from learning her fiance, Bobby (Casey Affleck) might be the murderer.

Bobby is the owner of a landscaping business and is partner to Jeff who has only one hand to hold his beer. It is not sure how he lost his hand but the strongest story was that his mother, Mona cut it off with a meat cleaver when he tried to snatch her beer. Mona's Husband, Phil (William Fichtner) has been "seeing" Rona (Jamie Lee Curtis), a chain-smoking waitress at a local diner who has been "seeing" Jeff. Each character in this slow and dim story had motif to kill Mona. But none of these did.

This movie earned CAP Investigation Area (thermometer) scores of zero in each of Impudence/Hate, Sex/Homosexuality, Drugs/Alcohol, and Offense to God. Examples of why are "We gotta celebrate [at Mona's death]", an adult hitting on a 13 year old girl [Luke 17:2], immoral relationships, indications of sadomasochism [1Cor. 10:8], treating premarital sex as casual and acceptable [Hebr. 13:4], a sexual affair with both the father and son of the same family, touching/licking in foreplay, and a plethora of other sexually inappropriate matters [Rom 13:13]. Drinking and smoking were thick [Gal 5:21; Cor 6:19]. The three/four letter word vocabulary seemed to be the only words the characters knew [Prov. 8:13]. God's name in vain was little more than a conversational snippet [Lev. 19:12].

So many of our visitors seem to be relying only on this Summary/Commentary for a full assessment of this movie. This is not possible. For the best representation of the CAP Entertainment Media Analysis Model applied to this movie, visit the Findings/Scoring section below.



---
FINDINGS / SCORING: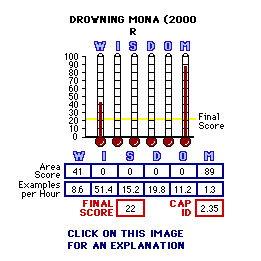 NOTE: Multiple occurrences of each item described below may be likely.

Wanton Violence/Crime (W):

tax evasion
physical aggression/attack
death threat
drowning victim
gun to head
attempted murder
man striking a woman

Impudence/Hate (I)(1):

one use of the most foul of the foul words
56 uses of the three/four letter word vocabulary
"What was she doing in my car" at notice of a son's mother's motor death
joy at a death and wishing for a death
hatefulness
homosexual kiss
admission of a homosexual relationship
joy at mother's death
police chief lying to protect his daughter

Sex/Homosexuality (S):

adult trying to seduce a 13 year old girl
vulgar talk
vulgar gesture
sex talk
immoral relationship
inappropriate touch
pregnancy out of wedlock
adults in underwear in and out of bed
sadomasochism
treating premarital sex as casual and acceptable
sexual affair with a father and his son
kissing/touching/licking in foreplay
man/woman in bed
wet T-shirt ghosting

Drugs/Alcohol (D):

booze
drinking
drunkenness
smoking

Offense to God (O)(2):

5 uses of God's name in vain with the four letter expletive and 12 times without

Murder/Suicide (M)(3):

murder by disabling car leading to drowning