Become a CAPtain


with your
The foul language eliminator


Removes profanity from
movies and TV shows
Switch to LifeLine


for Christian
long distance service
The Family Friendly


Internet Service
A Christ Centered


Community Web Site
Comments?

Christian Media News
A Singles
Christian Network
PLEASE VOTE!


for this site!
Christian Banner eXchange
---



ALERT: To fully understand this report you should first visit the topics suggested by the CAP Table of Contents.

For FREE text-only analysis reports as they are calculated, send an email with SUBSCRIBE CAP-MAR in the message body.



NOTE: We make no scoring allowances for Hollywood's trumped-up "messages" to excuse, or its manufacturing of justification for aberrant behavior or imagery. This is NOT a movie review service. It is a movie analysis service to parents and grandparents to tell them the truth about movies using the Truth. If you do not want the plot, ending, or "secrets" of a movie spoiled for you, skip the Summary/Commentary. In any case, be sure to visit the Findings/Scoring section -- it is purely objectuve and is the heart of the CAP Entertainment Media Analysis Model applied to this movie.




If Scriptural references appear in the Summary / Commentary, the full text appears at the end of the Summary / Commentary likely using a mix of KJV and NIV.



---


SUMMARY / COMMENTARY:

*I Dreamed of Africa* (PG-13) -- a PG with nudity.

This movie is a rare example of a relatively gentle movie with a piece of "R" programming inserted: partial nudity (both male and female) as prelude to intercourse Though the stage pair (Kuki and Paolo Gallman) were [stage] married, the actor (Vincent Perez) and actress (Kim Basinger) were not. Even if they were, those parts of a man or woman which were seen on the screen should not be seen publicly, just by the spouse.

Based on a true story, *I Dreamed of Africa* was stunning in sight and sound filmed for the most part on the Gallman's ranch in Kenya. The harsh and rugged and sometimes vicious to the point of fatal beauty of Africa was indeed luring and enticing. The beauty of the land and its culture and of the people themselves ... even the beauty of the sounds of Africa were captured well by the director, Hugh Hudson. But that is where the luster of this movie ends. Though the move spent a great deal but yet welcome amount of time panning the African countryside, the story was told but in somewhat of a piecemeal fashion like the often shunned "Things that happened to us" home movies.

Due to the togetherness of surviving a traffic wreck in the countryside of Italy, a gentle romance develops between Paolo Gallman and the soon-to-be Kuki Gallman. From all indications I could see, the romance was proper and respectable ... most atypical of movies nowadays. After a time, Paolo decides he wants to leave Italy to farm in Africa. So he sells his life in Italy, marries Kuki and settles in the highlands of Kenya, Africa. Though Franca (Eve Marie Saint), Kuki's mother is adamantly opposed to Kuki and her grandson (from a previous marriage), Emanuel (later played by Garrett Strommen) moving not just away form home but to Africa, Kuki and Emanuel are completely in favor of the move.

In Kenya, the Gallmans build an opulent "empire" from a shanty. Many trials and tribulations were suffered to keep the home a home. They even expressed admiration of each other and did this well...indeed too well for a movie -- here is where the intercourse was presented [1John 2:16; Prov. 6:25], during the time the two were battling the harsh and uncaring elements together. Apparently, the intimate episode was to give an intro to the coming of their daughter (or justifcation for the PG-13). A few words would have been as effective and a lot less sinful.

The Gallmans survived storms, animal attacks, and even internal friction. At least twice, Kuki was at Paolo's throat because Paolo developed a habit of being gone days at a time on hunting and fishing trips, many times days late getting home, often with no word about why he was a "few days" late. Imagine that! Kuki getting mad at Paolo for something as small as being late "a few days." [Eph. 5:25; Col. 3:19].

But Kuki was (and apparently is in real life) a trooper, storming every obstacle and impediment with unrelenting resolve -- except for her son's defiance of her rules. Emanuel liked snakes. He caught snakes and caged dozens of them, but mom said "NO POISONOUS SNAKES." But did Emanuel listen? Nope [Is. 30:1]. And woe it was upon Emanuel ... and mom ... and everybody else who loved Emanuel. He had been catching and harboring poisonous snakes and milking them for an untold reason -- until one day one of the poisonous snakes bit him, and he died.

Now, I gotta say something about Franca, Kuki's mom. If this is a true true story, I applaud Franca's tongue-bitting. While she was strongly opposed to her daughter and grandson moving to Africa, not once did she say something like "I TOLD you not to come here" or "If you hadn't have come, Emanuel might still be alive." Rather, she was there when needed with the countenance of a true mother -- love and support with unspoken but unquestioned authority.

Not only did Emanuel die....... Well, I think I've given enough of the story away. While *I Dreamed of Africa* was indeed a good story with amazingly beautiful scenery of a grand people and country, it had stuff in it you might not want your kids (or you?) to see. But that is your decision. I will leave the rest of the findings to the Findings/Scoring section below.



ooooooooooooooooooooooooooooooooo



1John 2:16 For everything in the world -the cravings of sinful man, the lust of his eyes and the boasting of what he has and does -comes not from the Father but from the world.
Prov. 6:25 Do not lust in your heart after her beauty or let her captivate you with her eyes,
Eph. 5:25 Husbands, love your wives, even as Christ also loved the church, and gave himself for it;
Col. 3:19 Husbands, love your wives, and be not bitter against them.
Is. 30:1 Woe to the rebellious children, saith the LORD, that take counsel, but not of me; and that cover with a covering, but not of my spirit, that they may add sin to sin:


ooooooooooooooooooooooooooooooooo




Please see the Findings/Scoring section below for a full accounting of this movie: for the best representation of the CAP Entertainment Media Analysis Model applied to this movie.



---
FINDINGS / SCORING: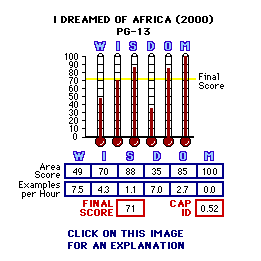 NOTE: Multiple occurrences of each item described below may be likely.

Wanton Violence/Crime (W):

traffic wreck with injuries
rotting animal carcasses
story of parental murder/suicide
pet dog mauled by a lion
euthanasia of the mauled dog
husband/wife arguments
firearm threats
theft with firearm
beatings
deaths

Impudence/Hate (I)(1):

six uses of the three/four letter word vocabulary
teen arrogance against mother's (fair) authority

Sex/Homosexuality (S):

picture nudity
partial nudity (male and female) as prelude to intercourse

Drugs/Alcohol (D):

drunken reveling
driving under the influence
social/dinner drinking
smoking
drinking to anesthetize

Offense to God (O)(2):

five uses of God's name in vain without the four letter expletive

Murder/Suicide (M)(3):