Now by MC, Amex, Visa and more!
Your donations are TAX DEDUCTIBLE!
The foul language eliminator


Tell them CAP sent you
877-NOCURSE (877-662-8773)
Switch to LifeLine


for Christian
long distance service
The Family Friendly


Internet Service
SPECIAL OFFER


From the best-seller book series.
Comments?

Christian Media News
A Singles
Christian Network
Your One Stop


For Everything Christian
Free Email Ministry


Subscribe Today!!
Christian Banner eXchange
---



ALERT: To fully understand this report you should first visit the topics suggested by the CAP Table of Contents.

For FREE text-only versions of our media analysis reports as they are calculated, open this email then click "send." If your browser does not handle this URL format properly, send us a request to add you.



NOTE: If you do not want the plot, ending, or "secrets" of a movie spoiled for you, skip the Summary/Commentary. In any case, be sure to visit the Findings/Scoring section -- it is purely objective and is the heart of the CAP Entertainment Media Analysis Model applied to this movie


---


SUMMARY / COMMENTARY:




If Scriptural references appear, the full text appears at the end of the Summary / Commentary likely using a mix of KJV and NIV.



DOUBLE TAKE (PG-13) -- Wow! Maybe Hollowood will start next year with a "NC-13!"

Double Take was most certainly a "R-13!" It lost almost all of its starting 100 points. Movies rated PG-13 in the CAP comparative baseline database earned scores of 55 to 67. Double Take earned 24. In addition to a large helping of violence, Double Take presented the full gambit of foul language -- ALL of it -- at a rate of about 1.3 per minute! And most of it was with sexual crudeness and vulgarity.

Business genius Daryl Chase (Orlando Jones) is going about business in the highskytower building in downtown Richville. Upon leaving the building, he is victimized by a loud mouthed, nonstop mouthed, potty mouthed street punk who cons with another street punk to scam Daryl out of cash. A routine day. Or so it seems. The street punk who lifts Daryl for a wad of his cash is Freddie Tiffany (Eddie Griffin). From that point on, Freddie becomes the centerpiece of Daryl's life. Somehow Freddie knows all about Daryl and has the ability to condensate (or maybe coagulate) out of thin air, or so it seems. Freddie is there. Wherever "there" is, Freddie is. Or so it seems. Indeed, everything about this movie is "so it seems."

Somehow, Daryl ends up in his secretary's apartment and finds her in a state of what appears to be death, the victim of a firearm murder, or so it seems. While waiting for the police to arrive, a thug shows up. Then two cops appear at the door with Daryl between the thug and the cops. For a moment, it seems everybody in the world except Daryl is shooting at everybody else, but Daryl survives unharmed. But he is now the prime suspect of a double cop killing and suspected of illegal drug trafficking. And there again is Freddie. To evade lawful capture by the police, Freddie and Daryl swap clothes. And there is the double take. After a time in Daryl's clothes, Freddie starts to become suave, debonair and professional-like. And likewise, Daryl soon becomes ... like Freddie: "No Schliz Mal Likkah!!? Whadda ya mean ya ain't got no Schliz Mal Likkah!?"

There are so many rapid-fire full charge leaps between rationales, subplots, and anything else connected with the story that any sort of descriptive about the story beyond what is above would be sketchy at best. And it wasn't a good movie, either. Trying to capture for your information all the ignominy while trying to keep up with the programming fleas was difficult at best.

Now to the "R-13" of it. Ninety-nine examples of the three/four letter word vocabulary, one use of the most foul of the foul words [Col. 3:8] and nine uses of God's name in vain both with and without the four letter expletive, mostly with it [Deut. 5:11] in 83 measured minutes from the first scene to the first credit. There were five murders [Rev. 21:8} and a plethora of sexual comments and conversations, some quite vulgar [Jude 4]. A splendid example of modern entertainment and Hollywood's apparent impression of your 13 year old children for your 13 year old children and younger!

I do not want to spend any more time on this one, so I'll let the listing of findings in the Findings/Scoring section speak for itself.



ooooooooooooooooooooooooooooooooo


Applicable text is underlined and fortification is provided in brackets [ ] for special focus if needed.

1 Cor. 15:33 (KJV) Be not deceived: evil communications corrupt good manners. (NIV) Do not be misled: Bad company corrupts good character.
Col. 3:8 But now you must rid yourselves of all such things as these: anger, rage, malice, slander, and filthy language from your lips.
Deut. 5:11 Thou shalt not take the name of the LORD thy God in vain: for the LORD will not hold him guiltless that taketh his name in vain.
Rev. 21:8 But the cowardly, the unbelieving, the vile, the murderers, the sexually immoral, those who practice magic arts, the idolaters and all liars -their place will be in the fiery lake of burning sulfur. This is the second death [of the UNforgiven, the eternal separation from God].
Jude 4 For certain men whose condemnation was written about long ago have secretly slipped in among you. They are godless men, who change the grace of our God into a license for immorality and deny Jesus Christ our only Sovereign and Lord.



ooooooooooooooooooooooooooooooooo



As always, it is best to refer to the Findings/Scoring section -- the heart of the CAP analysis model -- for the most complete assessment possible of this movie.



---
FINDINGS / SCORING: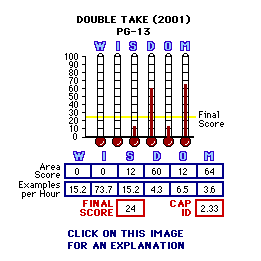 NOTE: Multiple occurrences of each item described below may be likely, definitely when plural.

Wanton Violence/Crime (W):

street violence
theft
beatings
threat with knife to throat
gunfire to capture and to kill
gunfire death at the hands of police
reckless driving with property damage and reckless endangerment to escape police
firearm threat to the head
gun battles, including warfare type battle with police
firearms to control, repeatedly
attempted murder
firearm threat to the face
gun battle deaths

Impudence/Hate (I)(1):

one use of the most foul of the foul words
99 uses of the three/four letter word vocabulary
vulgar gesture
crotch hit

Sex/Homosexuality (S):

many vulgar and crude sexual conversations, comments and insults
adults modeling underwear - up close
inappropriate touch, repeatedly
vulgar self touching
dressing to maximize the female form and/or skin exposure, repeatedly
excessive cleavage

Drugs/Alcohol (D):

smoking
drinking
drunkenness
drug smuggling activities

Offense to God (O)(2):

six uses of God's name in vain with the four letter expletive and three without

Murder/Suicide (M)(3):

gunfire murder (unseen but heard)
quadruple gunfire murder, killing seen but no gore





NOTE: The CAP Analysis Model makes no scoring allowances for trumped-up "messages" to excuse or for manufacturing of justification for aberrant behavior or imagery, or for camouflaging such ignominy with "redeeming" programming. Disguising sinful behavior in a theme plot does not excuse the sinful behavior of either the one who is drawing pleasure from the sinful display or the practitioners demonstrating the sinful behavior. This is NOT a movie review service. It is a movie analysis service to parents and grandparents to tell them the truth about movies using the Truth.





"There are some in the entertainment industry who maintain that 1) violent programming is harmless because no studies exist that prove a connection between violent entertainment and aggressive behavior in children, and 2) young people know that television, movies, and video games are simply fantasy. Unfortunately, they are wrong on both accounts." [Emphasis is mine] And "Viewing violence may lead to real life violence." I aplaud these associations for fortifying 1 Cor. 15:33. Read the rest of the story. From our five-year study, I contend that other aberrant behaviors, attitudes, and expressions can be inserted in place of "violence" in that statement. Our Director - Child Psychology Support, a licensed psychologist and certified school psychologist concurs. For example, "Viewing arrogance against fair authority may lead to your kids defying you in real life." Or "Viewing sex may lead to sex in real life." Likewise and especially with impudence, hate and foul language. I further contend that any positive behavior can be inserted in place of "violence" with the same chance or likelihood of being a behavior template for the observer; of being incorporated into the behavior mechanics and/or coping skills of the observer. In choosing your entertainment, please consider carefully the "rest of the story" and our findings.