Become a CAPtain


with your
A Christ Centered


Community Web Site
Comments?

Christian Media News
A Singles
Christian Network
PLEASE VOTE!


for this site!
---



ALERT: To fully understand this report you should first visit the topics
suggested by the CAP Table of Contents.



SUMMARY / COMMENTARY:

*Double Jeopardy* (R) -- Can't try her for murder again.

A very well made and opulent movie with quality casting and choreography. It would have been an enjoyable movie experience if it were not for the 'stuff' in it. A complex and intricate justification of illegal behavior to right a wrong.

A loving mother, Libby Parsons (Ashley Judd) believes her husband, Nick (Bruce Greenwood) to be equally loving and devoted to her. But, up to his neck in debt and in love with a family friend, Angie (Annabeth Gish), Libby's best friend, the slimeball husband stages his murder to cover up a hopefully permanent get-away with Angie, leaving his wife to manage a $2,000,000 insurance policy recently purchased to settle his indebtedness so he could live happily ever after. But amidst all this cover up, Nick decided to stage the murder to make Libby the most likely suspect. And it worked. Convicted of her husband's murder, she lost her son and her freedom for six years. Guess who got the boy?

Thirteen uses of the most foul of the foul words. Twenty-six uses of the three/four letter word vocabulary. God's name in vain 19 times, 6 with the four letter expletive. Sexual intercourse with nudity. Booze and drinking. Justification of lying. Gunfire death. It's all there just like any other R-rated movie. Maybe not as thick and severe as some R-rated movies, but it is really and truly an R-rated movie, not one that has been labeled "R" but could have been less severe if just one or two scenes were removed. Remember, please rely on the Findings / Scoring section for the best representation of the CAP Entertainment Media Analysis Model applied to this movie. Visit the Findings/Scoring section below.


---
FINDINGS / SCORING: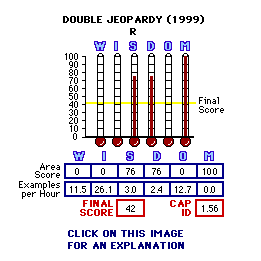 NOTE: Multiple occurrences of each item described below are likely.

Wanton Violence/Crime (W):

blood splatters and trails
death expectations and stresses associate with it
teaching how to murder and get away with it
trespassing
breaking and entering
striking with a firearm
theft with a firearm
destruction of private property to effect escape from rightful custody
deception to gain private information
reckless endangerment and destruction of private property to escape lawful prosecution
theft by lying about identity
beating of a woman
child participation in illegal games for money
attempted murder
firearm threats
gunfire injury
gunfire death
glorification of illegal behavior to right a wrong

Impudence/Hate (I)(1):

13 uses of the most foul of the foul words
26 uses of the three/four letter word vocabulary
belittling of a father with his son as audience
insults of parents
husband staging his fake murder
lying about identity

Sex/Homosexuality (S):

open mouth kissing
sexual offer
sexual intercourse with nudity
street sex jeers
sex talk

Drugs/Alcohol (D):

bar
booze
drinking

Offense to God (O)(2):

26 uses of God's name in vain, 9 with the four letter expletive
portrayal of immorality as desirable
encouraging to use Jesus to build lie

Murder/Suicide (M)(3):

none noted